Long

Term Rental Property

Great value; central location [LTRIL6878]
Type and Location: House in Kathu, Phuket
Offer Terms: Rental - Longterm
Price: THB 23,000 per month
Beds: Studio
Minimum rental term: Six Months--28,000; Twelve Months--23,000/month
Available Now
About Kathu
The central location of Kathu means the west coast beaches are just as easily reached as the Phuket Town area, with shopping, schools and hospitals. Golf courses are a main feature here and the slow pace of life is continued with waterfalls and a peaceful reservoir, which is great to walk around or have a picnic by. A range of tourist activities are ideal for kids, such as elephant trekking, cable waterskiing and karting.
CLICK HERE TO VIEW STREET VIEW
courses, international schools, hospitals, shopping, etc.
It features an open plan living area with lounge and dining area with white ceramic tiles. The lounge is quite spacious and boasts a large white sofa, flat screen satellite TV, and large windows. The dining area seats four. The Thai-style tiled kitchen sits on a covered terrace at the back. It has a double sink, various small appliances, and a gas hob could be added easily.
There are three bedrooms; one is currently unfurnished, but the owner will furnish on request. The house has three bathrooms in total.
The house has air-conditioning and a carport. Security windows and gate supplements the estate security. A small utility terrace surrounds the duplex.
Architectural style: Contemporary
Structure: Two-storey duplex, semi-detached
Gardens: Yes
Accomodation
3 Bedrooms
3 Bathrooms
Sleeps 6
Permissible
Smoking

No Smoking

Children

Children

Pets

No Pets

Cooking

Cooking
Nearby
Near Beach
Near Schooling
Near Golf Courses
Near Yacht mooring
Near Hospitals
Near Town
Near Shopping
Available Facilities
TV/Cable
Internet
Estate security
Fully furnished
Parking
Kitchen Facilities
Microwave oven
Refrigerator
Dishware
Cutlery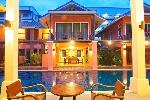 Comfortable, affordable, great for families [LTRIL6273X]
House in Kathu, Phuket. THB 25,000 per month. More info
Prices quoted in THB are converted for your convenience only and may vary 5% or more. Currency movements are out of our control and prices may change without prior warning.
Page viewed 909 times, 0.3 views/day.