Holiday

Rental Property

Five-star service; easy walk to the quiet, unspoiled beach [KSHOL7607]
Type and Location: House in Hua Thanon, Samui
Offer Terms: Rental - Holiday
Beds: 4
STAY IN AUGUST 2013 and RECEIVE 20% DISCOUNT + ALL MEALS FREE and A ONE HOUR MASSAGE PER GUEST!
Summer Season
1 Jun - 30 Sep
High Season
1 Oct - 30 Nov
1 Feb - 31 May
Peak Season
1 Dec - 31 Jan
Daily
Weekly
* Monthly refers to 30 days.
How is my total rental calculated?
Rental rates vary by season and duration-of-stay. Consequently, it is necessary to look at each night of your stay and determine the applicable rate for that night.
For example, consider a 10-night stay, comprised of 4 nights in summer season and 6 nights in high season.
Since the stay is more than a week, the weekly rate will apply for all the nights of your stay. For each night, we determine the applicable season, consult the weekly rate for that season, divide that weekly rate by 7 to get a nightly rate, and add that amount to a running total.
In our example, the first 4 nights will use the summer season weekly rate (divided by 7), the last six nights will use the high-season weekly rate (divided by 7).
For a property that does not specify weekly or monthly rates, the daily rate for the applicable season is applied for each night of the stay.
About Hua Thanon
A 10 minute drive south of Lamai is the home of the Muslim fishing community with a daily fresh seafood market and dozens of colorful longtail-boats. The Samui Aquarium and the Butterfly Garden are located there and the tranquil beaches of Laem Set, Bang Kao and the hillsides offer scenic views to the nearby islands of Koh Tan and Koh Matsum and the mainland at the horizon.
CLICK HERE TO VIEW STREET VIEW
Surrounded by landscaped tropical gardens, allowing guests' privacy that is easy on the eye is this wondrous and very spacious four bedroom Koh Samui beach villa that encapsulates high-end luxury and comfort, as well as traditional Thai design. With interior design by Collette Larsen, this four bedroom villa stands out from the crowd with a myriad of pleasing visuals for the eye, creating a peaceful Thai-inspired experience.
Walking through its main glass double doors brings you to a large open space where dining and kitchen merge in to one, with a generous living area flowing to the right. The dining room allows for 8 to eat comfortably and in exquisite setting with elegant Thai art consisting of Lotus flowers, the villa's namesake.
A modern kitchen blends seamlessly with house and sits adjacent to the dining area with complete western fittings including dishwasher, microwave, oven, cappuccino machine and all the modern necessities of home. The kitchen allows for easy entertainment for guests, friends and family alike – creating a centre for the house where food and company can be enjoyed by all.
The living area with its expansive sofa, state of the art entertainment system (including a large flat screen TV, iPod docking station and Sony Playstation 3 console to keep the kids entertained) and traditional Thai artifacts looks over the lush landscaped garden through large windows, affording you comfort and style in one.
With 2 bedrooms on the ground floor, the master bedroom is a wing unto itself, with its spacious modern en-suite; it adjoins the living area through double doors and a short corridor. With its king size bed that sits underneath an exquisite Thai lotus painting covering the wall, this bedroom the luxury Samui villa has a spectacular view over the glistening private pool. With huge glass doors leading out to what is almost a small private lounging area, you can spend your days in bed catching up on much needed rest in air-conditioned comfort, or outside enjoying the sea air, reclining in your own outdoor chairs, watching the pool sparkle in the sun.
Enjoy this luxury villa effortlessly with family and friends, with 2 further bedrooms upstairs, each with their own stylish and sleek en-suites, expansive Thai styled private wooden balconies and interior designs that leave you breathless. Thai art graces every wall as well as down to the finer touches of cushions, throws and sculptures giving you modern sleeping spaces with a traditional edge. Whether indoors enjoying the eye catching beauty that adorns the walls or outside on the balcony watching the clear Samui sky – this luxury villa is perfect for those seeking luxury and relaxation and is sure to form part of an unforgettable holiday.
Outside of this luxury Samui villa is an entertainers or relaxers delight. A crystal clear pool sparkles in the sunshine surrounded by sun-loungers (and inflatable pool toys for the children) and sizeable parasols, so guests can choose to enjoy Samui's rays or take refuge from the heat in some shade. With outdoor dining for 8 and a BBQ that allows you, or our own Chef, to grill up some of the offerings of the island such as lobster and prawns, this villa truly provides the luxury and pleasures that you look for in a remarkable holiday experience.
This is a superb location for people looking to lose themselves in the beauty of Koh Samui's gorgeous beaches and lush tropical landscape. The village - which is set right by the beachside - is a small luxury living development close to the main tourist areas of Samui.
It adjoins an unspoiled stretch of sandy beach in the relatively undeveloped south-eastern coast, and has been built amid a profusion of coconut palms and tropical landscaped gardens. Two neighbouring islands - Koh Tan and Koh Mudsum - well-known for their fantastic fishing and snorkeling, are only a short, 20-minute boat ride away.
It is only ten minutes from Lamai Beach, 30 minutes from Chaweng and Samui's top golf course, and 35 minutes from the airport, so you are never far from the action. But while there is easy access to shopping, restaurants, nightlife and other activities, back in Samui Beach Village you will feel you are on your own tropical island paradise.
Rental Rates (per night in THB)
Low Season (May-Jun; Sep-14 Dec): 22,900
High Season (8 Jan-Apr): 30,400
Summer High Season (Jul-Aug): 35,100
Peak Season (15 Dec-7 Jan): 50,200
Accomodation
4 Bedrooms
4 Bathrooms
4 Bathrooms Ensuite
Sleeps 8
Included in Rental Price
Bed linen
Towels
Maid
Gardener
Pool cleaner
TV/Cable
Internet
WiFi
Estate charges
Security
Water
Gas
Electricity
Permissible
Smoking

Smoking

Children

Children

Pets

No Pets

Cooking

Cooking
Nearby
Inland
Near Beach
Near Shopping
Available Facilities
TV/Cable
Internet
WiFi
Private swimming pool
Estate security
Fully furnished
Parking
Kitchen Facilities
Stovetop
Grill
Oven
Microwave oven
Refrigerator
Dishwasher
Dishware
Cutlery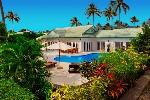 Five-star service; 30 metres to the quiet, unspoiled beach [KSHOL7608]
House in Hua Thanon, Samui. From THB 24,100 per night. More info
Prices quoted in THB are converted for your convenience only and may vary 5% or more. Currency movements are out of our control and prices may change without prior warning.
Page viewed 779 times, 0.2 views/day.