Holiday

Rental Property

Five-star service; 30 metres to the quiet, unspoiled beach [KSHOL7608]
Type and Location: House in Hua Thanon, Samui
Offer Terms: Rental - Holiday
Beds: 4
STAY IN AUGUST 2013 and RECEIVE 20% DISCOUNT + ALL MEALS FREE and A ONE HOUR MASSAGE PER GUEST!
Summer Season
1 Jun - 30 Sep
High Season
1 Oct - 30 Nov
1 Feb - 31 May
Peak Season
1 Dec - 31 Jan
Daily
Weekly
* Monthly refers to 30 days.
How is my total rental calculated?
Rental rates vary by season and duration-of-stay. Consequently, it is necessary to look at each night of your stay and determine the applicable rate for that night.
For example, consider a 10-night stay, comprised of 4 nights in summer season and 6 nights in high season.
Since the stay is more than a week, the weekly rate will apply for all the nights of your stay. For each night, we determine the applicable season, consult the weekly rate for that season, divide that weekly rate by 7 to get a nightly rate, and add that amount to a running total.
In our example, the first 4 nights will use the summer season weekly rate (divided by 7), the last six nights will use the high-season weekly rate (divided by 7).
For a property that does not specify weekly or monthly rates, the daily rate for the applicable season is applied for each night of the stay.
About Hua Thanon
A 10 minute drive south of Lamai is the home of the Muslim fishing community with a daily fresh seafood market and dozens of colorful longtail-boats. The Samui Aquarium and the Butterfly Garden are located there and the tranquil beaches of Laem Set, Bang Kao and the hillsides offer scenic views to the nearby islands of Koh Tan and Koh Matsum and the mainland at the horizon.
CLICK HERE TO VIEW STREET VIEW
This four bedroom villa sits just 30 metres from the beach and even as you approach you are greeted by the sound and view of the sea, so close by. Palms provide welcome shade and the tropical feel is completed by the wonderfully maintained gardens, providing a lush surrounding for one of Koh Samui's foremost beachfront communities.
Located towards the end of a charming lane with a path of smooth stones leading to a dream of a house, it looks like a bijou residence but is a lot bigger on the inside than it appears at first glance.
The garden of this luxury villa is graced by its own swimming pool with views towards the secluded beach nearby. Ideal for relaxing, the pool and sun loungers make it perfect for lazy days. Trees and plants are abundant and provide shade, as do the parasols, making the garden a favored spot for both adults and children.
The villa is extraordinarily light inside, as well as roomy. Subtly decorated with Thai-style ornaments, this is a far cry from anonymous hotel-style Koh Samui accommodation. For a start, there is a wonderful kitchen complete with everything you need, where you can make anything from a snack to a five-course dinner. Better still, if you don't fancy preparing your food, an expert chef is just a phone call away and will be only too happy to cater for you.
There are 4 bedrooms and 5 bathrooms luxury villas, all generously-sized and appointed with luxury in mind. Think king-size beds, crisp cotton sheets, with air-conditioning you can set at just the right temperature. Bedside cabinets and roomy built-in wardrobes allow you to organise and stow all your baggage, giving the rooms an uncluttered look. The bedrooms have a very private feel to them and despite the openness of the villa, having your very own space is an integral feature of the design. Nights, you'll sink into a deliciously comfortable bed, and waking up is a delight with en-suite bathrooms.
As with all good tropical living, the kitchen and living room seem to flow into each other, allowing for easy and laidback conviviality. Sofas face a very large-screen TV, which will make viewing more like a cinema experience. This is a full home entertainment system including state-of-the-art satellite and DVD/CD systems.
This is a superb location for people looking to lose themselves in the beauty of Koh Samui's gorgeous beaches and lush tropical landscape. The village - which is set right by the beachside - is a small luxury living development close to the main tourist areas of Samui.
It adjoins an unspoiled stretch of sandy beach in the relatively undeveloped south-eastern coast, and has been built amid a profusion of coconut palms and tropical landscaped gardens. Two neighbouring islands - Koh Tan and Koh Mudsum - well-known for their fantastic fishing and snorkeling, are only a short, 20-minute boat ride away.
It is only ten minutes from Lamai Beach, 30 minutes from Chaweng and Samui's top golf course, and 35 minutes from the airport, so you are never far from the action. But while there is easy access to shopping, restaurants, nightlife and other activities, back in Samui Beach Village you will feel you are on your own tropical island paradise.
Rental Rates (per night in THB)
Low Season (May-Jun; Sep-14 Dec): 24,100
High Season (8 Jan-Apr): 30,500
Summer High Season (Jul-Aug): 35,100
Peak Season (15 Dec-7 Jan): 50,300
Accomodation
4 Bedrooms
5 Bathrooms
4 Bathrooms Ensuite
Sleeps 8
Included in Rental Price
Bed linen
Towels
Maid
Gardener
Pool cleaner
TV/Cable
Internet
WiFi
Estate charges
Security
Water
Gas
Electricity
Permissible
Smoking

Smoking

Children

Children

Pets

No Pets

Cooking

Cooking
Nearby
Inland
Near Beach
Near Shopping
Available Facilities
TV/Cable
Internet
WiFi
Private swimming pool
Estate security
Fully furnished
Parking
Kitchen Facilities
Stovetop
Oven
Microwave oven
Refrigerator
Dishwasher
Dishware
Cutlery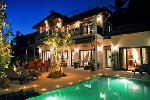 Five-star service; easy walk to the quiet, unspoiled beach [KSHOL7607]
House in Hua Thanon, Samui. From THB 22,900 per night. More info
Prices quoted in THB are converted for your convenience only and may vary 5% or more. Currency movements are out of our control and prices may change without prior warning.
Page viewed 491 times, 0.2 views/day.