Text Search


Quick Search

Your enquiry cart
is empty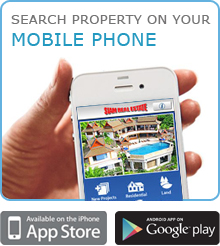 | | |
| --- | --- |
| What's New | |


| | |
| --- | --- |
| Weather Report | |


Owner's Login


Blog with expert
advice that addresses
all questions related to
Thailand property.
Read more »

Currency Converter
| | |
| --- | --- |
| Currency converters tool | |



Exchange rates


Holiday

Rental Property

A luxurious villa just steps from the beach. [HOL4086]
Type and Location: House in Lanta Islands, Krabi
Offer Terms: Rental - Holiday
Beds: 2
Minimum rental term: 1 Week - Unavailable 15 Dec 2011 - 15 Jan 2012
Summer Season
1 Jun - 30 Sep
High Season
1 Oct - 30 Nov
1 Feb - 31 May
Peak Season
1 Dec - 31 Jan
Daily
Weekly
* Monthly refers to 30 days.
How is my total rental calculated?
Rental rates vary by season and duration-of-stay. Consequently, it is necessary to look at each night of your stay and determine the applicable rate for that night.
For example, consider a 10-night stay, comprised of 4 nights in summer season and 6 nights in high season.
Since the stay is more than a week, the weekly rate will apply for all the nights of your stay. For each night, we determine the applicable season, consult the weekly rate for that season, divide that weekly rate by 7 to get a nightly rate, and add that amount to a running total.
In our example, the first 4 nights will use the summer season weekly rate (divided by 7), the last six nights will use the high-season weekly rate (divided by 7).
For a property that does not specify weekly or monthly rates, the daily rate for the applicable season is applied for each night of the stay.
About Lanta Islands
Koh Lanta consists of 52 islands including the largest, Koh Lanta Yai. It's located approximately 70 kilometres from Krabi town. If you're looking for complete peace and quiet away from the bustling tourist areas, with a few home comforts, head for the island of Koh Lanta. Low key development and unspoiled nature are Lanta's main attractions. Mountainous and rugged in some areas, especially near the southern tip, its green forested hills, gravel and sand beaches, pretty coral reefs, clear emerald water and traditional lifestyle, provide a charming retreat from modern life. Only 20,000 people live on Lanta including a clan of Chao Ley, or Sea Gypsies. This distinct ethnic group still follow their traditional customs and culture. Along with the Muslim and Chinese locals they give the island its unique ambiance.
CLICK HERE TO VIEW STREET VIEW
A beautiful Thai style villa with private pool for the ultimate in relaxation. This beach front property offers the best in tropical island accommodation.
Located 90 minutes South of Krabi airport, is this two bedroom Villa, providing the opportunity to fully relax in a peaceful environment. Imagine living in 5-Star luxury villa, on a white sand beach, with nothing but sand between you and the ocean. Imagine watching the sunset every evening in front of your villa with your favorite drink sitting in the Sala. Consider having your biggest decision being whether you are going to swim in the ocean or take a dip in your private pool before or after breakfast. Breathe in the sea breeze, drink in the unspoiled magnificent beauty, and remove any pressure to do anything.
The Thai style architecture contributes to the serenity of the experience. You are surrounded by beautiful tropical landscaped gardens and only the highest quality construction has been used. The main building is comprised of the living room, the dining area, the kitchen, and the powder room. The second structure has two master bedroom suites, one on the ground floor, and one on the second floor. In addition, there is a magnificent outdoor shower adjacent to the bathroom on the main floor. Elegance in exquisite natural environment await you for the vacation of your dreams.
There are two master bedroom suites, with king size beds and Tempur Pedic (memory foam mattresses) which are very comfortable. They both have views of the ocean. The one upstairs has a balcony. The master bathroom suite on the ground floor has a jetted bathtub. There is air conditioning in each villa room, there is a private washer/dryer and off street parking. We have cable with flat screen televisions and DVD players in both suites, a DVD library is provided for guests.
The beautiful private pool in front of the Villa by the sand has four jets. The kitchen is fully stocked with a stove, oven, fridge, dishwasher and all the amenities. There are a choice of outdoor spaces - deck/patio : Elegant either around the pool or right on the beach. Balcony : The balcony is on the second floor Master bedroom. Gazebo : In Thailand it is called a "Sala" and is positioned by the beach for either yoga or to sip a cocktail and watch the sunset in glorious splendor. The villa is 20 meters from the sandy beach and ocean waves. You cannot get much closer to the ocean without being on a boat. The negative ions are good for your health, your lungs, and your soul.
Cable modem internet is provided. You plug in the CAT 5 cable and you are set to go. There is also WiFi (Wireless Internet) : Please bring your laptop and you're ready to be connected. There is a "Welcome Package" including cool drinks when you arrive, as well as an English speaking Concierge on site. Handicapped Accessible (may have limitations) : If you are on crutches, you can get around the property, however, it is not really wheel-chair friendly.
Activities on site and nearby include a Zoo/Wildlife Park, restaurants, boating, swimming, fishing, health/beauty Spa and fitness center/gym. Across the street are: laundry service, Internet access, massage studio, Tour operator to book activities, and Cook-Kai Restaurant. In addition, next door are two "Five-Star" properties with restaurants and spas to dine and indulge.
Architectural style: Thai
Structure: Two Storey
Gardens: Yes
Conditions: Excellent
Accomodation
2 Bedrooms
3 Bathrooms
2 Bathrooms Ensuite
Sleeps 4
Included in Rental Price
Bed linen
Maid
Pool cleaner
TV/Cable
Internet
Water
Gas
Permissible
Smoking

No Smoking

Children

Children

Pets

No Pets

Cooking

Cooking
Nearby
On Beach
Near Beach
Near Shopping
Available Facilities
TV/Cable
Internet
Private swimming pool
Fully furnished
Parking
Kitchen Facilities
Stovetop
Oven
Refrigerator
Dishwasher
Dishware
Cutlery
Quiet area just 100 meters to the Andaman Sea [KRHOL0009]
House in Lanta Islands, Krabi. From THB 2,000 per night. More info
Prices quoted in THB are converted for your convenience only and may vary 5% or more. Currency movements are out of our control and prices may change without prior warning.
Page viewed 4,337 times, 1.0 views/day.