Text Search


Quick Search

Your enquiry cart
is empty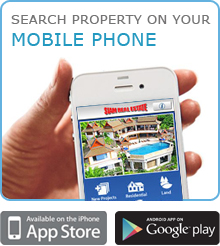 | | |
| --- | --- |
| What's New | |


| | |
| --- | --- |
| Weather Report | |


Owner's Login


Blog with expert
advice that addresses
all questions related to
Thailand property.
Read more »

Currency Converter
| | |
| --- | --- |
| Currency converters tool | |



Exchange rates


Holiday

Rental Property

Quiet area just 100 meters to the Andaman Sea [KRHOL0009]
Type and Location: House in Lanta Islands, Krabi
Offer Terms: Rental - Holiday
Beds: 2
Minimum rental term: One Week
Internal area: 100 sq. m.
Total area: 200 sq. m.
Book 21 nights and get 5 nights FREE (from 1st of FEB to 31st of MAY)
Summer Season
1 Jun - 30 Sep
High Season
1 Oct - 30 Nov
1 Feb - 31 May
Peak Season
1 Dec - 31 Jan
Daily
Weekly
* Monthly refers to 30 days.
How is my total rental calculated?
Rental rates vary by season and duration-of-stay. Consequently, it is necessary to look at each night of your stay and determine the applicable rate for that night.
For example, consider a 10-night stay, comprised of 4 nights in summer season and 6 nights in high season.
Since the stay is more than a week, the weekly rate will apply for all the nights of your stay. For each night, we determine the applicable season, consult the weekly rate for that season, divide that weekly rate by 7 to get a nightly rate, and add that amount to a running total.
In our example, the first 4 nights will use the summer season weekly rate (divided by 7), the last six nights will use the high-season weekly rate (divided by 7).
For a property that does not specify weekly or monthly rates, the daily rate for the applicable season is applied for each night of the stay.
About Lanta Islands
Koh Lanta consists of 52 islands including the largest, Koh Lanta Yai. It's located approximately 70 kilometres from Krabi town. If you're looking for complete peace and quiet away from the bustling tourist areas, with a few home comforts, head for the island of Koh Lanta. Low key development and unspoiled nature are Lanta's main attractions. Mountainous and rugged in some areas, especially near the southern tip, its green forested hills, gravel and sand beaches, pretty coral reefs, clear emerald water and traditional lifestyle, provide a charming retreat from modern life. Only 20,000 people live on Lanta including a clan of Chao Ley, or Sea Gypsies. This distinct ethnic group still follow their traditional customs and culture. Along with the Muslim and Chinese locals they give the island its unique ambiance.
CLICK HERE TO VIEW STREET VIEW
Real paradise on the Earth is 27 km long island Koh Lanta Yai which is reachable after two hours' drive from the Krabi Airport or by boat from Phuket island.
This mountainous island is overgrown with lush tropical vegetation lined with lots of beautiful sandy beaches washed by crystal clear Andaman sea.
This villa (100 sqm living area and 200 sqm garden) is part of complex of 15 villas. It is situated on the Nui Bay cliff right above sea level, 100m from Nui Bay and Klong Nin Beach. Within walking distance (10min) there are two resorts (Amantra and Sri Lanta) where you can find many restaurants, bars, shops and internet cafes.
This villa is right on the coast, with amazing sea views. It has a living room (LCD TV, DVD, CD player, Wi-Fi) with double bed, WC, terrace shower, eating nook (fridge, microwave, kettle, toaster), terrace (outside shower, parasol set) with an outstanding view of the sea and grounds. The air-conditioned bedroom with double bed and kids' corner, bathroom with bath and shower, WC. Sleeps 4-5 people.
There is an oceanfront community swimming pool in the small development.
One weekly cleaning is included. Additional service is charged at 1,000 THB/time.
Accomodation
2 Bedrooms
2 Bathrooms
2 Bathrooms Ensuite
Sleeps 5
Included in Rental Price
Bed linen
Maid
TV/Cable
Internet
Estate charges
Water
Gas
Electricity
Permissible
Smoking

Smoking

Children

Children

Pets

No Pets

Cooking

Cooking
Nearby
Near Beach
Near Schooling
Near Yacht mooring
Near Hospitals
Near Town
Near Shopping
Available Facilities
TV/Cable
Internet
Communal swimming pool
Home security
Fully furnished
Parking
Kitchen Facilities
Stovetop
Grill
Oven
Microwave oven
Refrigerator
Dishware
Cutlery
Service: Once weekly cleaning included. Additional service available.
Prices quoted in THB are converted for your convenience only and may vary 5% or more. Currency movements are out of our control and prices may change without prior warning.
Page viewed 3,688 times, 1.0 views/day.