Text Search


Quick Search

Your enquiry cart
is empty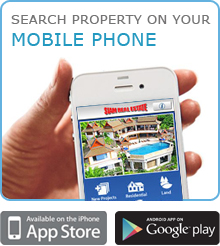 | | |
| --- | --- |
| What's New | |


| | |
| --- | --- |
| Weather Report | |


Owner's Login


Blog with expert
advice that addresses
all questions related to
Thailand property.
Read more »

Currency Converter
| | |
| --- | --- |
| Currency converters tool | |



Exchange rates


Holiday

Rental Property

Beautiful property for rent [HOL3296]
Type and Location: House in Other, Krabi
Offer Terms: Rental - Holiday
Beds: 3
Minimum rental term: 3 Nights
Summer Season
1 Jun - 30 Sep
High Season
1 Oct - 30 Nov
1 Feb - 31 May
Peak Season
1 Dec - 31 Jan
Daily
Weekly
* Monthly refers to 30 days.
How is my total rental calculated?
Rental rates vary by season and duration-of-stay. Consequently, it is necessary to look at each night of your stay and determine the applicable rate for that night.
For example, consider a 10-night stay, comprised of 4 nights in summer season and 6 nights in high season.
Since the stay is more than a week, the weekly rate will apply for all the nights of your stay. For each night, we determine the applicable season, consult the weekly rate for that season, divide that weekly rate by 7 to get a nightly rate, and add that amount to a running total.
In our example, the first 4 nights will use the summer season weekly rate (divided by 7), the last six nights will use the high-season weekly rate (divided by 7).
For a property that does not specify weekly or monthly rates, the daily rate for the applicable season is applied for each night of the stay.
About Other
Krabi is one of the most relaxing places on the planet. The province features stunning scenery, fantastic white-sand beaches, a coastline with over 200 islands as well as a jungle-covered interior revealing towering limestone cliffs, caves, waterfalls and exotic wildlife. Less crowded than Phuket, more laid back than Koh Samui, and just 80 minutes by air from Bangkok, with a range of accommodation from budget to deluxe, this idyllic province really is the ultimate destination.
CLICK HERE TO VIEW STREET VIEW
This property sits majestically on the beach at Krabi in southern Thailand. This is a great value for money rental opportunity that shouldn't be missed. This dominating two-storey modern home offers potential renters many options. The property sits directly on the beach and owns three bedrooms, three bathrooms, a western kitchen, lounge, dining room, a large private swimming pool, carport and garden.
The house has a large garden, which is perfect for hosting garden and beach parties. The garden is surrounded by huge palm trees within just metres of the beach.
The interior of the house provides some high quality furniture, fixtures and fittings. There is a large open plan living area that combines together a lounge, dining room and a fully fitted western kitchen.
There are three bedrooms on the second level, where you can enjoy some great sea-views. The bedrooms have double beds and built-in wardrobes.
This detached home is available to rent for a minimum of three nights and comes equipped with services and utilities such as cable/satellite TV, internet and telephone connections, fresh bed linen and towels provided by a maid and a gardener.
Architectural style: Modern
Structure: Very Good
Gardens: Yes
Conditions: Very Good
Accomodation
3 Bedrooms
3 Bathrooms
Sleeps 6
Included in Rental Price
Bed linen
Towels
Maid
Gardener
TV/Cable
Internet
Estate charges
Water
Electricity
Permissible
Smoking

No Smoking

Children

Children

Pets

No Pets

Cooking

Cooking
Available Facilities
TV/Cable
Internet
Telephone
Private swimming pool
Fully furnished
Parking
Kitchen Facilities
Stovetop
Oven
Microwave oven
Refrigerator
Cooking Utensils
Dishware
Cutlery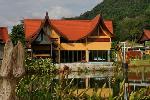 A real taste of paradise in a luxury villa on the coast. [HOL4094]
House in Other, Krabi. From THB 10,900 per night. More info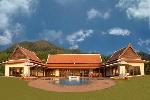 A real taste of paradise in a luxury villa on the coast. [HOL4096]
House in Other, Krabi. From THB 13,200 per night. More info
Prices quoted in THB are converted for your convenience only and may vary 5% or more. Currency movements are out of our control and prices may change without prior warning.
Page viewed 2,644 times, 0.5 views/day.