Text Search


Quick Search

Your enquiry cart
is empty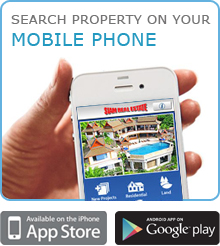 | | |
| --- | --- |
| What's New | |


| | |
| --- | --- |
| Weather Report | |


Owner's Login


Blog with expert
advice that addresses
all questions related to
Thailand property.
Read more »

Currency Converter
| | |
| --- | --- |
| Currency converters tool | |



Exchange rates


Holiday

Rental Property

A real taste of paradise in a luxury villa on the coast. [HOL4096]
Type and Location: House in Other, Krabi
Offer Terms: Rental - Holiday
Beds: 4
Minimum rental term: 7 Nights
Internal area: 230 sq. m.
Summer Season
1 Jun - 30 Sep
High Season
1 Oct - 30 Nov
1 Feb - 31 May
Peak Season
1 Dec - 31 Jan
Daily
Weekly
* Monthly refers to 30 days.
How is my total rental calculated?
Rental rates vary by season and duration-of-stay. Consequently, it is necessary to look at each night of your stay and determine the applicable rate for that night.
For example, consider a 10-night stay, comprised of 4 nights in summer season and 6 nights in high season.
Since the stay is more than a week, the weekly rate will apply for all the nights of your stay. For each night, we determine the applicable season, consult the weekly rate for that season, divide that weekly rate by 7 to get a nightly rate, and add that amount to a running total.
In our example, the first 4 nights will use the summer season weekly rate (divided by 7), the last six nights will use the high-season weekly rate (divided by 7).
For a property that does not specify weekly or monthly rates, the daily rate for the applicable season is applied for each night of the stay.
About Other
Krabi is one of the most relaxing places on the planet. The province features stunning scenery, fantastic white-sand beaches, a coastline with over 200 islands as well as a jungle-covered interior revealing towering limestone cliffs, caves, waterfalls and exotic wildlife. Less crowded than Phuket, more laid back than Koh Samui, and just 80 minutes by air from Bangkok, with a range of accommodation from budget to deluxe, this idyllic province really is the ultimate destination.
CLICK HERE TO VIEW STREET VIEW
A stunning four bedroom pool villa on the waters edge overlooking the bay. Breathtaking scenery surrounds the villa, which is perfectly designed for the most relaxing and inspiring holiday.
These elegantly designed villas are a beachfront paradise offering a stylish seaside living environment. As soon as you arrive at the bay, you'll be amazed by the expansive ocean views: the location affords extensive views to the myriad of limestone islands of Phang Nga Bay.
Enjoying a 45 meter sea frontage, this property is situated just 15 meters from the ocean. Built in three separate sections, this Thai style villa offers private areas for all guests. Sleeping up to eight, the grounds offer space for everyone to enjoy. The open living area has a comfortable lounge and an elegant dining table overlooking the pool and seascape beyond. The cathedral ceiling and bright yellow walls create a cool and pleasant space. Doors open onto the pool terrace and allow in the warm sea breeze.
The fitted kitchen contains high quality modern appliances and is fully equipped with a large sink, hob with gas burners and a refrigerator freezer. You will find in cupboards and drawers all the cutlery, crockery, pans and glassware necessary for your comfort.
With four bedrooms, all with en-suite bathrooms, this villa is ideal for a family or group holiday. Rooms have sea, pool and garden views and feature elegant traditional Thai style furniture. All rooms have fans, air conditioning, satellite TV and DVD players.
The terrace is supplied with a choice of sun loungers, chairs and a table, for relaxing or dining. This outdoor space is beautiful both day and night, with stunning sunset views. The infinity pool is treated with salt and you can swim with uninterrupted sea views.
The villa is surrounded by unspoiled beaches on famous islands: Koh Hong, Chicken Island, James Bond Island, Koh Phi Phi, Koh Lanta and Railay beach.
All villas include free use of a laptop, a free three island long boat trip, personal safe, sea kayak. Krabi Town and Ao Nang are 30 minutes away by car and there is a jetty for boat trips.
RENTAL RATE BELOW ARE IN THB
| | | | | |
| --- | --- | --- | --- | --- |
| Season | Period | 7 Night(THB) | 1 weekend 2 Nights (THB) | 1 Night (THB) |
| The Full House | For 8 Adults | - | - | - |
| Low | 28 Apr 12 to 02 Nov 12 | 79,200 | 24,500 | 12,700 |
| High | 14 Jan 12 to 27 Apr 12 | 105,000 | 32,400 | 16,800 |
| Peak | 15 Dec 12 to 11 Jan 13 | 131,000 | - | - |
Architectural style: Thai
Structure: Single Storey Villa
Gardens: Yes
Conditions: Excellent
Accomodation
4 Bedrooms
4 Bathrooms
4 Bathrooms Ensuite
Sleeps 8
Included in Rental Price
Bed linen
Towels
Maid
Gardener
Pool cleaner
TV/Cable
Internet
Permissible
Smoking

No Smoking

Children

Children

Pets

No Pets

Cooking

Cooking
Available Facilities
TV/Cable
Internet
Private swimming pool
Estate security
Fully furnished
Parking
Kitchen Facilities
Stovetop
Refrigerator
Dishware
Cutlery
Prices quoted in THB are converted for your convenience only and may vary 5% or more. Currency movements are out of our control and prices may change without prior warning.
Page viewed 1,689 times, 0.4 views/day.