Text Search


Quick Search

Your enquiry cart
is empty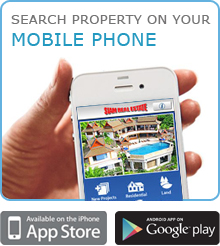 | | |
| --- | --- |
| What's New | |


| | |
| --- | --- |
| Weather Report | |


Owner's Login


Blog with expert
advice that addresses
all questions related to
Thailand property.
Read more »

Currency Converter
| | |
| --- | --- |
| Currency converters tool | |



Exchange rates


Holiday

Rental Property

A real taste of paradise in a luxury villa on the coast. [HOL4094]
Type and Location: House in Other, Krabi
Offer Terms: Rental - Holiday
Beds: 3
Minimum rental term: 7 Nights
Internal area: 146 sq. m.
Total area: 223 sq. m.
Special 18% Discount applicable on prices published above if only 4 guests in party stay in two bedrooms
Summer Season
1 Jun - 30 Sep
High Season
1 Oct - 30 Nov
1 Feb - 31 May
Peak Season
1 Dec - 31 Jan
Daily
Weekly
* Monthly refers to 30 days.
How is my total rental calculated?
Rental rates vary by season and duration-of-stay. Consequently, it is necessary to look at each night of your stay and determine the applicable rate for that night.
For example, consider a 10-night stay, comprised of 4 nights in summer season and 6 nights in high season.
Since the stay is more than a week, the weekly rate will apply for all the nights of your stay. For each night, we determine the applicable season, consult the weekly rate for that season, divide that weekly rate by 7 to get a nightly rate, and add that amount to a running total.
In our example, the first 4 nights will use the summer season weekly rate (divided by 7), the last six nights will use the high-season weekly rate (divided by 7).
For a property that does not specify weekly or monthly rates, the daily rate for the applicable season is applied for each night of the stay.
About Other
Krabi is one of the most relaxing places on the planet. The province features stunning scenery, fantastic white-sand beaches, a coastline with over 200 islands as well as a jungle-covered interior revealing towering limestone cliffs, caves, waterfalls and exotic wildlife. Less crowded than Phuket, more laid back than Koh Samui, and just 80 minutes by air from Bangkok, with a range of accommodation from budget to deluxe, this idyllic province really is the ultimate destination.
CLICK HERE TO VIEW STREET VIEW
As soon as you arrive at this bay, north of Ao Nang, you'll be amazed by the expansive ocean views: the location affords extensive views to the myriad of limestone islands of Phang Nga Bay. Villas are nestled at the foot of a green hill called "Khao Tong" - The Golden Hill in Thai. These elegantly designed villas are a beachfront paradise offering a stylish seaside living environment.
Cars are left at the entrance car park and it is a short distance to the villa along a pathway specially designed for a golf cart. Strolling through the landscaped garden decorated with tropical plants you can admire the villa with its slender and graceful roof based on traditional Thai style, although blended seamlessly into the modern, graceful buildings.
The stunning villa is built just meters from the sea with breathtaking views of the bay. You enter directly into the main room where the kitchen area is part of a large lounge dining room with a cathedral shaped ceiling giving a sense of light airiness and space. The front of this area is fully glazed and fitted with folding doors that open completely onto the terrace, pool and sala with spectacular views of the bay.
The fitted kitchen with all amenities including a breakfast bar, contains high quality modern appliances and is fully equipped with a large sink, hob with three gas burners and extractor hood and a microwave oven with grill. A large two-door refrigerator freezer completes the electrical equipment. You will find in cupboards and drawers all the cutlery, crockery, pans and glassware necessary for your comfort.
The lounge has a corner sofa and an adjustable table that converts easily from a coffee table into a dining room table when necessary. A solid teak TV console contains a 42-inch flat screen LCD TV with a satellite connection and a DVD player.
The terrace is covered with smooth beige sand stone and provides access to the sala and swimming pool. The sala is a traditional Thai garden shelter, built in the same style as the villa, with two large teak benches where you can relax, watch the beautiful sunsets and take meals on a solid teak table that can be folded into a narrow bench between meals. The large, comfortable bean bag allows you to sunbathe on the terrace or relax in the sala. The infinity pool is treated with salt and you can swim with uninterrupted sea views.
Off the main room you enter a right side dressing room that serves the first master bedroom and the first bathroom. The front of the master bedroom is fully glazed with two sliding doors that allow direct access to the pool. The side wall is also partly glazed and offers a breathtaking view of the bay and the lake. The master suite opens onto the pool and allows you to have stunning sea views – even whilst lying in the king sized bed. The master bedroom features a rotary central king size bed with futuristic design and a remote control that allows you to rotate the bed electronically, according to your wishes, whether you want to read while watching the bay or relax and watch the lake. You can choose your position in relation to the air-conditioning or to allow you to sleep in a specific orientation according to the Feng Shui concept. A wall console accommodates a 32 inch flat screen with a satellite connection and DVD player.
The very spacious bathroom has twin washbowls of natural stone mounted on a black granite counter top. Under the counter top is a bench and four boxes to allow you to store your personal belongings, such as cosmetics and toiletries. The floor is covered with polished, beige sand stone. The extra large walk-in-shower, VISION, is positioned at the side of the villa, so that the open space between the wall and the translucent ceiling allow you to remain in contact with nature. The front wall is fitted with a large one-way mirror. The shower features a hand shower and a powerful overhead rain shower, as well as a bench seat allowing you to rest comfortably under the shower; pure indulgence.
Off the main room you enter a left side dressing room that serves the second master bedroom and the second bathroom. The two bedrooms and two bathrooms are designed and equipped to the same standard. From the dressing, a staircase leads up to a very large mansard-roofed room with two gables, fully glazed looking on to the bay and garden. It is equipped with two single beds, a 32 inch TV with satellite connection and a DVD player. A round table in solid teak with original design allows you to write your postcards whilst overlooking the bay.
The Villa will be particularly appreciated by two couple who want maximum comfort and privacy; perfect for both of them who will love this tranquil paradise. However, the Villa is designed to comfortably accommodate six people, even for a long stay.
All villas include free use of a laptop, a free three island long boat trip, personal safe, sea kayak. Krabi Town and Ao Nang are 30 minutes away by car and there is a jetty for boat trips.
RENTAL RATE BELOW ARE IN THB
| | | | | |
| --- | --- | --- | --- | --- |
| Season | Period | 7 Night(THB) | 1 weekend 2 Nights (THB) | 1 Night (THB) |
| Full Villa | For 6 Guests | | | |
| Low | 28 Apr 12 to 02 Nov 12 | 61,600 | 19,000 | 9,800 |
| High | 14 Jan 12 to 27 Apr 12 | 82,200 | 25,400 | 13,100 |
| Peak | 15 Dec 12 to 11 Jan 13 | 102,800 | - | - |
| ******** | ******** | ******** | ******** | ******* |
| Full Villa | For 4 Guests | | Special 18% discount | - |
| Low | 28 Apr 12 to 02 Nov 12 | 50,512 | 15,580 | 8,036 |
| High | 14 Jan 12 to 27 Apr 12 | 67,404 | 20,828 | 10,742 |
| Peak | 15 Dec 12 to 11 Jan 13 | 84,296 | - | - |
Special 18% Discount applicable on prices published above if only 4 guests in party stay in two bedrooms
Architectural style: Thai
Structure: Two Storey Villa
Gardens: Yes
Conditions: Excellent
Accomodation
3 Bedrooms
2 Bathrooms
Sleeps 6
Included in Rental Price
Bed linen
Towels
Maid
Gardener
Pool cleaner
TV/Cable
Internet
Permissible
Smoking

No Smoking

Children

Children

Pets

No Pets

Cooking

Cooking
Available Facilities
TV/Cable
Internet
Private swimming pool
Estate security
Fully furnished
Parking
Kitchen Facilities
Stovetop
Refrigerator
Dishware
Cutlery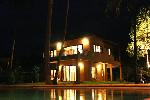 Beautiful property for rent [HOL3296]
House in Other, Krabi. From THB 11,550 per night. More info
Prices quoted in THB are converted for your convenience only and may vary 5% or more. Currency movements are out of our control and prices may change without prior warning.
Page viewed 2,298 times, 0.5 views/day.