Text Search


Quick Search

Your enquiry cart
is empty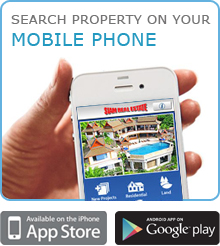 | | |
| --- | --- |
| What's New | |


| | |
| --- | --- |
| Weather Report | |


Owner's Login


Blog with expert
advice that addresses
all questions related to
Thailand property.
Read more »

Currency Converter
| | |
| --- | --- |
| Currency converters tool | |



Exchange rates


Holiday

Rental Property

Sleeps up to eight guests, also has a baby cot. [HOL4097]
Type and Location: House in Ao Nang, Krabi
Offer Terms: Rental - Holiday
Beds: 3
Minimum rental term: 7 Nights
Internal area: 220 sq. m.
Total area: 800 sq. m.
Summer Season
1 Jun - 30 Sep
High Season
1 Oct - 30 Nov
1 Feb - 31 May
Peak Season
1 Dec - 31 Jan
Daily
Weekly
* Monthly refers to 30 days.
How is my total rental calculated?
Rental rates vary by season and duration-of-stay. Consequently, it is necessary to look at each night of your stay and determine the applicable rate for that night.
For example, consider a 10-night stay, comprised of 4 nights in summer season and 6 nights in high season.
Since the stay is more than a week, the weekly rate will apply for all the nights of your stay. For each night, we determine the applicable season, consult the weekly rate for that season, divide that weekly rate by 7 to get a nightly rate, and add that amount to a running total.
In our example, the first 4 nights will use the summer season weekly rate (divided by 7), the last six nights will use the high-season weekly rate (divided by 7).
For a property that does not specify weekly or monthly rates, the daily rate for the applicable season is applied for each night of the stay.
About Ao Nang
Ao Nang is Krabi's vibrant tourist centre. It has the relaxed atmosphere of a small town, the beauty of a beach resort, the modern comforts of home, and the friendliness that sets Thailand apart. The town itself is small; a 30-minute stroll takes you from one end to the other. Given that floating buildings are impractical and sheer cliffs don't readily lend themselves to development, this paradise won't be paved over anytime soon. By road, Ao Nang is 20 minutes from Krabi Town and Klong Muang Beach and a minute or two to Noppharat Thara Beach. Via the sea, Railay's beaches - including Ton Sai - and a grab bag of small, intimate islands are nearby. Pick a direction and give your waterborne taxi 30 minutes. A watery world of adventure waits.
CLICK HERE TO VIEW STREET VIEW
Surrounded by dramatic karst mountains and just a few minutes from two of the best beaches in Krabi. This villa is one of a kind in this area. The three bedrooms sleep up to eight guests, plus a baby cot is available - perfect for a large family holiday.
The villa, which is the nearest of its size to Ao Nang beach, oozes understated elegance, class and style. The house was designed primarily for comfort, not ostentation. Ventilation, wall materials, aspect and high ceilings combine to make this a cool house. A Southern Thai roof structure has been fused with Balinese and Cambodian architectural features. The one-off architectural design and separate plot will appeal to those who prefer individuality to housing estate mass reproduction.
The villa sits on a spacious 800 sqm plot, with 220 sqm of building area with three bedrooms and three bathrooms. The villa's master bedroom has a bathroom suite with a stylish outdoor shower and bath, enclosed in their own private garden.
The view to the north of the villa is of spectacular karst mountains. In all directions the neighbouring properties are be inconspicuous, providing complete privacy.
The open plan living space boasts a stylish, fully-fitted Western kitchen, dining area and lounge. UBC satellite TV and high-speed internet are installed, there is a home theatre system, CD/DVD player, computer with games and 8,000 tune music library. Security is provided by a 2m wall and a metal grille plus window bars on one of the bedrooms. The master bedroom has a king size bed, the second and third bedrooms have a queen size and single bed. All rooms have air conditioning.
Maid service every other day is included in the price, extra days may be added for THB 500 per day. An unlimited tuk tuk shuttle service to Ao Nang beach is available between 8am and 10pm for THB 1,000 per day. Airport pickup is THB 600 for a taxi or 1,000 for a minivan.
Architectural style: Thai-Bali
Structure: Single Storey Villa
Gardens: Tropical
Conditions: Excellent
Accomodation
3 Bedrooms
3 Bathrooms
1 Bathroom Ensuite
Sleeps 8
Included in Rental Price
Bed linen
Maid
Gardener
Pool cleaner
TV/Cable
Electricity
Permissible
Smoking

No Smoking

Children

Children

Pets

No Pets

Cooking

Cooking
Nearby
Inland
Near Beach
Near Shopping
Available Facilities
TV/Cable
Internet
Private swimming pool
Fully furnished
Parking
Kitchen Facilities
Stovetop
Oven
Refrigerator
Dishware
Cutlery
Prices quoted in THB are converted for your convenience only and may vary 5% or more. Currency movements are out of our control and prices may change without prior warning.
Page viewed 4,569 times, 1.0 views/day.