Text Search


Quick Search

Your enquiry cart
is empty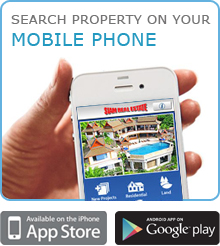 | | |
| --- | --- |
| What's New | |


| | |
| --- | --- |
| Weather Report | |


Owner's Login


Blog with expert
advice that addresses
all questions related to
Thailand property.
Read more »

Currency Converter
| | |
| --- | --- |
| Currency converters tool | |



Exchange rates


Holiday

Rental Property

A tropical four-star resort on Khao Lak Beach. [HOL3551]
Type and Location: Apartment/Condo in Khao Lak, Phang Nga
Offer Terms: Rental - Holiday
Beds: 1
Minimum rental term: 3 nights
Total area: 40 sq. m.
Summer Season 1,600THB/night and High Season 2,000THB/night
Summer Season
1 Jun - 30 Sep
High Season
1 Oct - 30 Nov
1 Feb - 31 May
Peak Season
1 Dec - 31 Jan
Daily
Weekly
* Monthly refers to 30 days.
How is my total rental calculated?
Rental rates vary by season and duration-of-stay. Consequently, it is necessary to look at each night of your stay and determine the applicable rate for that night.
For example, consider a 10-night stay, comprised of 4 nights in summer season and 6 nights in high season.
Since the stay is more than a week, the weekly rate will apply for all the nights of your stay. For each night, we determine the applicable season, consult the weekly rate for that season, divide that weekly rate by 7 to get a nightly rate, and add that amount to a running total.
In our example, the first 4 nights will use the summer season weekly rate (divided by 7), the last six nights will use the high-season weekly rate (divided by 7).
For a property that does not specify weekly or monthly rates, the daily rate for the applicable season is applied for each night of the stay.
About Khao Lak
Khao Lak lies one hour or so north of Phuket airport and is popular for its sandy golden beach which spreads for miles up the coast surrounded by rice fields and rubber, palm and coconut plantations. The interior is covered in magnificent natural jungle and rises to meet high hills, cut by streams and cascading waterfalls such as Saeng Thong, Lam Roo and Chong Fa. The quiet residential areas are very pleasant, with plenty of amenities. Popular with mainly Germans and Scandinavians.
CLICK HERE TO VIEW STREET VIEW
The Superior Room has either a double or twin beds, is beautifully decorated and has a private balcony. All rooms have a 32" LCD TV, DVD player and an internet connection.
Facilities for guests include a spa, sauna and swimming pool. The Pra-Dao Restaurant offers an international buffet breakfast, a la carte lunch and themed dinner with Thai and Western specialities. The Octopus Beach Bar serves cocktails and juices by day and is a Seafood BBQ restaurant at night. Fresh coffee and internet access are available in the Seahorse Lounge.
The resort offers a free shuttle service to the nearby shopping centre, also in the area are elephant trekking, golf, diving and a Thai cultural show, as well as Lamlu National Park and the Similan Island Pier.
Breakfast is included and compulsory Gala Dinners are as follows:
**Special offers are subject to the terms and conditions
Architectural style: Modern
Structure: Room
Gardens: Lush tropical gardens
Conditions: Very good
Accomodation
1 Bedroom
1 Bathroom
1 Bathroom Ensuite
Sleeps 2
Included in Rental Price
Bed linen
Towels
Maid
Gardener
Pool cleaner
TV/Cable
Internet
Estate charges
Security
Water
Electricity
Permissible
Smoking

Smoking

Children

Children

Pets

No Pets

Cooking

No Cooking
Available Facilities
TV/Cable
Internet
Telephone
Communal swimming pool
Estate security
Fully furnished
Parking
Spa
Sauna
Jacuzzi outside
Service: Laundry and airport transfer services are available at extra cost.
Prices quoted in THB are converted for your convenience only and may vary 5% or more. Currency movements are out of our control and prices may change without prior warning.
Page viewed 2,215 times, 0.5 views/day.