Text Search


Quick Search

Your enquiry cart
is empty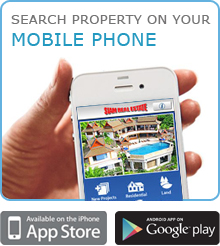 | | |
| --- | --- |
| What's New | |


| | |
| --- | --- |
| Weather Report | |


Owner's Login


Blog with expert
advice that addresses
all questions related to
Thailand property.
Read more »

Currency Converter
| | |
| --- | --- |
| Currency converters tool | |



Exchange rates


Holiday

Rental Property

All comfort and space for a quality and relaxed holiday [HOL2946]
Type and Location: House in Phang Nga, Phang Nga
Offer Terms: Rental - Holiday
Beds: From 4 to 6
Minimum rental term: Summer Season - 3 Nights, High Season - 5 nights, Peak Season - 10 Nights
Summer Season
1 Jun - 30 Sep
High Season
1 Oct - 30 Nov
1 Feb - 31 May
Peak Season
1 Dec - 31 Jan
Daily
Weekly
* Monthly refers to 30 days.
How is my total rental calculated?
Rental rates vary by season and duration-of-stay. Consequently, it is necessary to look at each night of your stay and determine the applicable rate for that night.
For example, consider a 10-night stay, comprised of 4 nights in summer season and 6 nights in high season.
Since the stay is more than a week, the weekly rate will apply for all the nights of your stay. For each night, we determine the applicable season, consult the weekly rate for that season, divide that weekly rate by 7 to get a nightly rate, and add that amount to a running total.
In our example, the first 4 nights will use the summer season weekly rate (divided by 7), the last six nights will use the high-season weekly rate (divided by 7).
For a property that does not specify weekly or monthly rates, the daily rate for the applicable season is applied for each night of the stay.
About Phang Nga
Phang Nga is a large area encompassing Phang Nga bay with its huge rock formations sticking out of the sea, Khao Lak and just north Khao Sok national park covering 740km2 . A vast area in the province was declared national parks due to the the diversity of nature on land and prolific marine life. Becoming more popular with high end resorts and luxury villas, in Phang Nga the most beautiful, unspoilt spots can still be found.
CLICK HERE TO VIEW STREET VIEW
This villa is a residence on the beach with spectacular views of the Andaman sea. This home offers the serenity of the sea and the possibility of relaxation in an atmosphere of comfort and privacy.
Luxury six bedroom villa composed of a main house and two separate guest pavilion, all of which face the beach and with a full size pool in the inner courtyard.
The main villa is a dual level house with the entrance level featuring a large open living room space adjacent to the family room. The air conditioned family room can be closed off from the rest of the rooms on this floor allowing for privacy when watching TV or just a quiet read in privacy.
On the same level there is a large kitchen with all expected appliances one would expect in a luxury house. Next to the kitchen is the inside dining room which comfortably seats 10 people.
On the entrance level floor you will appreciate that the family room, living room, and dining room all have sliding window doors which fully open up onto the poolside courtyard and face the sea.
The second floor has three bedrooms all with air condition and a large terrace facing the beach.
The 55 sq. meter master bedroom area has its own separate master bathroom with shower and bath facilities. There is also a large walk-in closet with a safe to store your valuables. Adjacent to the walk-in closet area is a small vanity room.
The master bedroom, as well as the middle bedroom, has sliding glass doors which open onto the terrace with plenty of room to sit outside and enjoy the spectacular evening sunsets.
The first Guest Pavilion has a large bedroom with a queen bed and master bathroom facility. The guest house faces both the beach and pool area.
The second Guest Pavilion offers two full size separated bedrooms sharing a bathroom. Both bedroom also face both beach and pool area.
Full sized pool surrounded by a sun deck and lounge area with beautiful teak lounge chairs. A separate shaded lounge area is ideal for outdoor eating comfortable seating 8.
Location
• Natai Beach in Phang Nga, 25 min from Phuket Airport
• Thai Muang and Blue Canyon Golf courses are a short drive from the villa
Villa rates
• Daily rates include full time staff (who reside in the nearby village) and Handyman / Gardener
• Rates shown are for a maximum of 12 (twelve) Guests
• Extra bed will be charged at US$50 per night
• Daily Rates and extra beds are subject to 10% service charge and 7% tax
• Airport transfer: US$ 45 (plus tax) per trip for a maximum of 7 passengers in private mini bus or luxury car
• Baby cot provided free of charge
• For weddings and private parties, surcharge may be applicable depending on number of guests
Facilities
• 15 m lap Pool with outdoor shower
• 5 bedrooms all with en-suite in three linked pavilions
• Independent Maid's quarter
• Fully equipped Western kitchen
• TV with Satellite channels and DVD in the Family room
• BBQ and outdoor meditation Sala
Services
• The villa staff will visit twice daily to make sure to keep the villa clean and tidy. Specific routine can be arranged upon request
• Private Laundry can be done by a professional laundry located in Khok Kloy at reasonable rates
• In-Villa wine selection
• Concierge service for all tours and activities; private tours can also be arranged
• Car rental with or without driver and with full insurance coverage
• In-villa massage: Massage is part of Thai living and can be taken outside in the Sala or more privately in any of the bedrooms. Full spa treatment can be arranged at the nearby Dusit Hot Springs or Aleenta Resort
Special for children
• Babysitting service can be arranged on request (surcharge may apply)
• First Aid kit available in the house
• Beach and pool toys available
• Phuket is renowned for its international hospitals should an unlikely event arise
• Travelling light! Tesco Lotus carries all brand names for nappies and convenience food. Boots the Chemist and other chemists and pharmacies are within reach
Attractions
• Golf at one of Phuket's top 5 golf courses
• Diving in the Phagn Nga bay with day tour (private charter can be arranged)
• Aleenta Resort & Spa and Dusit Hot Springs Spa nearby
 

Summer
Published

High
Published

Christmas
New Year

Season Schedule
for Jan 2009 / Jan 2010

1 May 09 - 31 Oct 09

08 Jan 09 – 30 Apr 09
1 Nov 09 – 14 Dec 09

15-Dec-09 to 07-Jan-10

Minimum Number of Nights

1

3

5

10

Extra
Bed

Airport Transfer

Villa Natai

6 BR/Sleeps 12

800

1,000

1,500

N/A

45

Villa Natai - 4 bedrooms

4 BR/Sleeps 8

650

850

N/A

N/A

45
 
RATES CONDITIONS
1. Rates are subject to change with notice
2. Rates are quoted on a per VILLA basis and for the maximum number of Guests (including children) as specified above.
3. Extra Beds will be charged regardless of the age of the Guests when occupancy is over villa allocation as specified above
4. Rate doesn't include breakfast
5. Baby cot provided FOC
6. Daily Rates and Extra Beds are exclusive of 10% Service Charge and 7% Tax.
7. Airport Transfers are applicable and are charged separately from the daily rates (7% Tax applicable).
Charges for airport transfer are applicable per trip and for a maximum of 7 passengers per vehicle (private mini bus or luxury car).
8. Rates are quoted in US Dollars.
CANCELLATION CONDITIONS
* For Intermediate, High and Promotional Seasons, all payment (s) received will be credited for use in the same villa as originally
booked for within 9 month of the cancellation date if the booking is cancelled after the payment (s) date. 
* For Prime Season, Christmas/New Year and if the booking is cancelled after the deposit and/or balance payment date, all payment (s)
received will be forfeited or refunded in pro-rata shall another booking be secured for the same period that has been cancelled.
* Early departure is subject to the cancellation conditions as specified above.
Accomodation
6 Bedrooms
7 Bathrooms
6 Bathrooms Ensuite
Sleeps 12
Included in Rental Price
Bed linen
Towels
Maid
Laundry
Gardener
Pool cleaner
TV/Cable
Internet
Estate charges
Security
Water
Gas
Electricity
Permissible
Smoking

Smoking

Children

Children

Pets

No Pets

Cooking

Cooking
Nearby
On Beach
Near Beach
Near Golf Courses
Near Yacht mooring
Available Facilities
TV/Cable
Internet
Telephone
Private swimming pool
Home security
Estate security
Fully furnished
Parking
Kitchen Facilities
Stovetop
Grill
Oven
Microwave oven
Refrigerator
Dishwasher
Cooking Utensils
Dishware
Cutlery
Prices quoted in THB are converted for your convenience only and may vary 5% or more. Currency movements are out of our control and prices may change without prior warning.
Page viewed 2,386 times, 0.5 views/day.