Text Search


Quick Search

Your enquiry cart
is empty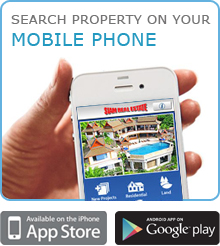 | | |
| --- | --- |
| What's New | |


| | |
| --- | --- |
| Weather Report | |


Owner's Login


Blog with expert
advice that addresses
all questions related to
Thailand property.
Read more »

Currency Converter
| | |
| --- | --- |
| Currency converters tool | |



Exchange rates


Long

Term Rental Property

Prime location - 300 m to best beach and close to everything [PNLT0003X]
Type and Location: House in Khao Lak, Phang Nga
Offer Terms: Rental - Longterm
Price: THB 240,000 per month
Beds: 4
Internal area: 360 sq. m.
Total area: 900 sq. m.
Minimum rental term: 1 month
Available Now
About Khao Lak
Khao Lak lies one hour or so north of Phuket airport and is popular for its sandy golden beach which spreads for miles up the coast surrounded by rice fields and rubber, palm and coconut plantations. The interior is covered in magnificent natural jungle and rises to meet high hills, cut by streams and cascading waterfalls such as Saeng Thong, Lam Roo and Chong Fa. The quiet residential areas are very pleasant, with plenty of amenities. Popular with mainly Germans and Scandinavians.
CLICK HERE TO VIEW STREET VIEW
Wonderful 4 bedroom house just 300 metres from the beach with great sea-views, a private swimming pool and an external and internal Jacuzzi. This two-storey modern designed house is set within a total land area of 830sqm and offers a host of facilities and utilities for your living pleasure. This is a spacious abode with a large garden that incorporates a lawn area with beautiful palm trees scattered around the luxurious swimming pool and adjoining external Jacuzzi. The garden is filled to the brim with secluded seating areas, alongside a large space surrounding the pool, which is perfect for relaxing on a lounger and taking in the sunrays. There is also a garage available to ensure your vehicles are safe and sound.
This fully-furnished property offers 4 bedrooms, all of which own ensuite bathrooms. These air-conditioned surroundings comprise a lounge, dining room and western kitchen, alongside a separate laundry room.
The open plan living space consists of a lounge and dining area that are fully equipped with high-quality furniture such as a luxurious L-shaped leather settee, a small wooden coffee table, a large wooden wall unit with a television and a 6-seat wooden dining table. This area is decorated with light-tone ceramic tiled floors and painted white walls, and offers nice views out to the pool and garden through the tall windows.
The Western kitchen is decorated in light-tones, and is fitted with high-quality units and granite work surfaces that offer a good choice of space for storage and food preparation. The western kitchen is also fitted with a host of modern appliances that ensure you have lots of options for your cooking pleasure. There is also a separate laundry room available.
The 4 bedrooms are also decorated in light-tones within spacious areas that offer either walk-in or built-in wardrobes, double beds and ensuite bathrooms. One of the bathrooms owns a bathtub, while another has an expansive internal Jacuzzi that provides a luxury feel to the surroundings.
This is nicely designed modern house with lots of options for you to take into consideration. The property is available to buy with Chanote title deeds and Freehold or Leasehold purchasing terms for the value-for-money price of 15.5 million Thai baht.
The tranquil tourist resort of Khao Lak can be found 40km north of Phuket International Airport and can be accessed in less than one hour from Phuket. Khao Lak is home to beautiful beaches, resorts, restaurants and bars. Its growing infrastructure has elevated its status and now has many expats living there and starting new businesses.
Accomodation
4 Bedrooms
6 Bathrooms
4 Bathrooms Ensuite
Sleeps 8
Included in Rental Price
Bed linen
Towels
Gardener
Pool cleaner
TV/Cable
Water
Gas
Permissible
Smoking

No Smoking

Children

Children

Pets

Pets

Cooking

No Cooking
Nearby
Near Golf Courses
Near Town
Near Shopping
Available Facilities
TV/Cable
Private swimming pool
Home security
Fully furnished
Parking
Jacuzzi inside
Jacuzzi outside
Kitchen Facilities
Stovetop
Grill
Oven
Microwave oven
Refrigerator
Dishwasher
Cooking Utensils
Dishware
Cutlery
Prices quoted in THB are converted for your convenience only and may vary 5% or more. Currency movements are out of our control and prices may change without prior warning.
Page viewed 2,379 times, 0.6 views/day.