Text Search


Quick Search

Your enquiry cart
is empty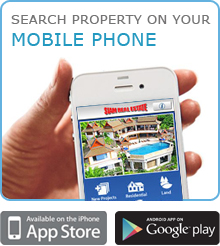 | | |
| --- | --- |
| What's New | |


| | |
| --- | --- |
| Weather Report | |


Owner's Login


Blog with expert
advice that addresses
all questions related to
Thailand property.
Read more »

Currency Converter
| | |
| --- | --- |
| Currency converters tool | |



Exchange rates


Property

For Sale

On the increasingly popular east coast of Phuket is a new luxury estate development. [CSSVD1328]
Type and Location: Apartment/Condo in Ao Phor, Phuket
Offer Terms: Freehold
Beds: 3
Internal area: 208 sq. m.
Total area: 258 sq. m.
Price
From

THB

22,000,000

to

THB

42,000,000

From

USD

700,640

to

USD

1,337,586

From

EUR

527,591

to

EUR

1,007,218
About Ao Phor
Ao Phor is a sea-front community located at the entrance of Phang Nga Bay. The marina sports a host of boating features and the pier is a departure point for travelling to surrounding islands. In the quiet north east corner of the island, the area enjoys hilly forests and fantastic views of the bay. Easy access to the airport and nearby Mission Hills Golf Course add to the attraction of this peaceful location.
CLICK HERE TO VIEW STREET VIEW
Resident golfers will be spoilt as nearby courses include Blue Canyon, Mission Hills, Loch Palm and Phuket Country Club.
Comprising just 24 exclusive penthouses and apartments which have been designed with a refreshingly new approach by leading Hong Kong architects
This development is sure to return both investor and residents with both increased property values and terrific lifestyles.
Three bedrooms with four bathrooms in these modern properteis, whose grounds will be landscaped and established to the lush tropical standards that make Thailand unique.
Large living and dining rooms complement the lifestyle here with lovely western kitchens topping it all off.
Air conditioning, fans and estate security are all standard items as are the communal gymnasium, swimming pool and outdoor jacuzzi.
Spacious, light-filled rooms open on to wide, private terraces. Cooling sea breezes flow though the living spaces, creating a sense of liberation and a direct dialogue with the sea and the surrounding landscape.
Patterned screens, resembling sunlight bouncing off seawater, are used liberally throughout the project. As well as ensuring privacy, they allow afternoon sunlight to filter into the living spaces and create an intimate interplay of shadow and light.
Infinity-edged rooftop pools, for the exclusive private use of the six penthouses, are built into a raised platform, about a metre above the main decking, to create the visual illusion of a continuous flow of water into the sea.
A cantilevered bar overhangs one end of the communal swimming pool, adjoining an entertainment zone. It is shaded by pergolas and has a distinctive resort-style feel. Each of the six apartment blocks has its own elevator as well as external staircases.
Only a coastal road separates the property from the shoreline, so nothing will ever come between you and the views.
Nearby
Near Beach
Near Golf Courses
Near Yacht mooring
Near Hospitals
Leisure
Communal Pool
Garden
Gym
Jacuzzi External
Outdoor Bathroom
Private Pool
Secure Estate
Swimming Pool
Swimming pool size: 53 sqm
Interior
Air-conditioners
Balcony
Bathrooms
Bathrooms Ensuite
Bedrooms
Built in wardrobe
Contemporary
Dining Room
Fans
Laundry Room
Living Room
Roof terrace
Study or Office
Terrace
WC Toilet
Western Kitchen
Utilities
Cable/satellite (UBC)
Electricity
Hot water system
Internet Connection
Mains Water
Septic Tank
1 Telephone Line
Water Filtration
Water Heater
Well Water
Condition
Fully Furnished
Unfurnished
Security
Estate security
Home security system
Prices quoted in THB are converted for your convenience only and may vary 5% or more. Currency movements are out of our control and prices may change without prior warning.
Page viewed 2,439 times, 0.4 views/day.