Text Search


Quick Search

Your enquiry cart
is empty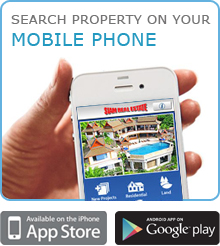 | | |
| --- | --- |
| What's New | |


| | |
| --- | --- |
| Weather Report | |


Owner's Login


Blog with expert
advice that addresses
all questions related to
Thailand property.
Read more »

Currency Converter
| | |
| --- | --- |
| Currency converters tool | |



Exchange rates


Property

For Sale

Huge 3 Bed Apartments in Small Boutique Complex [CSSVD1324]
Type and Location: Apartment/Condo in Ao Yamoo, Phuket
Offer Terms: Leasehold
Beds: 3
Internal area: 210 sq. m.
Total area: 324 sq. m.
Price
From

THB

22,000,000

to

THB

25,000,000

From

USD

700,640

to

USD

796,182

From

EUR

527,591

to

EUR

599,535
About Ao Yamoo
Situated between Pa Klok and Ao Phor, Ao Yamoo (or Cape Yamu) stretches out into Phang Nga Bay, providing one of the most peaceful and picturesque locations on the island. Relatively unpopulated, Ao Yamoo has become popular with a few luxury developments taking advantage of the beauty and serenity of the area.
CLICK HERE TO VIEW STREET VIEW
Containing some of the islands most prestigious developments, Cape Yamu is fast becoming one of "the" areas to live in Phuket. This development of contemporary apartments has all the indications of another masterpiece in the area. Set amongst the lush tropical surrounds, owners will be able to enjoy its natural habitat as well as the sea views out over Sapam Bay while being positioned close-by to many of the islands important facilities such as schooling, shopping, golfing and boating.
Throughout the security estate are thoroughly landscaped gardens and a communal swimming pool with huge decking area where residents can soak up the sun in total privacy, gym, sauna and two salas.
The apartments are three bedrooms with two to three bathrooms. All fixtures are of the highest quality with the Penthouses being particularly impressive.
All living and dining areas are of a generous size and the balconies offer the great views and outdoor living opportunities.
When it comes to luxury, this estate has its list of inclusions from Wi-fi broadband through to Satellite TV and many others. private swimming pools included on all apartments.
Nearby
Near Beach
Near Schooling
Near Golf Courses
Near Yacht mooring
Near Shopping
Leisure
Communal Pool
Garden
Gym
Jacuzzi External
Jacuzzi Internal
Outdoor Bathroom
Private Pool
Secure Estate
Swimming Pool
Swimming pool size: 36 sqm
Interior
Air-conditioners
Balcony
Bathrooms
Bathrooms Ensuite
Bedrooms
Built in wardrobe
Contemporary
Dining Room
Family room
Fans
Laundry Room
Living Room
Roof terrace
1 Storey
Terrace
WC Toilet
Western Kitchen
Utilities
Cable/satellite (UBC)
Electricity
Hot water system
Internet Connection
Mains Water
Septic Tank
1 Telephone Line
Water Filtration
Water Heater
Condition
Common Area Maintenance:
THB 55.0 per sqm per month
Unfurnished
Prices quoted in THB are converted for your convenience only and may vary 5% or more. Currency movements are out of our control and prices may change without prior warning.
Page viewed 1,200 times, 0.2 views/day.