Text Search


Quick Search

Your enquiry cart
is empty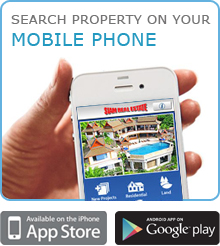 | | |
| --- | --- |
| What's New | |


| | |
| --- | --- |
| Weather Report | |


Owner's Login


Blog with expert
advice that addresses
all questions related to
Thailand property.
Read more »

Currency Converter
| | |
| --- | --- |
| Currency converters tool | |



Exchange rates


Holiday

Rental Property

Spacious, light, and modern with full sea view [HOL6291]
Type and Location: Apartment/Condo in Bang Tao, Phuket
Offer Terms: Rental - Holiday
Beds: 2
Minimum rental term: Seven Days--see rate schedule in listing
Internal area: 150 sq. m.
Summer Season
1 Jun - 30 Sep
High Season
1 Oct - 30 Nov
1 Feb - 31 May
Peak Season
1 Dec - 31 Jan
Daily
Weekly
* Monthly refers to 30 days.
How is my total rental calculated?
Rental rates vary by season and duration-of-stay. Consequently, it is necessary to look at each night of your stay and determine the applicable rate for that night.
For example, consider a 10-night stay, comprised of 4 nights in summer season and 6 nights in high season.
Since the stay is more than a week, the weekly rate will apply for all the nights of your stay. For each night, we determine the applicable season, consult the weekly rate for that season, divide that weekly rate by 7 to get a nightly rate, and add that amount to a running total.
In our example, the first 4 nights will use the summer season weekly rate (divided by 7), the last six nights will use the high-season weekly rate (divided by 7).
For a property that does not specify weekly or monthly rates, the daily rate for the applicable season is applied for each night of the stay.
About Bang Tao
This wide-open stretch of sand is one of Phuket's largest beaches. This former tin mining region has been transformed into luxurious beachside destination for tourists with its high-end properties, a world-class golf course and numerous five-star resorts. The beach itself is one of the busier on the northwest side of the island, but still relatively peaceful when compared to Patong and Karon Beaches. The Laguna Complex also shares this strip of white sand, which is an exclusive residential and beachside resort.
CLICK HERE TO VIEW STREET VIEW
This exclusive boutique accommodation on Bang Tao Beach offers stunning ocean views from floor-to-ceiling windows and private balconies. It has an outdoor pool and free parking.
The penthouse is fitted with modern light wood furnishings and comfortable lounge areas with a flat-screen TV and DVD player. Meal times are a joy with a well-equipped kitchen (including hob, microwave, refrigerator and dishwasher) and spacious dining areas.
Regular workouts can be maintained in the fitness room, or with laps at the infinity pool. Diving trips to nearby islands can be planned at the tour desk. Barbecue facilities are available.
Overlooking the ocean, the onsite restaurant serves a range of international dishes and seafood specialties. Meals can be served in suites.
Linen, daily maid service, and Wi-Fi are included. Other utilities are charged separately. There is a 7 night minimum.
It is a 20-minute drive from Surin Beach and Phuket International Airport. Patong Beach is a 30-minute drive from the hotel.
Rate Schedule (in USD)
Summer: $300
High: $400
Peak: $600
Architectural style: Modern
Accomodation
2 Bedrooms
2 Bathrooms
Sleeps 4
Included in Rental Price
Bed linen
Maid
Internet
WiFi
Permissible
Smoking

No Smoking

Children

Children

Pets

No Pets

Cooking

Cooking
Nearby
On Beach
Near Beach
Near Golf Courses
Near Shopping
Available Facilities
TV/Cable
Internet
WiFi
Communal swimming pool
Estate security
Fully furnished
Parking
Gym/Fitness
Kitchen Facilities
Stovetop
Oven
Microwave oven
Refrigerator
Dishwasher
Dishware
Cutlery
Service: Daily maid service
Prices quoted in THB are converted for your convenience only and may vary 5% or more. Currency movements are out of our control and prices may change without prior warning.