Text Search


Quick Search

Your enquiry cart
is empty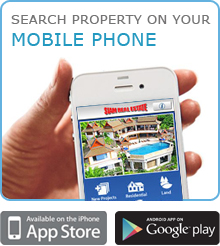 | | |
| --- | --- |
| What's New | |


| | |
| --- | --- |
| Weather Report | |


Owner's Login


Blog with expert
advice that addresses
all questions related to
Thailand property.
Read more »

Currency Converter
| | |
| --- | --- |
| Currency converters tool | |



Exchange rates


Holiday

Rental Property

Sea view roof top terrace; within 10-minute walk of Kata Beach [HOL6300]
Type and Location: Apartment/Condo in Kata, Phuket
Offer Terms: Rental - Holiday
Beds: 2
Minimum rental term: 7 Nights
Total area: 276 sq. m.
Summer Season
1 Jun - 30 Sep
High Season
1 Oct - 30 Nov
1 Feb - 31 May
Peak Season
1 Dec - 31 Jan
Daily
Weekly
* Monthly refers to 30 days.
How is my total rental calculated?
Rental rates vary by season and duration-of-stay. Consequently, it is necessary to look at each night of your stay and determine the applicable rate for that night.
For example, consider a 10-night stay, comprised of 4 nights in summer season and 6 nights in high season.
Since the stay is more than a week, the weekly rate will apply for all the nights of your stay. For each night, we determine the applicable season, consult the weekly rate for that season, divide that weekly rate by 7 to get a nightly rate, and add that amount to a running total.
In our example, the first 4 nights will use the summer season weekly rate (divided by 7), the last six nights will use the high-season weekly rate (divided by 7).
For a property that does not specify weekly or monthly rates, the daily rate for the applicable season is applied for each night of the stay.
About Kata
Kata Beach has to be one of the cosiest and idyllic beaches in Phuket. The beach is sheltered by tall palm trees and is great for snorkelling in the nearby coral reefs and observing the vast array of tropical marine life. This beach can get busy in the high season months over Christmas and New Year, but generally this is a nice beach to relax and unwind. There is also great surf at Kata Beach, where equipment can be hired from the shops adjoining the beach.
CLICK HERE TO VIEW STREET VIEW
This luxurious 2-bedroom apartment is contemporary and elegant with a private sea view terrace with sala, plunge pool, and plenty of room for lounging.
This spacious two-bedroom apartment at Kata Gardens offers over 276 square metres of living space. Ideally-suited as a home away from home, it features an open-plan kitchen alongside the dining and living areas as well as two large bedrooms complete with en suite bathrooms and walk-in closets.
Room facilities include; ADSL Wireless Internet services, 42-inch plasma screen cable television including European and Asian channels, CD-DVD player, and Bose surround sound system with CD music, VCD-DVD movie collections and air conditioning with individual climate control. All rooms have a bathroom with separate bath and rain shower. This apartment is located in luxury apartment complex. There are landscaped tropical gardens, 2 swimming pools, a fitness room, management office, 12-hour front reception, 24-hour security, and maid services.
Dine alfresco on your own private veranda, or stroll to nearby restaurants & bars with some of the best on the Island such as Mom Tris, Villa Royale, The Boathouse & Oasis Tapas & Jazz. Laze by the tropical pools, wander to either Kata Yai or Noi two of the most beautiful beaches in Phuket or simply relax on your king-sized bed in air-conditioned luxury. Spoil yourself, it's all here. You'll love it!
Kata and Kata Noi Beaches entice and charm many visitors with their white sands and clear waters. Kata is split into two focal areas: Kata Centre, which is at the northern end close to Karon and Kata South, home to several resorts. The Club Med takes up most of the beach road, resulting in a shaded footpath that makes for a pleasant stroll. Continuing on through the village, visitors will find an abundance of shops to browse in, from souvenir and ready-to-wear outlets, to 7-Elevens and local mini-marts, to name-brand fashion stores. There are also plenty of dive shops and tour operators to assist those looking to explore beyond the beach.

Daily & Weekly Rental

- Weekday maid service, 5 times service per week and linen change 2 times a week.

- Airport transfer can be arranged: four-door sedan, for 1,200THB/way or VIP van for 1,400THB/way.

Monthly Rental (over 30 nights stay)

- Monthly rate is discounted 30% for all season.

- Rate includes maid service 3 times a week and linen change 2 times a week.

- Rate excludes electricity; charge is 5THB/kw., Water is 60THB/cubic meter.

Extra services

- Additional cleaning services are available at 450 baht per visit.

- Grocery shopping on arrival at cost plus 20% service fee.

- Laundry can be provided by sending to a laundry shop, prices will be as shown on the bill plus 20% service.


Architectural style: Contemporary
Accomodation
2 Bedrooms
2 Bathrooms
2 Bathrooms Ensuite
Sleeps 4
Included in Rental Price
Bed linen
Towels
Maid
TV/Cable
Internet
Estate charges
Security
Water
Gas
Electricity
Permissible
Smoking

No Smoking

Children

Children

Pets

No Pets

Cooking

Cooking
Nearby
Inland
Near Beach
Near Golf Courses
Near Shopping
Available Facilities
TV/Cable
Internet
Telephone
Private swimming pool
Communal swimming pool
Estate security
Fully furnished
Parking
Gym/Fitness
Spa
Sauna
Kitchen Facilities
Stovetop
Oven
Microwave oven
Refrigerator
Dishware
Cutlery
Prices quoted in THB are converted for your convenience only and may vary 5% or more. Currency movements are out of our control and prices may change without prior warning.