Text Search


Quick Search

Your enquiry cart
is empty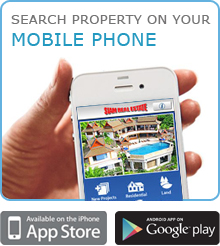 | | |
| --- | --- |
| What's New | |


| | |
| --- | --- |
| Weather Report | |


Owner's Login


Blog with expert
advice that addresses
all questions related to
Thailand property.
Read more »

Currency Converter
| | |
| --- | --- |
| Currency converters tool | |



Exchange rates


Holiday

Rental Property

A true luxury Penthouse experience by the beach! [HOL2947]
Type and Location: Apartment/Condo in Bang Tao, Phuket
Offer Terms: Rental - Holiday
Beds: From 2 to 3
Minimum rental term: Summer Season - 3 Nights, High Season - 5 nights, Peak Season - 10 Nights
Summer Season
1 Jun - 30 Sep
High Season
1 Oct - 30 Nov
1 Feb - 31 May
Peak Season
1 Dec - 31 Jan
Daily
Weekly
* Monthly refers to 30 days.
How is my total rental calculated?
Rental rates vary by season and duration-of-stay. Consequently, it is necessary to look at each night of your stay and determine the applicable rate for that night.
For example, consider a 10-night stay, comprised of 4 nights in summer season and 6 nights in high season.
Since the stay is more than a week, the weekly rate will apply for all the nights of your stay. For each night, we determine the applicable season, consult the weekly rate for that season, divide that weekly rate by 7 to get a nightly rate, and add that amount to a running total.
In our example, the first 4 nights will use the summer season weekly rate (divided by 7), the last six nights will use the high-season weekly rate (divided by 7).
For a property that does not specify weekly or monthly rates, the daily rate for the applicable season is applied for each night of the stay.
About Bang Tao
This wide-open stretch of sand is one of Phuket's largest beaches. This former tin mining region has been transformed into luxurious beachside destination for tourists with its high-end properties, a world-class golf course and numerous five-star resorts. The beach itself is one of the busier on the northwest side of the island, but still relatively peaceful when compared to Patong and Karon Beaches. The Laguna Complex also shares this strip of white sand, which is an exclusive residential and beachside resort.
CLICK HERE TO VIEW STREET VIEW
The Estate is just a few minutes from a number of excellent Thai and International restaurants located in the Laguna complex and Cherngtalay village, and also a short walk from the world class Laguna Golf Club.
This expansive apartment features 3 spacious bedrooms, all with en-suite bathrooms. The master suite has a king size bed, plasma screen stereo TV/DVD, a large bathroom and comfortably sized, furnished balcony overlooking the swimming pool and gardens. Another two bedrooms sit on the opposite side of the unit, one with a king size bed the other with twin beds. Both guest rooms include a TV/DVD and built in wardrobes.
The relaxing living area with large glass windows allows for ample natural light to fill the room and is furnished with comfortable sofas and a coffee table facing a state of the art TV/DVD and sound system.
The dining area seats 8 and the large, well-equipped western kitchen could cater for the most lavish of dinner parties. The living area also offers access to a large balcony overlooking the beautiful garden area and pool, which fratures a barbeque facility. The quality furnishings are comfortable and tasteful throughout.
Stairs lead to the penthouse roof, which offers a tanning deck and superb views of the sea and surrounding mountains. The rooftop has an inspiring 10m infinity pool surrounded by vibrant, colourful flowers, creating a peaceful personal space in which to relax while also providing the perfect spot to watch Phuket's spectacular sunsets.
Downstairs, tropical gardens lead to a huge swimming pool, which winds through the landscape garden with a 50-metre lap lane and alcoves located either side of the central barbeque sala and sun tanning decks.
This Penthouse sits within a private estate, which guarantees security and peace just a stroll away from the white sands and turquoise waters of the Andaman Sea.
Location
• In Layan Beach, West coast of Phuket island, 15 minutes from the airport
• Phuket town is a mere 35 minutes drive, Cherngtalay and the Laguna Complex with its array of restaurants is 5 mins away while Patong beach, the main Night life area of Phuket is also 25 minutes drive to the south
• Laguna Golf Club is within walking distance
• Convenient to many activities, shops, restaurants, ATM's and the beach
Rates
• Rates exclude 10% service charge and 7% tax
• Daily rates include daily Maid cleaning service
• Rates shown are for a maximum of 6 (six) Guests (including children). Extra bed will be charged at US$50 per night (including continental breakfast)
• Minimum stay of 3 nights (10 nights over Christmas and New Year, 5 nights for High and Mid seasons)
• Daily Rates and extra beds are subject to 10% service charge and 7% tax
• Airport transfer: US$ 40 (plus tax) per trip for a maximum of 7 passengers in private mini bus or luxury car
• Baby cot provided free of charge
Facilities
• FREE WIFI ADSL
• Three bedrooms, Master with en-suite bathroom
• Large living / dining / kitchen area
• Large outdoor dining area on the balcony
• Fully equipped kitchen
• 10 metre rooftop swimming pool
• Ocean view from roof top pool terrace
• Private terrace with sun lounges
• LCD TV with Satellite channels, DVD and CD player
• IPOD Connection to the stereo system
• Bar (provisioning on request)
• In room safe
Service
• The resident villa staff will ensure the villa is kept clean and tidy
• Our guest relations & concierge team will visit guests during their stay (usually the day after check in) to further help ensuring guests have a pleasant stay or address any matters arising at the villa
• All Bed linen and towels are changed every 3 days
• Private Laundry can be carried to/from the laundry by the Maid (surcharge apply) • Chef service (Thai cuisine and Western favourites) on request and shopping list available (surcharge apply)
• In-Villa wine selection
• Concierge service for all tours and activities; private tours can also be arranged
• Car rental can be arranged with full insurance coverage, with or without driver
• Other Activities at the Resort
• Large shared swimming pool in common area
Attractions
• Golf at one of Phuket's top 5 golf courses
• Diving in the Phan Nga bay with day tour (private charter can be arranged)
• Elephant Trekking and ride can be taken within Laguna Complex
 

Summer
Published

High
Published

Christmas
New Year

Season Schedule
for Jan 2009 / Jan 2010

1 May 09 - 31 Oct 09

08 Jan 09 – 30 Apr 09
1 Nov 09 – 14 Dec 09

15-Dec-09 to 07-Jan-10

Minimum Number of Nights

1

3

5

10

Extra
Bed

Airport Transfer

Penthouse

3 BR/Sleeps 6

500

600

700

N/A

40

Penthouse - 2 bedrooms

2 BR/Sleeps 4

400

500

700

N/A

40
 
RATES CONDITIONS
1. Rates are subject to change with notice
2. Rates are quoted on a per VILLA basis and for the maximum number of Guests (including children) as specified above.
3. Extra Beds will be charged regardless of the age of the Guests when occupancy is over villa allocation as specified above
4. Rates include Continental breakfast, prepared daily by the in-villa employees
5. Baby cot provided FOC
6. Daily Rates and Extra Beds are exclusive of 10% Service Charge and 7% Tax.
7. Airport Transfers are applicable and are charged separately from the daily rates (7% Tax applicable).
Charges for airport transfer are applicable per trip and for a maximum of 7 passengers per vehicle (private mini bus or luxury car).
8. Rates are quoted in US Dollars.
CANCELLATION CONDITIONS
* For Intermediate, High and Promotional Seasons, all payment (s) received will be credited for use in the same villa as originally
booked for within 9 month of the cancellation date if the booking is cancelled after the payment (s) date. 
* For Prime Season, Christmas/New Year and if the booking is cancelled after the deposit and/or balance payment date, all payment (s)
received will be forfeited or refunded in pro-rata shall another booking be secured for the same period that has been cancelled.
* Early departure is subject to the cancellation conditions as specified above.
Accomodation
3 Bedrooms
3 Bathrooms
2 Bathrooms Ensuite
Sleeps 6
Included in Rental Price
Bed linen
Towels
Maid
Laundry
Gardener
Pool cleaner
TV/Cable
Internet
Estate charges
Security
Water
Gas
Electricity
Permissible
Smoking

Smoking

Children

Children

Pets

No Pets

Cooking

Cooking
Nearby
On Beach
Inland
Near Beach
Near Schooling
Near Golf Courses
Near Yacht mooring
Near Shopping
Available Facilities
TV/Cable
Internet
Telephone
Private swimming pool
Communal swimming pool
Home security
Estate security
Fully furnished
Parking
Kitchen Facilities
Stovetop
Grill
Oven
Microwave oven
Refrigerator
Cooking Utensils
Dishware
Cutlery
Prices quoted in THB are converted for your convenience only and may vary 5% or more. Currency movements are out of our control and prices may change without prior warning.
Page viewed 644 times, 0.1 views/day.