Text Search


Quick Search

Your enquiry cart
is empty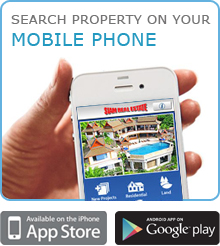 | | |
| --- | --- |
| What's New | |


| | |
| --- | --- |
| Weather Report | |


Owner's Login


Blog with expert
advice that addresses
all questions related to
Thailand property.
Read more »

Currency Converter
| | |
| --- | --- |
| Currency converters tool | |



Exchange rates


Holiday

Rental Property

Just 200 metres from Bang Tao beach. [HOL4023]
Type and Location: Apartment/Condo in Bang Tao, Phuket
Offer Terms: Rental - Holiday
Beds: 3
Minimum rental term: 3 Nights
Total area: 246 sq. m.
Summer Season
1 Jun - 30 Sep
High Season
1 Oct - 30 Nov
1 Feb - 31 May
Peak Season
1 Dec - 31 Jan
Daily
Weekly
* Monthly refers to 30 days.
How is my total rental calculated?
Rental rates vary by season and duration-of-stay. Consequently, it is necessary to look at each night of your stay and determine the applicable rate for that night.
For example, consider a 10-night stay, comprised of 4 nights in summer season and 6 nights in high season.
Since the stay is more than a week, the weekly rate will apply for all the nights of your stay. For each night, we determine the applicable season, consult the weekly rate for that season, divide that weekly rate by 7 to get a nightly rate, and add that amount to a running total.
In our example, the first 4 nights will use the summer season weekly rate (divided by 7), the last six nights will use the high-season weekly rate (divided by 7).
For a property that does not specify weekly or monthly rates, the daily rate for the applicable season is applied for each night of the stay.
About Bang Tao
This wide-open stretch of sand is one of Phuket's largest beaches. This former tin mining region has been transformed into luxurious beachside destination for tourists with its high-end properties, a world-class golf course and numerous five-star resorts. The beach itself is one of the busier on the northwest side of the island, but still relatively peaceful when compared to Patong and Karon Beaches. The Laguna Complex also shares this strip of white sand, which is an exclusive residential and beachside resort.
CLICK HERE TO VIEW STREET VIEW
Of the 40 units within the luxury development, this unit is the nearest the beach, providing the best sea views and easiest beach access. The superb location ensures that it is sufficiently secluded to offer maximum peace and privacy, yet still within easy reach of the very best that Phuket has to offer on the much sought after west coast.
A sophisticated, high quality three bedroom apartment which offers luxury accommodation in beautiful surroundings. At just 200 metres from Bang Tao beach, set in landscaped gardens, the entire area is picturesque and peaceful. The ideal location for a truly relaxing holiday.
The apartment is finished to the highest standards with Asian styling. All bedrooms have en-suite bathrooms and central air conditioning. The open plan living area has a comfortable lounge with plasma TV, cable channels and DVD, the fully equipped kitchen has a breakfast bar. There are both indoor and outdoor dining tables. An MP3 stereo system throughout has individual controls in each room and is iPod compatible.
The complex has a swimming pool, gardens, sala and 24 hour security. There is a private assigned parking space for guests.
Included in the price are internet, cable TV, local telephone calls, maid service (3x/week for rentals 1-14 days, 1x/week for rentals longer than 14 days). Excluded for rentals longer than 14 days are long distance telephone calls, water and electricity.
Superb golf courses, spas, restaurants, markets, money exchange, shops and a modern medical clinic are nearby at the Laguna five-star resorts. Outstanding sporting facilities (particularly for golf, water sports, yachting, snorkeling and scuba diving) combined with a breathtaking array of entertainment and leisure options to ensure that there is always something for everyone on Phuket. International supermarket chains, departments stores, specialty stores, designer boutiques and local shops, cinemas and a multitude of tourist attractions supply an amazing choice to cater to your every need and daily living requirements.
Architectural style: Modern
Structure: Apartment
Gardens: Landscaped
Conditions: Excellent
Accomodation
3 Bedrooms
4 Bathrooms
3 Bathrooms Ensuite
Sleeps 6
Included in Rental Price
Bed linen
Maid
Gardener
Pool cleaner
TV/Cable
Internet
WiFi
Estate charges
Permissible
Smoking

No Smoking

Children

Children

Pets

No Pets

Cooking

Cooking
Nearby
Inland
Near Beach
Near Golf Courses
Near Shopping
Available Facilities
TV/Cable
Internet
WiFi
Telephone
Communal swimming pool
Estate security
Fully furnished
Parking
Kitchen Facilities
Stovetop
Oven
Microwave oven
Refrigerator
Dishwasher
Dishware
Cutlery
Prices quoted in THB are converted for your convenience only and may vary 5% or more. Currency movements are out of our control and prices may change without prior warning.