Text Search


Quick Search

Your enquiry cart
is empty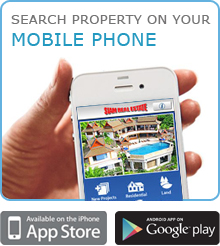 | | |
| --- | --- |
| What's New | |


| | |
| --- | --- |
| Weather Report | |


Owner's Login


Blog with expert
advice that addresses
all questions related to
Thailand property.
Read more »

Currency Converter
| | |
| --- | --- |
| Currency converters tool | |



Exchange rates


Long

Term Rental Property

A bright, spacious apartment within walking distance to Karon beach. [LTRSV3597]
Type and Location: Apartment/Condo in Karon, Phuket
Offer Terms: Rental - Longterm
Price: THB 50,000 per month
Beds: 2
Minimum rental term: 1 month = 99,000, 2 months = 88,000, 3 months = 77,000, 6 Months = 66,000
Available Now
About Karon
Karon Beach is situated south of Patong on the west coast of Phuket. This is one of Phuket's most picturesque and longest beaches that benefits from mountainous sand dunes and a sprinkling of casuarinas and palm trees. Karon Beach is infamous for its violent riptides during the months of May-October, so one should be wary and keep a lookout for the red flags. Surrounding Karon Beach are many restaurants, markets and bars you can take advantage of when visiting.
CLICK HERE TO VIEW STREET VIEW
Positioned slightly uphill to make the most of the view over Karon beach, this is a top class rental opportunity. One double and one twin bedroom provides the ideal base for a single person, couple or small family. There are just two apartments per floor in this building, ensuring privacy and quiet living.
Every room is designed to let natural light flood in through the large windows. The living area is most impressive, with two fullly glazed walls. The dark wood wall feature, skirting boards and cornicing add a sophistication, complemented by the comfortable sofa, with splashes of bright orange. The living area is also home to a glass dining table for four and a modern, compact kitchen. There is a breakfast bar for two people incorporated into the wood and lacquer units.
The master bedroom features wooden flooring and plenty of storage. Sliding doors lead onto the private balcony, which has a table and two chairs and fantastic sea views, the perfect outdoor space for anytime of day or night. The ensuite bathroom has a grand raised bathtub, surrounded in marble and an independent shower cabin.
There is a large communal swimming pool, sun terrace, gym and garden, as well as a shaded seating area. The complex has a true resort feel and creates a relaxing atmosphere.
The condo is on the quiet outskirts of Karon, just ten minutes drive from Patong. The stunning Karon beach is just a few minutes away and Kata beach is five minutes along the road. There are plenty of restaurants, spas and shopping facilities in the area.
Rental Rates:


| Rental Period | Monthly Rent (THB) |
| --- | --- |
| 1 month | 99,000 |
| 3 months | 88,000 |
| 6 months | 66,000 |
| 12 months | 55,000 |
Architectural style: Modern
Structure: Condominium
Accomodation
2 Bedrooms
2 Bathrooms
1 Bathroom Ensuite
Sleeps 4
Included in Rental Price
Bed linen
Towels
Estate charges
Water
Permissible
Smoking

No Smoking

Children

Children

Pets

No Pets

Cooking

Cooking
Nearby
Inland
Near Beach
Near Shopping
Available Facilities
TV/Cable
Internet
Telephone
Communal swimming pool
Estate security
Fully furnished
Parking
Gym/Fitness
Kitchen Facilities
Stovetop
Refrigerator
Dishware
Cutlery
Service: Maid service is available once per week for 300 Baht.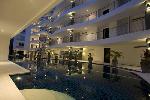 Design meets comfort [LTRIL6206]
Apartment/Condo in Karon, Phuket. THB 45,000 per month. More info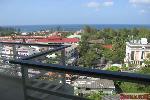 Apartment with tremendous sea-views [LTRSV3219]
Apartment/Condo in Karon, Phuket. THB 59,000 per month. More info
Prices quoted in THB are converted for your convenience only and may vary 5% or more. Currency movements are out of our control and prices may change without prior warning.
Page viewed 1,294 times, 0.3 views/day.