Text Search


Quick Search

Your enquiry cart
is empty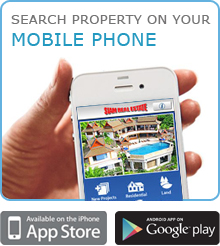 | | |
| --- | --- |
| What's New | |


| | |
| --- | --- |
| Weather Report | |


Owner's Login


Blog with expert
advice that addresses
all questions related to
Thailand property.
Read more »

Currency Converter
| | |
| --- | --- |
| Currency converters tool | |



Exchange rates


Long

Term Rental Property

Value for money rental [LTRIL3361]
Type and Location: Apartment/Condo in By Pass, Phuket
Offer Terms: Rental - Longterm
Price: THB 12,500 per month
Beds: 1
Total area: 37 sq. m.
Minimum rental term: 6-12 Months = 12,500 THB
Available Now
About By Pass
Most of the large shopping malls are to be found in this area including Central Festival, Home Pro, Tesco, Big C and many more.
CLICK HERE TO VIEW STREET VIEW
Some of the best rentals at this current time on the Phuket property market are excellent value condominiums that come with high quality communal facilities. This one bedroom apartment on By Pass Road is one of the cheapest offers around at the moment. This classy apartment has only recently been constructed and is being rented "as new". The property offers potential renters one bedroom, one bathroom, a western kitchen, dining room, lounge, a carport, balcony, estate security and a communal swimming pool.
The interior of this apartment is set over a space of 37.05sqm, fully furnished and air-conditioned. The wooden flooring throughout the apartment offers a classy edge to its overall appeal. The lightly toned furniture compliments the lights shades of the living area perfectly.
From the living area, you can gain easy access to a balcony that provides great views overlooking the complex. The open living space is where you will find the lounge and dining room. Nearby, you will also see a cosy western kitchen that is equipped with a microwave, refrigerator and washing machine.
The bedroom is equipped with a double bed and a built-in wardrobe. The bedroom is very comfortable and within a short distance to the bathroom.
This excellent quality apartment is available to rent for a minimum of 3 months for the great value price of 13,900 baht per month. Extra utilities and services include cable TV, internet, estate security and fresh bed linen and towels.
The location of the property on By Pass Road is within a short distance t the commercial park, where you will find Big C, Tesco Lotus and Central Festival shopping centres. With Phuket Town just a few minute's ride away, this is also a great centralized location where Patong and Chalong can be reached in just over ten minutes.
Architectural style: Modern
Structure: Very Good
Gardens: No
Conditions: Very Good


Accomodation
1 Bedroom
1 Bathroom
Sleeps 2
Included in Rental Price
Bed linen
Towels
Estate charges
Security
Permissible
Smoking

Smoking

Children

Children

Pets

No Pets

Cooking

Cooking
Nearby
Inland
Near Beach
Near Schooling
Near Golf Courses
Near Hospitals
Near Town
Near Shopping
Available Facilities
TV/Cable
Internet
Communal swimming pool
Estate security
Fully furnished
Parking
Kitchen Facilities
Microwave oven
Refrigerator
Service: Water 30 baht/unit and Electric 4 baht/unit
Prices quoted in THB are converted for your convenience only and may vary 5% or more. Currency movements are out of our control and prices may change without prior warning.
Page viewed 10,118 times, 2.3 views/day.