Text Search


Quick Search

Your enquiry cart
is empty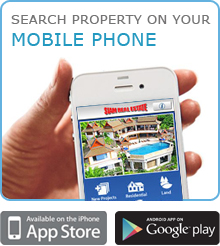 | | |
| --- | --- |
| What's New | |


| | |
| --- | --- |
| Weather Report | |


Owner's Login


Blog with expert
advice that addresses
all questions related to
Thailand property.
Read more »

Currency Converter
| | |
| --- | --- |
| Currency converters tool | |



Exchange rates


Long

Term Rental Property

Exclusive residential estate overlooking beautiful Kata Beach [LTRSV6760X]
Type and Location: Apartment/Condo in Ao Makham, Phuket
Offer Terms: Rental - Longterm
Price: THB 120,000 per month
Beds: 2
Internal area: 219 sq. m.
Total area: 219 sq. m.
Minimum rental term: 1 Month 230,000, 3 Months 160,000, 6 Months 140,000, 12 Months 120,000
Available Now
About Ao Makham
Ao Makham or Makham Bay is on the eastern side of the Cape Panwa outcrop, featuring a deep sea port. The sheltered bay faces east to Phang Nga bay and has very few properties, just a handful of secluded villas. With stunning views and easy access to Phuket Town and beyond, Ao Makham offers peaceful living, away from the crowds.
CLICK HERE TO VIEW STREET VIEW
This 2 bedroom/2 bathroom luxury apartment is nestled atop the hillside above Kata Beach, just a short distance from the white sandy beaches and charming sea-side village of Kata. It is one of Phuket's most exclusive residences with large open terraces, expansive living areas, reflecting the modern-Asian design of the site.
The complex, a high end residential complex comprising of 52 apartments, is very quiet with a small number of permanent residents. There is a huge infinity edge swimming pool, kid's pool, sundeck, jacuzzi, saunas & well equipped gymnasium. There is also 24 hour gated security & on-site management. The property is set amongst beautifully landscaped gardens, brimming with lush, tropical plants. You will hear the waves lapping on the beach from the terrace & enjoy a front row view of the occasional firework display on the beach.
The apartment is modern, contemporary style, air conditioned & spacious (219sqm) with 2 large bedrooms and 2 bathrooms. Each bedroom has a king size bed & teak wooden flooring. The master bedroom has stunning views of the sea, a stylish marble & sandstone en-suite bathroom with jacuzzi and twin basins. There is a large, tiled, open plan living/dining room, & fully equipped kitchen. Furniture is predominantly tropical style (made from water hyacinth) with a few antique Chinese pieces. There is a large terrace with bi-fold doors which boasts stunning sunsets over the Andaman Sea & is the perfect spot for your evening drinks and barbeque.
Accomodation
2 Bedrooms
2 Bathrooms
1 Bathroom Ensuite
Sleeps 4
Included in Rental Price
Bed linen
Towels
TV/Cable
Internet
Estate charges
Security
Permissible
Smoking

No Smoking

Children

Children

Pets

No Pets

Cooking

Cooking
Nearby
Near Schooling
Near Golf Courses
Near Yacht mooring
Near Hospitals
Near Town
Near Shopping
Available Facilities
TV/Cable
Communal swimming pool
Estate security
Parking
Gym/Fitness
Sauna
Jacuzzi inside
Jacuzzi outside
Kitchen Facilities
Stovetop
Grill
Oven
Microwave oven
Refrigerator
Dishwasher
Cooking Utensils
Dishware
Cutlery
Prices quoted in THB are converted for your convenience only and may vary 5% or more. Currency movements are out of our control and prices may change without prior warning.
Page viewed 869 times, 0.2 views/day.