Text Search


Quick Search

Your enquiry cart
is empty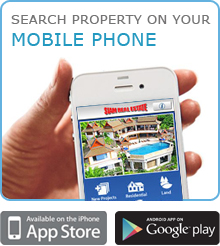 | | |
| --- | --- |
| What's New | |


| | |
| --- | --- |
| Weather Report | |


Owner's Login


Blog with expert
advice that addresses
all questions related to
Thailand property.
Read more »

Currency Converter
| | |
| --- | --- |
| Currency converters tool | |



Exchange rates


Property

For Sale

Contemporary house with sea-views from the Infinity-Edge swimming pool [HSSVD2387]
Type and Location: House in Kata, Phuket
Offer Terms: Freehold
Beds: From 3 to 4
Internal area: 350 sq. m.
Total area: 700 sq. m.
Price
From

THB

22,500,000

to

THB

24,500,000

From

USD

716,564

to

USD

780,259

From

EUR

539,581

to

EUR

587,544
Rental guarantee: 6% per annum for 3 years
About Kata
Kata Beach has to be one of the cosiest and idyllic beaches in Phuket. The beach is sheltered by tall palm trees and is great for snorkelling in the nearby coral reefs and observing the vast array of tropical marine life. This beach can get busy in the high season months over Christmas and New Year, but generally this is a nice beach to relax and unwind. There is also great surf at Kata Beach, where equipment can be hired from the shops adjoining the beach.
CLICK HERE TO VIEW STREET VIEW
Beautiful two-storey house with towering sea-views overlooking the ocean at Kata. The stylish fixtures and fittings and the all-round class of this luxury house are awe-inspiring. Some people would label the design modern or contemporary, but I would simply call it luxury living of the highest order. This property is set within a total land area of 700sqm and owns a nicely sculptured tropical garden with a neatly trimmed lawn and 44sqm Infinity Edge private swimming pool. A modern designed Thai Sala clings to the poolside, as well as a wooden decked area with sun-loungers, which is a fabulous vantage point to revel in the sea-views. The large terrace is also a great place to enjoy the surrounding greenery and ocean views.
The house is situated within a new development and an internal land area of 350sqm of ducted air-conditioned surroundings. The gleaming ceramic white tiled floors and painted white walls offer a clean-cut and minimalist atmosphere which is steeped in elegance.
This fully-furnished abode owns three-bedrooms that all have ensuite bathrooms. There is also a lounge, dining room, western kitchen and maid's room. The house is encased with large windows that open up to poolside that brings a fresh and natural feel to the interior.
The open-plan living space could be described as chic or minimalist and consists of a lounge, dining room and western kitchen. The lounge is home to sleek L-shaped white leather settee. My friend owns the exact same settee, and let me tell you – there is nothing more comfortable than this model. There is also a dark wooden coffee table and matching side table that blends with the surroundings perfectly.
The dining room owns a wooden 8-seat table that is superbly designed and sits next to a white stone wall feature and directly underneath a ducted air-con unit. The western kitchen also follows the contemporary theme with a host of white cabinets and units, with granite counters that sideline as a breakfast bar. The kitchen is also home to some high quality appliances to simplify things in the cooking department. The high patio windows enclose the entirety of the open-plan space and offer easy access to the pool, Sala and sea-views.
On the second floor, you will find the three bedrooms and also three balconies that all provide the same majestic views from below. The bedrooms all own double beds, wooden side tables and ensuite bathrooms with walk-in showers, wash-basins and WC toilets.
This is a unique property with a real classy flavour that provides tremendous air-flow and natural sunlight in abundance. You can purchase the house with Chanote title deeds and either Freehold or Leasehold terms. Move quickly – the early bird always catches the bird.
The elevated location above Kata Beach is perfect for people who enjoy tranquillity within close proximity to lots of International restaurants, bars, beaches, markets and activities. Kata is situated on the sunset south-west coast of Phuket and is gaining a reputation as a self-maintained destination with ever-growing infrastructure and natural beauty.
Architectural style: Modern Contemporary
Gardens: Yes
Conditions: New

2 plots are available

3 Bedrooms villa selling price 22.5 million baht

4 Bedrooms villa selling price 24.5 million baht
Nearby
Near Beach
Near Town
Near Shopping
Leisure
Garden
Private Pool
Sala
Swimming Pool
Swimming pool size: 44 sqm
Interior
Air-conditioners
Balcony
Bathrooms
Bathrooms Ensuite
Bedrooms
Contemporary
Dining Room
Living Room
Maids Room
2 Storeys
Terrace
WC Toilet
Western Kitchen
Utilities
Cable/satellite (UBC)
Electricity
Internet Connection
Well Water
Prices quoted in THB are converted for your convenience only and may vary 5% or more. Currency movements are out of our control and prices may change without prior warning.
Page viewed 3,307 times, 0.6 views/day.