Text Search


Quick Search

Your enquiry cart
is empty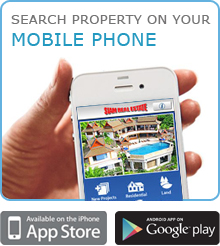 | | |
| --- | --- |
| What's New | |


| | |
| --- | --- |
| Weather Report | |


Owner's Login


Blog with expert
advice that addresses
all questions related to
Thailand property.
Read more »

Currency Converter
| | |
| --- | --- |
| Currency converters tool | |



Exchange rates


Property

For Sale

A private berth for your yacht, a property unlike any other in Thailand [HSSVD2044]
Type and Location: House in Koh Kaew, Phuket
Offer Terms: Leasehold
Beds: 5
Internal area: 748 sq. m.
Total area: 1,058 sq. m.
Price
From

THB

185,000,000

to

THB

299,000,000

From

USD

5,891,748

to

USD

9,522,339

From

EUR

4,436,557

to

EUR

7,170,436
Private beach club, private yacht berthing 23-70 metre, resort facilities
About Koh Kaew
The Koh Kaew area encompasses Sapam, the Boat Lagoon and the Royal Phuket Marina, as well as further inland near the British International school. Located on the main trunk road through Phuket Town, the nearby bypass road offers access to the south and many shopping venues. This busy Thai area is dotted with luxury apartments and villas, taking advantage of the central location and views over the bay.
CLICK HERE TO VIEW STREET VIEW
See the condos here:
http://www.siamrealestate.com/detail/by/refcode/CSSVD323/
An elite collection of the ultimate and most prestigious waterfront estates in Phuket, with their own private yacht berths. Views of the surrounding seascapes, the villas capture tropical modernity with freshness, state of the art technology and luxury. Grand residences, these villas are full of space and light, opening up to sweeping panoramas of the marina. Outwardly, the distinct lines of classic Thai architecture position the structures seamlessly within their natural surroundings. Inside, owners and their guests can luxuriate in a range of rare and desired spaces.
Through function, design and status, these exclusive residences create a tropical marina lifestyle of consummate ease, freedom and luxury and are some of the worlds
most unique investment opportunities.
These villas are the only residences in Phuket to feature private yacht berths. Situated at the foot of each waterfront estate, the berths accommodate vessels of up to 25 metres and benefit from a full range of professional services. Highly trained marina concierges provide crew support and a range of vessel maintenance.
Villas are 3 storeys and cover areas range from 748 sqm and built up area 1,058 sqm.
Land area range from 1,156 - 2,869 m2
A wide open living and dining area designed to gather and entertain family and friends, within a light and airy ambiance. Encompassing the living, dining and kitchen areas, this is a grand space which nonetheless projects a warm and inviting feel. This fully-equipped kitchen provides the ultimate in convenience.
Shelving and major appliances are stylishly concealed behind sleek cabinet doors. Ample cabinet space keeps the kitchen clutter-free. A breakfast table that seats 8 people doubles as a barbecue and grill for informal cooking and dining with family and friends. A fully-equipped wet bar is also provided, with built-in sink and fridge for entertaining with ease.
The ground floor also host the master bedroom suite. The glass-enclosed master bedroom extends into an outdoor cove, directly over a landscaped pond. Green shrubs line the natural stone and glass wall encircling the rear of the bedroom.
White curtains shade indoors from out, in addition to the sheers draping the bed. Ceiling downlights provide soft illumination. The master suite's free flow of space, from the front family room and through the bathroom, culminates in this simple and uncluttered bedroom of total seclusion.
The master bath is a luxurious and tranquil space, fitted with a chromatherapy Jacuzzi, double shower and toilet stalls. Each shower stall is fitted with a ceiling rain shower. The partitions between the Jacuzzi and bedroom can be fully opened to allow natural light and conversation to flow from the glass-enclosed floating pool and bedroom.
Design accents include a carved folding partition at the bathtub, wide copper-effect washbasins, mood-lighting slots in the Jacuzzi wall, flagstone steps in the shower area, and a path of rocks and stones at the Jacuzzi to add texture to the floor.
The second level faces towards the marina with a large balcony and ceiling-to-floor windows, this spacious bedroom is complete with an ensuite bathroom. The Jacuzzi area of the bathroom opens to the bedroom via folding partitions. Ideal as a guest room or a space to customise according to personal tastes and desires.
The luxurious cabana rooftop leads out from the bedroom, providing a totally secluded oasis for relaxation. The four-poster cabana houses two daybeds and is surrounded by a textured border of small stones. Sheer drapes, fitted both overhead and all around the cabana, provide added comfort and privacy. Tall reed grass lining the rooftop periphery acts as a natural border, while flowering plants along one edge add tropical lushness.
The ensuite spa bathroom features dual toilet enclosures and dual washbasins. A curved glass, double-head rain shower stall and a large multi-person steam room complete the suite. Small tiles in shades of earthy brown add definition, and a touch of sleek sophistication with a subtle silver-glaze finish. Free-standing stone washbasins complement the surrounding design scheme.
Uncluttered simplicity is achieved with an informal spread of well-edited elements. Overhead, an elongated cotton panel softens the ceilings rectangular contours and adds design interest. Floor-to-ceiling glass doors lead onto a terrace, showcasing a private Jacuzzi and sweeping views over the marina.
The marina is positioned right on the east coast of the island with access through a channel out into Phang Nga Bay. Centrally located to international schools, world class golf, hospitals and less than five minutes drive down the recently completed by-pass road is the shopping centres of Tescos, Central and Big-C. Phukets upscale recreational facilities, restaurants, bars and entertainment venues are less then 20 minutes away.
Architectural style: Modern, Thai
Structure: 3 Storeys with private pools. Private berths can accommodate a 25 metre vessel.
Conditions: Only 3 remaining!

Nearby
Near Beach
Near Schooling
Near Golf Courses
Near Yacht mooring
Near Hospitals
Near Town
Near Shopping
Leisure
Communal Pool
Garden
Gardener
Gym
Jacuzzi External
Jacuzzi Internal
Outdoor Bathroom
Pool Bar
Pool Cleaner
Private Pool
Sala
Secure Estate
Spa
Swimming Pool
Swimming pool size: 1 sqm
Tennis Court
Exterior
Boat mooring
Car Port
Garage
Parking Space
Interior
Air-conditioners
Balcony
Bali
Bathrooms
Bathrooms Ensuite
Bedrooms
Built in wardrobe
Contemporary
Dining Room
Family room
Fans
Games Room
Laundry Room
Living Room
Maids Room
Roof terrace
3 Storeys
Study or Office
Terrace
Thai style
Walk in wardrobe
WC Toilet
Western Kitchen
Utilities
Cable/satellite (UBC)
Electricity
Hot water system
Internet Connection
Mains Water
Septic Tank
1 Telephone Line
Thai Restaurant
Water Filtration
Water Heater
Well Water
Security
Estate security
Home security system
Video Surveillance
Prices quoted in THB are converted for your convenience only and may vary 5% or more. Currency movements are out of our control and prices may change without prior warning.
Page viewed 5,849 times, 1.1 views/day.