Text Search


Quick Search

Your enquiry cart
is empty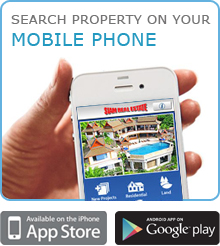 | | |
| --- | --- |
| What's New | |


| | |
| --- | --- |
| Weather Report | |


Owner's Login


Blog with expert
advice that addresses
all questions related to
Thailand property.
Read more »

Currency Converter
| | |
| --- | --- |
| Currency converters tool | |



Exchange rates


Property

For Sale

Project of 8 single storey villas with swimming pool - ONLY 1 REMAINING [HSILD1506]
Type and Location: House in Bang Tao, Phuket
Offer Terms: Leasehold
Beds: 3
Internal area: 230 sq. m.
Total area: 676 sq. m.
Price

THB

23,000,000

USD

732,488

EUR

551,572
About Bang Tao
This wide-open stretch of sand is one of Phuket's largest beaches. This former tin mining region has been transformed into luxurious beachside destination for tourists with its high-end properties, a world-class golf course and numerous five-star resorts. The beach itself is one of the busier on the northwest side of the island, but still relatively peaceful when compared to Patong and Karon Beaches. The Laguna Complex also shares this strip of white sand, which is an exclusive residential and beachside resort.
CLICK HERE TO VIEW STREET VIEW
Having several up-market resorts such as the five Laguna resorts, based at Bang Tao beach is a good indication that this area is spectacularly beautiful and represents the true tropical nature of Phuket. Here, a new luxury residential property development of eight villa's has been created taking in the natural surrounds and providing a truly enjoyable lifestyle.
The estate has 24-hour security and has had all gardens landscaped in a representation of the area. When entering one can certainly gauge both the luxury and authenticity of the area.
Each villa is built on around 750-790 square metres of landscaped palm trees, grassed areas and tropical plants.
The u-shaped villa design envelopes the 97 square metres of private back-yard swimming pool and surrounding terrace which with the addition of sun beds resembles a resort.
As you enter each property, a concreted driveway leads to a covered parking space for two vehicles. This intern, leads residents to the front of the house where a grand covered entranceway of contemporary design opens to the main living space. This area is quite large and open plan style with adjacent dining and western kitchen.
With the u-shaped design comes the added bonus of open plan living. Each room has folding wooden doors which completely let the outside in and visa versa. This attractive feature will give the ability to walk from the living room straight into the swimming pool.
Each of the three bedrooms has a private en-suite bathroom with appropriate luxury fittings. Even the maid has her own private room with bathroom.
Another attractive feature is the very high ceilings that expose the wooden structure and with the air conditioning provided there is no problem with keeping the house at the right temperature.
Nearby
Inland
Near Beach
Near Golf Courses
Near Yacht mooring
Leisure
Private Pool
Sala
Secure Estate
Swimming Pool
Swimming pool size: 58 sqm
Interior
Air-conditioners
Bathrooms
Bathrooms Ensuite
Bedrooms
Dining Room
Living Room
Maids Room
1 Storey
Western Kitchen
Utilities
Cable/satellite (UBC)
Electricity
Internet Connection
Septic Tank
1 Telephone Line
Water Heater
Well Water
Prices quoted in THB are converted for your convenience only and may vary 5% or more. Currency movements are out of our control and prices may change without prior warning.
Page viewed 3,449 times, 0.6 views/day.