Text Search


Quick Search

Your enquiry cart
is empty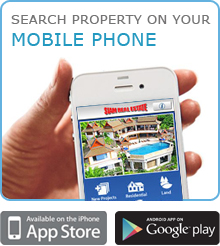 | | |
| --- | --- |
| What's New | |


| | |
| --- | --- |
| Weather Report | |


Owner's Login


Blog with expert
advice that addresses
all questions related to
Thailand property.
Read more »

Currency Converter
| | |
| --- | --- |
| Currency converters tool | |



Exchange rates


Property

For Sale

Idyllic resort style atmosphere with facilities to match [HSSVD1272]
Type and Location: House in Koh Maprao, Phuket
Offer Terms: Leasehold
Beds: From 2 to 3
Internal area: 225 sq. m.
Total area: 452 sq. m.
Price
From

THB

22,000,000

to

THB

34,000,000

From

USD

700,640

to

USD

1,082,808

From

EUR

527,591

to

EUR

815,367
Four Years Pre-Paid Rental Income the Equivalent of 20% Discount on Listed Prices!!
About Koh Maprao
Although Koh Maprao is only a few kilometers away from Phuket, the two islands are completely different. While Phuket is a world-famous island known as the pearl of Andaman, Maprao is just small island hardly known to the world. But this island has impressed countless visitors with its fascinating nature, its friendly people, and its agro-tourism. Although Koh Maprao is just a small island, there still is a fascinating beach called Haad Yao, which is a long sandy beach with peaceful surroundings.
CLICK HERE TO VIEW STREET VIEW
Phase 1A,1C Already Sold Out
"A luxury island lifestyle"
When you purchase a villa at this development, you are investing into a luxury island resort lifestyle in a sought-after location that yields strong capital growth and high rental returns.
Investment into island property is at an all time high. In some parts of the world island prices have more than tripled in value. But its not the investment rewards that lure most island property buyers, rather the lifestyle in owning luxury property in some of the most sought-after locations in the world.
Concept
This project is a unique residential development, which is configured as a resort property. Located on beautiful Coconut Island just 500 metres off Phukets east coast and as Thailands first dedicated watersports resort property, this is a truly differentiated Phuket property development that will excite lifestyle investors and reward those who buy villas as investment property.
Villas
132, 2-5 bedroom luxury pool villas are being constructed for sale, all with water-frontage or direct beach access. The estate will be managed as a watersports resort property. Located on a 500m stretch of virgin white sand beach and with Phang-Ngas spectacular scenery ahead, this project presents the best of real estate.
Amenities
Amenities include an impressive portfolio of water-sports facilities, restaurants, bars, tennis courts, a spa, a fitness centre, children facilities/kids club, shops and in-house hotel services to facilitate the ultimate waterfront lifestyle. Owners will enjoy free access to all the amenities.
Investment
Investors can expect sound capital growth and rental returns of up to 12.6 %p.a. due to the 12-month season this unique location affords. This is an ideal investment property for those who would use their villa for short personal breaks and otherwise rent it to the enthusiastic holiday market.
Boating
The project uniquely provides pier mooring, on-shore boat storage and a quick launch facility. Customers with a passion for boating, fishing, diving, snorkeling or just generally exploring Phang Nga bay can take full advantage of their holiday time.
34 villas have been sold or reserved already, please register now, the show house is ready to view!!
Villas
Type A
The lower floor of the 2-bedroom Type-A villas offer a guest/childrens room with ensuite bathroom, additional guest bathroom, western kitchen and a spacious living area which opens out to the swimming pool. A patio sits poolside, adjacent to the living area.
The upper floor contains an extremely spacious master suite with a sizable balcony overlooking the pool. The master bathroom features a large bathtub which looks out to the extraordinary views beyond the pool. The master suite is accessed through a sizeable area, which could be used as a sitting room, office or library.
Type-A villas are positioned all over the site with a range of views and aspects. Canal-front villas overlook the glistening waterways that wind through The Village. Alternately some villas are positioned on the hillside in the rear sections of the site affording spectacular views out to sea.
Type D
The Type D villas have three bedrooms, each with private balcony and ensuite bathroom, making them perfect for couples or families with teenage children.
The lower level houses large areas for lounge, dining, a western kitchen and a spacious poolside patio ideal for outdoor dining in the tropical climate.
The upper level contains the master suite positioned with picture-postcard views and private balcony. The master bathroom has an exotic outdoor Jacuzzi bath. The second guest room also enjoys wonderful views, private bathroom and secluded balcony.
Type E
:: From 44.95 million baht ::
Internal area 300 m2
Plot size 845-1037 m2 approx
These spacious 5-bedroom villas are situated in prime locations with large beachfront or hillside plots affording sensational sea views.
The lower level features two guest bedrooms with a shared bathroom, western kitchen, spacious lounge and dining areas and a patio that wraps around the swimming pool, ideal for poolside dining or entertaining.
Upstairs the master suite has primary position facing the spectacular views with a large private balcony and ensuite bathroom. Two other bedrooms on this level both enjoy private bathroom; one with bath. All bedrooms have private balcony.
Nearby
On Beach
Near Beach
Near Yacht mooring
Near Hospitals
Near Town
Near Shopping
Leisure
Communal Pool
Garden
Gym
Jacuzzi External
Outdoor Bathroom
Private Pool
Sauna
Secure Estate
Spa
Swimming Pool
Tennis Court
Interior
Air-conditioners
Balcony
Bathrooms
Bathrooms Ensuite
Bedrooms
Built in wardrobe
Contemporary
Dining Room
Fans
Living Room
2 Storeys
Terrace
Thai style
Walk in wardrobe
Western Kitchen
Utilities
Cable/satellite (UBC)
Electricity
Hot water system
Internet Connection
Septic Tank
Thai Restaurant
Water Heater
Well Water
Prices quoted in THB are converted for your convenience only and may vary 5% or more. Currency movements are out of our control and prices may change without prior warning.
Page viewed 6,555 times, 1.1 views/day.