Text Search


Quick Search

Your enquiry cart
is empty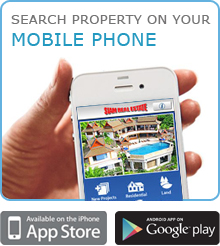 | | |
| --- | --- |
| What's New | |


| | |
| --- | --- |
| Weather Report | |


Owner's Login


Blog with expert
advice that addresses
all questions related to
Thailand property.
Read more »

Currency Converter
| | |
| --- | --- |
| Currency converters tool | |



Exchange rates


Property

For Sale

Designed by the legendary team of Jean - Michel Gathy and Philippe Starck [HSOBD348]
Type and Location: House in Ao Yamoo, Phuket
Offer Terms: Leasehold
Beds: From 1 to 2
Internal area: 190 sq. m.
Total area: 400 sq. m.
Price

THB

87,500,000

USD

2,786,638

EUR

2,098,372
Rental guarantee: 6% ROI per year for 5 years in the optional rental pool.
About Ao Yamoo
Situated between Pa Klok and Ao Phor, Ao Yamoo (or Cape Yamu) stretches out into Phang Nga Bay, providing one of the most peaceful and picturesque locations on the island. Relatively unpopulated, Ao Yamoo has become popular with a few luxury developments taking advantage of the beauty and serenity of the area.
CLICK HERE TO VIEW STREET VIEW
The Club at The Yamu is a private secluded enclave within The Yamu. The nesting ground for 13 pool villas, each with two bedrooms. Away from the fray, these oceanfront pavilions are not accessible by the public or other guests. Each features 24-hour butler service and a private car and driver. When the owner is not in residence, the Club Villas are rented as a part of the hotel, generating income for the owner.
Located in Phuket's most elegant private community, these villas are set on a wooded peninsula overlooking the soaring limestone islands of Phang Nga Bay. World-leading designer Philippe Starck and visionary architect Jean-Michel Gathy, well known for his work with Aman resorts, have created villas that exude elegance and has been featured in Condé Nast Traveler, Millionaire, Wallpaper, and The New York TImes. There is access to a world class spa and restaurant, and a variety of other luxury services.
Overlooking Phuket's dramatic east coast and the natural beauty of famous Phang Nga Bay, they offer a stunning vista of beautiful limestone islands, tiny beaches and secret coves. It is secluded, yet conveniently close to Phuket's major services and leisure facilities. The premier Mission Hills golf course, plus two marinas - The Boat Lagoon and the new Phuket Royal Marina are just 10 minutes away.
Tranquil, calm and utterly beautiful, the Yamu peninsula is a sanctuary of peace and seclusion on Phuket's tranquil east coast. There are gorgeous views and three kilometres of beachfront land in lush natural surroundings. It's spacious, extravagant, an ideal setting for this exclusive gated community.
In addition to the possibilities offered in the villa, you can join friends at the clubhouse with a wealth of top class facilities. A stylish restaurant / bar, state-of-the-art gym, tennis courts, delicatessen and a rejuvenation spa, complement the 5 Star Yamu boutique resort created by two of the world's top designers.
Perfectly secluded, yet still in touch with the world, Phuket's leisure options are close by. Savour succulent seafood at fine restaurants in Surin. Stay toned at a yoga class. Catch the buzz at Bangtao's chic bars and enjoy a challenging game of golf at a premier course. It's all just 15 minutes from Cape Yamu.
Surrounded by water, exploring the ocean is part of the lifestyle. Stunning Phang Nga Bay - with fascinating limestone islands stretching into the horizon, isn't just a phenomenal view from this villa, it's also easily accessible. High on the "A list" of Asia's sailing destinations, Phang Nga's coves, limestone caves and hidden anchorages make brilliant cruising. Charter or moor your own boat at The Royal Phuket Marina and The Boat Lagoon, just 10 minutes away.
With a private beach and views of blue waters and islands of Phang Nga Bay, Yamu has a reputation as one of the most desirable places of the island tucked away from the tourist areas. Escape from the busy world and enjoy all the luxury and easy access to all that Phuket has to offer.
From Cape Yamu your children can be at The British Curriculum International School, or seeing the latest film at the cinema in 15 minutes. Travel to Patong's vibrant nightlife in just 25 minutes. Need to catch a plane? You can be at the airport in less than half an hour.
Nearby
On Beach
Near Beach
Near Schooling
Near Golf Courses
Near Yacht mooring
Near Hospitals
Near Town
Near Shopping
Leisure
Communal Pool
Garden
Private Pool
Secure Estate
Spa
Swimming Pool
Tennis Court
Interior
Air-conditioners
Balcony
Bathrooms
Bathrooms Ensuite
Bedrooms
Built in wardrobe
Contemporary
Dining Room
Family room
Laundry Room
Living Room
Study or Office
Terrace
Walk in wardrobe
WC Toilet
Western Kitchen
Utilities
Cable/satellite (UBC)
Electricity
Hot water system
Septic Tank
1 Telephone Line
Water Heater
Well Water
Prices quoted in THB are converted for your convenience only and may vary 5% or more. Currency movements are out of our control and prices may change without prior warning.
Page viewed 2,588 times, 0.5 views/day.