Text Search


Quick Search

Your enquiry cart
is empty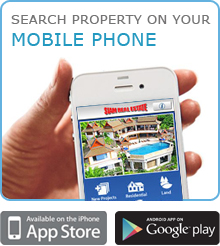 | | |
| --- | --- |
| What's New | |


| | |
| --- | --- |
| Weather Report | |


Owner's Login


Blog with expert
advice that addresses
all questions related to
Thailand property.
Read more »

Currency Converter
| | |
| --- | --- |
| Currency converters tool | |



Exchange rates


Holiday

Rental Property

In a quiet location with views over Patong and the Andaman Sea [HOL3588]
Type and Location: House in Patong, Phuket
Offer Terms: Rental - Holiday
Beds: 3
Minimum rental term: 4 nights
Internal area: 300 sq. m.
Summer Season
1 Jun - 30 Sep
High Season
1 Oct - 30 Nov
1 Feb - 31 May
Peak Season
1 Dec - 31 Jan
Daily
Weekly
* Monthly refers to 30 days.
How is my total rental calculated?
Rental rates vary by season and duration-of-stay. Consequently, it is necessary to look at each night of your stay and determine the applicable rate for that night.
For example, consider a 10-night stay, comprised of 4 nights in summer season and 6 nights in high season.
Since the stay is more than a week, the weekly rate will apply for all the nights of your stay. For each night, we determine the applicable season, consult the weekly rate for that season, divide that weekly rate by 7 to get a nightly rate, and add that amount to a running total.
In our example, the first 4 nights will use the summer season weekly rate (divided by 7), the last six nights will use the high-season weekly rate (divided by 7).
For a property that does not specify weekly or monthly rates, the daily rate for the applicable season is applied for each night of the stay.
About Patong
Patong is Phuket's number one tourist destination and you will notice this when visiting the beach or Bangla Road with its thousands of bars and vivid night life. During the high season months (November to April), the beach can become very chaotic, but its unquestionable character keeps tourists coming back for more. Patong Beach is one of the longest beaches on the island but also one of the most developed. This is a great thing if you feel like a coffee from Starbucks or a Big Mac, because all the major fast food outlets are positioned along its beach road.
CLICK HERE TO VIEW STREET VIEW
The property is a spacious 300 sq.m. positioned on the hill as you leave Patong on the road to Karon. It is built in the traditional Thai style with large red Thai roof and teak wood and stucco decoration, steel and concrete construction.
The Villa consists of 3 bedrooms with ensuite bathrooms (master with jacuzzi) finished in marble and built in wardrobes, there is a further bathroom on the first floor and WC toilet on the ground floor. There is a Western style kitchen finished in brick and tiled walls with all modern appliances and breakfast bar or work surface, living and dining rooms, as well as a study. There is a sala to the side of the Villa. The windows open out completely giving an airy feel to the living space and allowing the breeze from the sea.
The floors are mainly dark teak and terracotta tiles with teak walls, stairs and balcony/terraces. The car port is below the main house which is supported by teak pillars. The Villa is surrounded by tropical mature gardens, a large free form swimming pool and plenty of room for sunbathing. The house is approached by a steep concrete driveway.
The Villa is in the ideal location for those who enjoy peace and tranquility during their holiday, yet still like to be near restaurants, nightlife and shopping.
Architectural style: Thai
Structure: 3 storey house
Gardens: Tropical
Conditions: Good
Accomodation
3 Bedrooms
3 Bathrooms
3 Bathrooms Ensuite
Sleeps 6
Included in Rental Price
Bed linen
Towels
Gardener
Pool cleaner
Airport transfer
Permissible
Smoking

Smoking

Children

Children

Pets

Pets

Cooking

Cooking
Available Facilities
TV/Cable
Internet
Telephone
Communal swimming pool
Estate security
Fully furnished
Parking
Jacuzzi inside
Kitchen Facilities
Stovetop
Grill
Oven
Refrigerator
Cooking Utensils
Dishware
Cutlery
Prices quoted in THB are converted for your convenience only and may vary 5% or more. Currency movements are out of our control and prices may change without prior warning.
Page viewed 950 times, 0.2 views/day.