Text Search


Quick Search

Your enquiry cart
is empty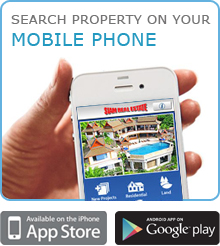 | | |
| --- | --- |
| What's New | |


| | |
| --- | --- |
| Weather Report | |


Owner's Login


Blog with expert
advice that addresses
all questions related to
Thailand property.
Read more »

Currency Converter
| | |
| --- | --- |
| Currency converters tool | |



Exchange rates


Holiday

Rental Property

50 meters to Nai Harn Beach; communal rooftop pool [HOL6876]
Type and Location: House in Nai Harn, Phuket
Offer Terms: Rental - Holiday
Beds: 2
Minimum rental term: One Week
Total area: 125 sq. m.
Summer Season
1 Jun - 30 Sep
High Season
1 Oct - 30 Nov
1 Feb - 31 May
Peak Season
1 Dec - 31 Jan
Daily
Weekly
* Monthly refers to 30 days.
How is my total rental calculated?
Rental rates vary by season and duration-of-stay. Consequently, it is necessary to look at each night of your stay and determine the applicable rate for that night.
For example, consider a 10-night stay, comprised of 4 nights in summer season and 6 nights in high season.
Since the stay is more than a week, the weekly rate will apply for all the nights of your stay. For each night, we determine the applicable season, consult the weekly rate for that season, divide that weekly rate by 7 to get a nightly rate, and add that amount to a running total.
In our example, the first 4 nights will use the summer season weekly rate (divided by 7), the last six nights will use the high-season weekly rate (divided by 7).
For a property that does not specify weekly or monthly rates, the daily rate for the applicable season is applied for each night of the stay.
About Nai Harn
Lauded by many as the best beach on the island, Nai Harn Beach has a reputation that precedes itself. The beach is situated on the southwest coastline with its stretch of golden sands and azure blue waters. On the approach to the beach there is a huge lake and beautiful temple with hills all around protecting the beach from the elements. Adjoining this great beach are five-star resorts such as the The Royal Phuket Yacht Club.
CLICK HERE TO VIEW STREET VIEW
This two-bedroom condo sits just a few minutes' walk from the white sands of Nai Harn Beach, where there is only a small handful of accommodation options.
This apartment is quite spacious, at 125 sqm meters, and has ducted air-conditioned throughout. There are two large bedrooms (each with a king-size bed), two bathrooms, a spacious living room with separate dining room, a European kitchen with full appliances, and a balcony overlooking a small, green park and Nong Han Lagoon, or more commonly known as Nai Harn Lake.
Recent improvements have included adding PVC windows for noise reduction and energy savings.
The rooftop swimming pool also overlooks the lake, and is framed by mountains to its rear. It has both shaded and sunny areas.
Nai Harn Lake is all that sits between The Sands and the beach. This stunning natural lake is shaded by trees and is backed by a Buddhist monastery. With the peaceful atmosphere of this sacred temple, and the tranquility of the trees billowing softly over this still lagoon, it is no wonder that this is one of Nai Harn's most sought after properties.
Residents will be able to reach Nai Harn Beach in a couple of minutes by foot. Equally as close are a number of eateries, ranging from a family-run Italian establishment, to locally-owned Thai and seafood restaurants. Development has intentionally been kept to a minimum, but there are a handful of convenience stores, a travel agency where day excursions can be booked, and a few small clothing outlets. There are shop houses offering massage and reflexology, and a taxi stand with sign-posted rates to various locations around Phuket.
Holiday Rental includes linen, towels, once weekly maid and laundry service, gardening, pool cleanings, cable TV, internet, estate charge, electricity and water.
Architectural style: Contemporary
Structure: Semi-detached
Gardens: Communal
Accomodation
2 Bedrooms
2 Bathrooms
1 Bathroom Ensuite
Sleeps 4
Included in Rental Price
Bed linen
Towels
Maid
Laundry
Gardener
Pool cleaner
TV/Cable
Internet
Estate charges
Security
Water
Electricity
Permissible
Smoking

No Smoking

Children

Children

Pets

No Pets

Cooking

Cooking
Nearby
Inland
Near Beach
Near Yacht mooring
Near Shopping
Available Facilities
TV/Cable
Internet
Communal swimming pool
Estate security
Fully furnished
Parking
Kitchen Facilities
Stovetop
Oven
Microwave oven
Refrigerator
Dishware
Cutlery
Service: 1x weekly maid and laundry service, pool cleaning, gardening, water and electricity included.
Prices quoted in THB are converted for your convenience only and may vary 5% or more. Currency movements are out of our control and prices may change without prior warning.
Page viewed 867 times, 0.2 views/day.