Text Search


Quick Search

Your enquiry cart
is empty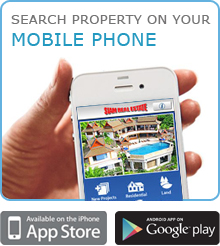 | | |
| --- | --- |
| What's New | |


| | |
| --- | --- |
| Weather Report | |


Owner's Login


Blog with expert
advice that addresses
all questions related to
Thailand property.
Read more »

Currency Converter
| | |
| --- | --- |
| Currency converters tool | |



Exchange rates


Holiday

Rental Property

Combining complete tranquility with all the elements of a tropical lifestyle [HOL6046]
Type and Location: House in Nai Harn, Phuket
Offer Terms: Rental - Holiday
Beds: 2
Minimum rental term: One week
Internal area: 80 sq. m.
Summer Season
1 Jun - 30 Sep
High Season
1 Oct - 30 Nov
1 Feb - 31 May
Peak Season
1 Dec - 31 Jan
Daily
Weekly
* Monthly refers to 30 days.
How is my total rental calculated?
Rental rates vary by season and duration-of-stay. Consequently, it is necessary to look at each night of your stay and determine the applicable rate for that night.
For example, consider a 10-night stay, comprised of 4 nights in summer season and 6 nights in high season.
Since the stay is more than a week, the weekly rate will apply for all the nights of your stay. For each night, we determine the applicable season, consult the weekly rate for that season, divide that weekly rate by 7 to get a nightly rate, and add that amount to a running total.
In our example, the first 4 nights will use the summer season weekly rate (divided by 7), the last six nights will use the high-season weekly rate (divided by 7).
For a property that does not specify weekly or monthly rates, the daily rate for the applicable season is applied for each night of the stay.
About Nai Harn
Lauded by many as the best beach on the island, Nai Harn Beach has a reputation that precedes itself. The beach is situated on the southwest coastline with its stretch of golden sands and azure blue waters. On the approach to the beach there is a huge lake and beautiful temple with hills all around protecting the beach from the elements. Adjoining this great beach are five-star resorts such as the The Royal Phuket Yacht Club.
CLICK HERE TO VIEW STREET VIEW
This semi-detached two-bedroom villa beckons you to relax and enjoy yourself in tropical ease. It combines the casual feel of a Thai bungalow with sophisticated design and all of the modern conveniences you've come to expect.
The interior is well designed and gracefully endowed with Thai-style touches. The open plan living area includes a lounge, dining area, and Western kitchen. The kitchen has a hob, microwave, and refrigerator. Large windows give the space an airy feel and connect it to the beautiful gardens outside.
The bedrooms each feature large windows, built-in wardrobes and ensuite bathrooms. The master bath has a double vanity. There are air-conditioning and ceiling fans throughout.
The large windows allow the villa to blend effortlessly into the outdoor area. The mosquito screens allow you to let in the breeze as does the outdoor shower. The large balcony/terrace has a second seating area allowing you to bask in the relaxing atmosphere. The grounds of this boutique development are immaculately kept and feature a sala and a beautifully landscaped pool.
Rental includes twice-weekly maid service and Wi-Fi.
This area is still unspoiled by mainstream tourism and has retained much of the original charm of the island, this is primarily due to the fact that being a peninsula it has not suffered the same through traffic that much of the Centre. Within easy reach Phuket´s most scenic viewpoints, two lovely beaches, beautiful offshore islands, an eclectic range of restaurants and bars nestle among these quiet beaches with gentle sloping hillside as a backdrop. This part of the Island has long been a favored residential area for many expatriates. It is located in Sai Yuan at the southern tip of Phuket Island.
Long term rental available at 35,000/month exclusive of water and electricity.
Architectural style: Bali Modern
Structure: One storey semi-detached villa
Gardens: Yes
Accomodation
2 Bedrooms
2 Bathrooms
2 Bathrooms Ensuite
Sleeps 4
Included in Rental Price
Bed linen
Towels
Maid
Gardener
Pool cleaner
TV/Cable
Internet
WiFi
Water
Electricity
Permissible
Smoking

Smoking

Children

Children

Pets

No Pets

Cooking

Cooking
Nearby
Inland
Near Beach
Near Golf Courses
Near Yacht mooring
Near Shopping
Available Facilities
TV/Cable
Internet
WiFi
Communal swimming pool
Fully furnished
Parking
Kitchen Facilities
Stovetop
Microwave oven
Refrigerator
Dishware
Cutlery
Service: Twice weekly maid service included.
Prices quoted in THB are converted for your convenience only and may vary 5% or more. Currency movements are out of our control and prices may change without prior warning.
Page viewed 534 times, 0.1 views/day.