Text Search


Quick Search

Your enquiry cart
is empty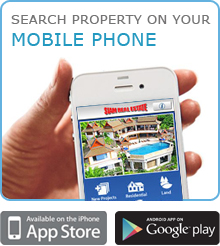 | | |
| --- | --- |
| What's New | |


| | |
| --- | --- |
| Weather Report | |


Owner's Login


Blog with expert
advice that addresses
all questions related to
Thailand property.
Read more »

Currency Converter
| | |
| --- | --- |
| Currency converters tool | |



Exchange rates


Holiday

Rental Property

4 bedroom, 4 bathroom fully furnished home [HOL964]
Type and Location: House in Nai Harn, Phuket
Offer Terms: Rental - Holiday
Beds: 4
Minimum rental term: 1 Week
Prices include discounts for monthly bookings.
Summer Season
1 Jun - 30 Sep
High Season
1 Oct - 30 Nov
1 Feb - 31 May
Peak Season
1 Dec - 31 Jan
Daily
Weekly
* Monthly refers to 30 days.
How is my total rental calculated?
Rental rates vary by season and duration-of-stay. Consequently, it is necessary to look at each night of your stay and determine the applicable rate for that night.
For example, consider a 10-night stay, comprised of 4 nights in summer season and 6 nights in high season.
Since the stay is more than a week, the weekly rate will apply for all the nights of your stay. For each night, we determine the applicable season, consult the weekly rate for that season, divide that weekly rate by 7 to get a nightly rate, and add that amount to a running total.
In our example, the first 4 nights will use the summer season weekly rate (divided by 7), the last six nights will use the high-season weekly rate (divided by 7).
For a property that does not specify weekly or monthly rates, the daily rate for the applicable season is applied for each night of the stay.
About Nai Harn
Lauded by many as the best beach on the island, Nai Harn Beach has a reputation that precedes itself. The beach is situated on the southwest coastline with its stretch of golden sands and azure blue waters. On the approach to the beach there is a huge lake and beautiful temple with hills all around protecting the beach from the elements. Adjoining this great beach are five-star resorts such as the The Royal Phuket Yacht Club.
CLICK HERE TO VIEW STREET VIEW
Marvellous tranquil location with clear lake views, the villa has recently been renovated with re-polished rosewood floor in the master bedroom, new artwork, safes in all bedrooms, outdoor walls and woodwork redecorated and new elephant stonework on the swimming pool.
Rarely does an 'executive class' home of this quality become available on the rental market. Beautifully furnished with hand crafted teak and hardwood timber furniture, this fine two storey home has four double bedrooms with ensuite bathrooms, timber built in and walk in wardrobes with more than ample storage space and a 'dream' kitchen with "state of the art" appliances, timber cabinetry and granite bench tops.

The living areas feature soaring carved, timber ceilings, and tropical timbers have been used extensively throughout this home, mood and down lighting add to the luxurious ambience and the bathrooms with their exquisite decor are sumptuous and fitted with top quality ceramics and sanitary ware. Spacious bedrooms and bathrooms are located on the lower level and the main living areas, Western kitchen and master bedroom are on the upper level The home sits in a lush, well established garden with timber framed courtyards, river pebbles and stepping stones all adding to the tropical feeling this property evokes. An outdoor bar area adjoins the sparkling blue infinity edge pool and the various terraces and balconies are perfect for al fresco dining and relaxing.

The facilities include air conditioning ,table tennis table, Cable/UBC, telephone, mains water, hot water system, safes in each bedroom and there is a good wireless internet service and car port for 2 cars. The estate has 24 hour security service and the rent includes maid service. The harmony of natural terracotta, timber and ceramic flooring, tasteful interior decor, quality window treatments and overall presentation will please the most discerning individual seeking a top class home.

The property is available for occupancy immediately.

The Landlord requests "No Pets, Please"
Architectural style: Thai
Structure: Two Storey Villa
Gardens: Tropical
Conditions: Excellent
Accomodation
4 Bedrooms
4 Bathrooms
4 Bathrooms Ensuite
Sleeps 8
Included in Rental Price
Bed linen
Towels
Maid
Gardener
Pool cleaner
TV/Cable
Internet
Estate charges
Security
Water
Gas
Permissible
Smoking

Smoking

Children

Children

Pets

No Pets

Cooking

Cooking
Nearby
Inland
Near Beach
Near Schooling
Near Golf Courses
Near Yacht mooring
Near Shopping
Available Facilities
TV/Cable
WiFi
Telephone
Private swimming pool
Estate security
Fully furnished
Parking
Jacuzzi outside
Kitchen Facilities
Stovetop
Grill
Oven
Microwave oven
Refrigerator
Cooking Utensils
Dishware
Cutlery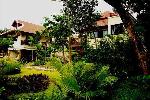 Located in the prestigious and secure Baan Bua estate [HOL1458]
House in Nai Harn, Phuket. From THB 7,500 per night. More info
Prices quoted in THB are converted for your convenience only and may vary 5% or more. Currency movements are out of our control and prices may change without prior warning.
Page viewed 5,719 times, 1.0 views/day.