Text Search


Quick Search

Your enquiry cart
is empty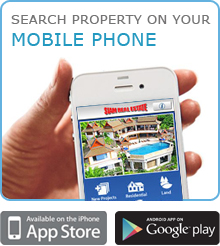 | | |
| --- | --- |
| What's New | |


| | |
| --- | --- |
| Weather Report | |


Owner's Login


Blog with expert
advice that addresses
all questions related to
Thailand property.
Read more »

Currency Converter
| | |
| --- | --- |
| Currency converters tool | |



Exchange rates


Holiday

Rental Property

An elegant pool villa for holiday rental. [HOL4168]
Type and Location: House in Laguna, Phuket
Offer Terms: Rental - Holiday
Beds: 4
Minimum rental term: 1 Week, Please see rental rates below
950 USD/night during 20 December 2013 - 15 January 2014
Summer Season
1 Jun - 30 Sep
High Season
1 Oct - 30 Nov
1 Feb - 31 May
Peak Season
1 Dec - 31 Jan
Daily
Weekly
* Monthly refers to 30 days.
How is my total rental calculated?
Rental rates vary by season and duration-of-stay. Consequently, it is necessary to look at each night of your stay and determine the applicable rate for that night.
For example, consider a 10-night stay, comprised of 4 nights in summer season and 6 nights in high season.
Since the stay is more than a week, the weekly rate will apply for all the nights of your stay. For each night, we determine the applicable season, consult the weekly rate for that season, divide that weekly rate by 7 to get a nightly rate, and add that amount to a running total.
In our example, the first 4 nights will use the summer season weekly rate (divided by 7), the last six nights will use the high-season weekly rate (divided by 7).
For a property that does not specify weekly or monthly rates, the daily rate for the applicable season is applied for each night of the stay.
About Laguna
This large hotel and residential complex is set in 1000 acres of tropical parkland, along an 8km stretch of Bang Tao beach. With 7 hotels, 4 villa developments, a golf course and a full range of facilities, Laguna is in a world of it's own. The prestigious, world famous name has chosen one of the best beaches in Phuket and created the most breathtaking surroundings.
CLICK HERE TO VIEW STREET VIEW
A private and luxurious pool villa, ideal for a peaceful and relaxing holiday. This beautifully finished property is spacious and in a great location.
Located in the prime Laguna area of Phuket, devoted to luxury and style. Just a few minutes from Bang Tao beach, one of the best on the island, and a plethora of restaurants and activities. The location alone is a good enough reason to stay. However, add in this beautiful villa and the combination creates the perfect holiday.
Before you even enter the villa, the property is spectacular. The tree lined garden is private and immaculately kept. The double tiered roof detail is mirrored in the sala and and grand entrance gate. Lined with various shades of blue tile, the large swimming pool has an incorporated jacuzzi and stone wall with waterfall feature. Surrounded by terraces, the outdoor area has a number of places for relaxing and even a bar by the pool.
The living area is open plan, with a stylish lounge, dining area and small, but fully equipped kitchen. Rich wood flooring throughout the property creates a real feeling of luxury. Decor is kept simple, with the high quality furniture taking centre stage. The four bedrooms are well spaced and each have an en-suite bathroom. There are three double rooms and one twin. One double bedroom is in a separate building, with it's own sitting area.
Summer Season for this villa is April to October, High Season is November to March and Peak Season is 20 December to 10 January. A security deposit of THB 50,000 is required and 50% payment is due upon booking and the remaining 50% is due 30 days before the check in date.
RENTAL RATES
| | |
| --- | --- |
| PERIOD | RENTAL RATES/NIGHT |
| 27 Oct 2012 - 15 Nov 2012 | 400 USD |
| 10 Dec 2012 - 20 Dec 2012 | 600 USD |
| 21 Dec 2012 - 10 Jan 2013 | 1,000 USD |
| 11 Jan 2013 - 24 Jan 2013 | 800 USD |
| From 18 February 2013 onwards | 400 USD |
Architectural style: Thai
Structure: Single Storey Villa
Gardens: Large, landscaped
Conditions: Excellent
Accomodation
4 Bedrooms
5 Bathrooms
4 Bathrooms Ensuite
Sleeps 8
Included in Rental Price
Bed linen
Towels
Maid
Gardener
Pool cleaner
TV/Cable
Internet
Estate charges
Security
Water
Gas
Electricity
Permissible
Smoking

Smoking

Children

Children

Pets

No Pets

Cooking

Cooking
Nearby
Inland
Near Beach
Near Golf Courses
Near Shopping
Available Facilities
TV/Cable
Internet
Private swimming pool
Estate security
Fully furnished
Parking
Jacuzzi outside
Kitchen Facilities
Stovetop
Grill
Oven
Microwave oven
Refrigerator
Dishwasher
Cooking Utensils
Dishware
Cutlery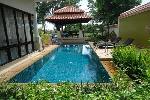 Free shuttle to beach that's only 5 minutes' drive [HOL6869]
House in Laguna, Phuket. From THB 9,000 per night. More info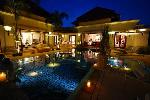 Beautiful house with everything at your fingertips [HOL2471]
House in Laguna, Phuket. From THB 16,950 per night. More info
Prices quoted in THB are converted for your convenience only and may vary 5% or more. Currency movements are out of our control and prices may change without prior warning.
Page viewed 934 times, 0.2 views/day.