Text Search


Quick Search

Your enquiry cart
is empty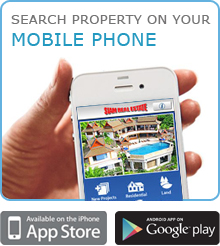 | | |
| --- | --- |
| What's New | |


| | |
| --- | --- |
| Weather Report | |


Owner's Login


Blog with expert
advice that addresses
all questions related to
Thailand property.
Read more »

Currency Converter
| | |
| --- | --- |
| Currency converters tool | |



Exchange rates


Holiday

Rental Property

Clear sea views from the swim-up bar; fully staffed [HOL6832]
Type and Location: House in Kata, Phuket
Offer Terms: Rental - Holiday
Beds: 4
Minimum rental term: 5/7/14 Nights See Listing for details
Summer Season
1 Jun - 30 Sep
High Season
1 Oct - 30 Nov
1 Feb - 31 May
Peak Season
1 Dec - 31 Jan
Daily
Weekly
* Monthly refers to 30 days.
How is my total rental calculated?
Rental rates vary by season and duration-of-stay. Consequently, it is necessary to look at each night of your stay and determine the applicable rate for that night.
For example, consider a 10-night stay, comprised of 4 nights in summer season and 6 nights in high season.
Since the stay is more than a week, the weekly rate will apply for all the nights of your stay. For each night, we determine the applicable season, consult the weekly rate for that season, divide that weekly rate by 7 to get a nightly rate, and add that amount to a running total.
In our example, the first 4 nights will use the summer season weekly rate (divided by 7), the last six nights will use the high-season weekly rate (divided by 7).
For a property that does not specify weekly or monthly rates, the daily rate for the applicable season is applied for each night of the stay.
About Kata
Kata Beach has to be one of the cosiest and idyllic beaches in Phuket. The beach is sheltered by tall palm trees and is great for snorkelling in the nearby coral reefs and observing the vast array of tropical marine life. This beach can get busy in the high season months over Christmas and New Year, but generally this is a nice beach to relax and unwind. There is also great surf at Kata Beach, where equipment can be hired from the shops adjoining the beach.
CLICK HERE TO VIEW STREET VIEW
This stunning seaside 4 bedroom villa, sits on the headland between two of Phuket's best beaches, Kata Noi and Kata Yai.
This beautiful villa is perfectly positioned on the seafront within easy walking distance of both Kata Beach and Kata Noi Beach where you will find restaurants such as Mom Tri's Kitchen, The Boathouse Grill and Two Chefs to name a few.
For a perfect vacation the villa has a delightful balcony sitting high above the rocks which becomes a focal point for evenings under the stars. It has a swim up bar in the swimming pool (Max Depth:5 ft). The whole house faces west into glorious sunsets.
There are four bedrooms: two with king size beds and two with queen size beds. All have en-suite showers and toilets. There is high speed internet with Wi-Fi, satellite/internet TV, DVD, and a computer. MP3 and CD music can be piped to the pool area.
The house is staffed fulltime by a live-in maid/cook. Basic laundry is provided, as is the use of washing and drying machines and ironing facilities.
This delightful villa is ideal for either a relaxing getaway or great parties. The pool has a swim up bar which allows you to sit in the pool with a cocktail in hand and watch the sunset across the Andaman Sea in front of you. The villa has been built on three levels sloping down to the sea, each level with excellent views out to sea.
There are bedrooms on each level with the swimming pool located on the lower level along with the bar, one bedroom and the entertainment room. The villa consists of three buildings, one with three bedrooms on two levels, one with the entertainment room, dining/sitting room and pantry also on two levels and the third building has the servants quarters and main kitchen hidden on the lower floor behind raised flower beds with the upper level given to one bedroom and a large covered veranda
Bedroom 1 is large, with a king-size bed is Thai style with wooden floor and vaulted ceiling. A private balcony overlooks the swimming pool, facing west across the Andaman Sea. The room has large cupboards with a room safe and vanity desk with a magnified make-up mirror. En-suite toilet and shower are complimented by a rather impractical outdoor terrazzo bathtub.
On the lower floor, Bedroom 2 is a more modern design with terra cotta floor tiles, Daiken sound absorbent ceiling tiles, Aluminum framed, 9mm thick laminated windows providing excellent sound-proofing for when you want to lie in and the kids want to play in the pool. Efficient black-out curtains will make your lie-in complete. Step out directly to the pool level, this large air-conditioned room comes with room safe, two walk-in cupboards, and a flat screen TV. All the bedroom showers are heated by solar power and have high pressure giving great showers.
Bedroom 3 has a terra cotta floor and has a queen-size bed. It is air-conditioned and very comfortable. It is next to the first bedroom. It has a small built in cupboard which houses a room safe. It has an en-suite shower and toilet. There is a large window opposite the bed which looks out onto a jungle type garden. Situated on the upper level of the house Bedroom 4 is a very cozy Thai style room has wood walls and ceiling with terra cotta tiles. It is air-conditioned and has a queen-size bed. This room has en-suite shower and toilet and faces out over the Andaman sea. It also has a room safe
The pool varies in temperature between 29 and 32 degrees centigrade and is a salt solution pool which means it is basically free from chlorine making it very pleasant to swim in. The salt solution is less than tears so it is comfortable to open your eyes underwater. The pool is 5 foot deep at its deepest and it has steps up to the bar and underwater seats by the bar. It is an infinity pool and the water flows into a lower pool that has a Jacuzzi. After that the water is pumped through the filtration/sanitizing system back into the upper pool. Jit, the handyman, daily maintains the pool and checks the water.
Nuch, the maid, maintains the house and lives-in. Nuch cooks excellent meals and will provide a daily complimentary cooked breakfast. She is there to cook lunches and dinners also if you require and her Thai cooking is superb. She will do all the shopping for groceries for you and ensure your stay is perfect. She will provide basic laundry services and take valuable clothes of yours to the professional cleaners. She is assisted by one other maid, Naa, her sister, and if required Wie, her sister in law, will also help out.
The villa is located within easy walking distance of the shops and beaches of Kata and Kata Noi. There are many truly excellent restaurants in every price range very close to the house. Taxi service, self-drive or chauffeured limousine can be arranged through Nuch to go further afield. Nuch will also help you book tours and shows, in-house massages, game-fishing trips, golf rounds or elephant safaris if you wish.
Rate Schedule (per night in USD)
Low Season (1 May-31 Oct—5 night minimum): $675
High Season (16 Jan-30 Apr and 1 Nov-14 Dec—7 night min.): $975
Peak Season (15 Dec-15 Jan—14 night min.): $1,750
Architectural style: Tropical Modern
Structure: Three storeys, interconnected pavilions, detached
Gardens: Yes
Accomodation
4 Bedrooms
4 Bathrooms
4 Bathrooms Ensuite
Sleeps 8
Included in Rental Price
Bed linen
Towels
Maid
Laundry
Gardener
Pool cleaner
Cook
TV/Cable
Internet
WiFi
Estate charges
Security
Water
Gas
Electricity
Permissible
Smoking

No Smoking

Children

Children

Pets

No Pets

Cooking

Cooking
Nearby
Near Beach
Near Schooling
Near Golf Courses
Near Hospitals
Near Shopping
Available Facilities
TV/Cable
Internet
WiFi
Private swimming pool
Fully furnished
Parking
Jacuzzi outside
Kitchen Facilities
Stovetop
Oven
Microwave oven
Refrigerator
Dishwasher
Dishware
Cutlery
Prices quoted in THB are converted for your convenience only and may vary 5% or more. Currency movements are out of our control and prices may change without prior warning.
Page viewed 802 times, 0.2 views/day.