Text Search


Quick Search

Your enquiry cart
is empty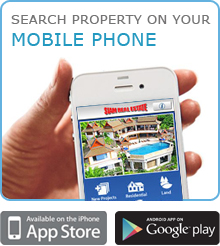 | | |
| --- | --- |
| What's New | |


| | |
| --- | --- |
| Weather Report | |


Owner's Login


Blog with expert
advice that addresses
all questions related to
Thailand property.
Read more »

Currency Converter
| | |
| --- | --- |
| Currency converters tool | |



Exchange rates


Holiday

Rental Property

Luxury and style [HOL1838]
Type and Location: House in Surin Beach, Phuket
Offer Terms: Rental - Holiday
Beds: 3
Minimum rental term: 3 Nights
Summer Season
1 Jun - 30 Sep
High Season
1 Oct - 30 Nov
1 Feb - 31 May
Peak Season
1 Dec - 31 Jan
Daily
Weekly
* Monthly refers to 30 days.
How is my total rental calculated?
Rental rates vary by season and duration-of-stay. Consequently, it is necessary to look at each night of your stay and determine the applicable rate for that night.
For example, consider a 10-night stay, comprised of 4 nights in summer season and 6 nights in high season.
Since the stay is more than a week, the weekly rate will apply for all the nights of your stay. For each night, we determine the applicable season, consult the weekly rate for that season, divide that weekly rate by 7 to get a nightly rate, and add that amount to a running total.
In our example, the first 4 nights will use the summer season weekly rate (divided by 7), the last six nights will use the high-season weekly rate (divided by 7).
For a property that does not specify weekly or monthly rates, the daily rate for the applicable season is applied for each night of the stay.
About Surin Beach
This region on the west coast of Phuket north of Kamala owns the reputation of 'millionaire row' due to its luxury sea-view properties. Surin Beach enjoys the shelter of casuarinas trees lining its coastline. This secluded and peaceful beach is a favorite with tourists in the know. This is a great spot for relaxing in the subtropical clime, however, be careful if swimming with powerful riptides, especially during the monsoon season. Surin Beach has many great beachside restaurants such as the Catch Beach Club.
CLICK HERE TO VIEW STREET VIEW
Now available for vacation rentals is this luxurious three bedroom pool villa within the vicinity of Surin Beach.
The property has recently been completed and sits on a block of 940 square metres. A security fence surrounds the property with parking for two vehicles included. Gardens have been established and are of the tropical nature with decorative pieces throughout.
The owners of the property have outdoor living in mind as the stylish swimming pool is surrounded by terraces, a sala and two large four poster sun beds with flowing white shady material covering but allowing the sun to come through.
Inside the fully furnished home is a large living space and dining area which overlooks the pool area and is surrounded by some decorative gardens. The furnishings are modern yet Thai style and fit in well with the tropical theme.
The three bedrooms are large and airy. The main has a walk-in wardrobe while the other two have built-ins. All three bedrooms have en-suite bathrooms with quality fittings.
A huge western kitchen is available for those aspiring chefs. Gas cooking and plenty of storage space as well as oven and black granite benchtops.
Ducted air conditioning services the whole house while a private maids quarters is also available.
Other features are satellite tv, telephone, water heating, gardener, pool cleaner and a maid 6-days a week.
Access to facilities of the exclusive Twin Palms Hotel.
Accomodation
3 Bedrooms
3 Bathrooms
3 Bathrooms Ensuite
Sleeps 6
Included in Rental Price
Bed linen
Towels
Maid
Gardener
Pool cleaner
Internet
Estate charges
Security
Gas
Electricity
Permissible
Smoking

Smoking

Children

Children

Pets

No Pets

Cooking

Cooking
Nearby
Inland
Near Beach
Near Schooling
Near Golf Courses
Near Yacht mooring
Near Hospitals
Near Shopping
Available Facilities
TV/Cable
Internet
Private swimming pool
Estate security
Fully furnished
Parking
Jacuzzi inside
Jacuzzi outside
Kitchen Facilities
Stovetop
Grill
Oven
Microwave oven
Refrigerator
Cooking Utensils
Dishware
Cutlery
Service: Maid service 6 times a week.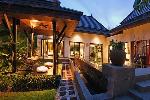 Set in a tropical village where the white sands of Surin Beach are just a stroll away. [HOL2099]
House in Surin Beach, Phuket. From THB 13,000 per night. More info
Prices quoted in THB are converted for your convenience only and may vary 5% or more. Currency movements are out of our control and prices may change without prior warning.
Page viewed 1,965 times, 0.3 views/day.