Text Search


Quick Search

Your enquiry cart
is empty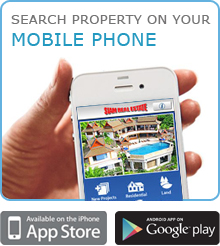 | | |
| --- | --- |
| What's New | |


| | |
| --- | --- |
| Weather Report | |


Owner's Login


Blog with expert
advice that addresses
all questions related to
Thailand property.
Read more »

Currency Converter
| | |
| --- | --- |
| Currency converters tool | |



Exchange rates


Long

Term Rental Property

Central location with expansive views [LTRIL4271]
Type and Location: House in Kathu, Phuket
Offer Terms: Rental - Longterm
Price: THB 100,000 per month
Beds: 4
Total area: 427 sq. m.
Minimum rental term: 1 Month - Enquire for Rates
Available Now
About Kathu
The central location of Kathu means the west coast beaches are just as easily reached as the Phuket Town area, with shopping, schools and hospitals. Golf courses are a main feature here and the slow pace of life is continued with waterfalls and a peaceful reservoir, which is great to walk around or have a picnic by. A range of tourist activities are ideal for kids, such as elephant trekking, cable waterskiing and karting.
CLICK HERE TO VIEW STREET VIEW
This three story, four bedroom house is located on a golf course in Kathu just 150 meters from the club house. The ground floor is an open plan with wrap around French windows in the front and sides. The swimming pool goes right up to the porch.
The first level consists of two living areas, dining area, kitchen with drink bar, tea room /card table, one guest bedroom, one bath, one interior storage room and one exterior accessed electrical room.
The downstairs floor is granite and the stairs, second and third floors are hardwood (Makau). The porch and outside walkways are all terra cotta tile and sandwash. There are ceiling fans in all rooms. The upstairs baths have tubs and were recently remodeled. The house is completely air conditioned. There is a water purification system and pumps to maintain water pressure. The outside lights are on timers and the front gate is remote control operated.
The central stairs lead to two master sized bedrooms with baths and one massage room. Both bedrooms as well as the massage room open to large private balconies. There is an additional bedroom / office on the third floor.
Behind the house is a two car carport, double sized maid's room (2 maids quarters were converted to one large room) with bath and an additional kitchen/laundry room. In the corner of the backyard sits a free standing bungalow with bath.
The bungalow is oversized with ample room for a sitting area.
The swimming pool is 380 cubic meters with a separate kid's pool adjoined, an island for sun bathing, a cold water Jacuzzi, three waterfall therapy seats, three fountains and numerous underwater seating benches. Beside the pool is a 6-person steam room and on the house porch a free-standing hot water jacuzzi.
What really defines this property is location: the practice greens sit just 25M from the drive entry. The property overlooks the immaculately kept greens.
There are 2 phone lines with a base rate of 200 Baht a month and fiber-optic internet service at about 1,600 Baht a month.
The country club property is located in Kathu, just over the mountain from Patong (approximately 15-18 minutes drive), 15 minutes from downtown Phuket city and just 8 minutes from the Central Shopping Hub which comprises the Central Festival Mall, Lotus Tesco, Big C Shopping Mall, The Index Mall, The Home Design Center, Home Mart and Makro. There are 4 major hospitals within a 15 minute drive. The International Hospital is 8 minutes away between Big C and the Index Mall.
Long Term Rental:
12 Months: 100,000
6 Months: 110,000,000
3 Months: 150,000
1 Month: 175,000
Architectural style: Contemporary
Structure: 3 Stories
Conditions: Rent to be paid every 3 months in advance.
Accomodation
4 Bedrooms
4 Bathrooms
4 Bathrooms Ensuite
Sleeps 8
Included in Rental Price
Bed linen
Towels
Gardener
Pool cleaner
Estate charges
Permissible
Smoking

Smoking

Children

Children

Pets

Pets

Cooking

Cooking
Nearby
Inland
Near Schooling
Near Golf Courses
Near Hospitals
Near Town
Near Shopping
Available Facilities
TV/Cable
Internet
WiFi
Telephone
Private swimming pool
Communal swimming pool
Fully furnished
Parking
Gym/Fitness
Spa
Sauna
Jacuzzi outside
Kitchen Facilities
Stovetop
Grill
Oven
Microwave oven
Refrigerator
Cooking Utensils
Dishware
Cutlery
Prices quoted in THB are converted for your convenience only and may vary 5% or more. Currency movements are out of our control and prices may change without prior warning.
Page viewed 661 times, 0.2 views/day.