Text Search


Quick Search

Your enquiry cart
is empty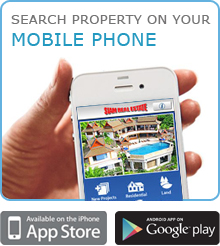 | | |
| --- | --- |
| What's New | |


| | |
| --- | --- |
| Weather Report | |


Owner's Login


Blog with expert
advice that addresses
all questions related to
Thailand property.
Read more »

Currency Converter
| | |
| --- | --- |
| Currency converters tool | |



Exchange rates


Long

Term Rental Property

Good value three bedroom home in private estate [LTRIL1809]
Type and Location: House in Kathu, Phuket
Offer Terms: Rental - Longterm
Price: THB 35,000 per month
Beds: 4
Internal area: 159 sq. m.
Total area: 237 sq. m.
Minimum rental term: 1 month = 54,000, 3 months = 48,000, 6 months = 36,000, 12 months = 35,000
Available Now
About Kathu
The central location of Kathu means the west coast beaches are just as easily reached as the Phuket Town area, with shopping, schools and hospitals. Golf courses are a main feature here and the slow pace of life is continued with waterfalls and a peaceful reservoir, which is great to walk around or have a picnic by. A range of tourist activities are ideal for kids, such as elephant trekking, cable waterskiing and karting.
CLICK HERE TO VIEW STREET VIEW
This property is positioned within a short drive of the course which also gives easy access to many of the islands facilities such as shopping, entertainment and easy access to beaches and international hospitals.
Many of the islands ex pat community chooses to reside in private estates making this property very desirable as the surrounding homes are of like quality construction and attractiveness.
The land size here is just under 240 square metres but is fully fenced and turfed to provide an attractive setting for a private bbq or dinner.
The fence is also gated and leads to off street parking for two vehicles. Through the wooden front door is the main living and dining area which has wooden laminate flooring. The windows are all curtained and overlook the garden.
A western kitchen is included here and the wooden staircase leads to the top floor of three bedrooms. The main bedroom has a private balcony and built in wardrobe and the whole house is serviced by three quality fitted bathrooms.
Utilities available include satellite TV, telephone line, broadband internet connection, well water with heating and quality three phase electricity.
Conditions: Rates:

1 month = 54,000

3 months = 48,000

6 months = 36,000

12 months = 35,000


Accomodation
4 Bedrooms
3 Bathrooms
1 Bathroom Ensuite
Sleeps 0
Included in Rental Price
Permissible
Smoking

Smoking

Children

Children

Pets

Pets

Cooking

Cooking
Nearby
Inland
Near Schooling
Near Golf Courses
Near Hospitals
Near Town
Available Facilities
TV/Cable
Telephone
Partially furnished
Kitchen Facilities
Prices quoted in THB are converted for your convenience only and may vary 5% or more. Currency movements are out of our control and prices may change without prior warning.
Page viewed 4,874 times, 0.8 views/day.