Text Search


Quick Search

Your enquiry cart
is empty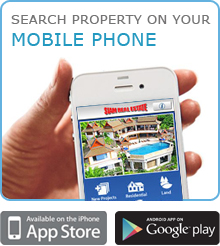 | | |
| --- | --- |
| What's New | |


| | |
| --- | --- |
| Weather Report | |


Owner's Login


Blog with expert
advice that addresses
all questions related to
Thailand property.
Read more »

Currency Converter
| | |
| --- | --- |
| Currency converters tool | |



Exchange rates


Long

Term Rental Property

New and fresh; 1-month contracts available [LTRIL6866]
Type and Location: House in Cherng Talay, Phuket
Offer Terms: Rental - Longterm
Price: THB 170,000 per month
Beds: 3
Internal area: 250 sq. m.
Total area: 588 sq. m.
Minimum rental term: One Month. Nov--170,000 Dec-Jan--220,000
Available Now
About Cherng Talay
Cherng Talay is inland and very close to Bang Tao beach and has many restaurants and good shopping malls such as Tesco's
CLICK HERE TO VIEW STREET VIEW
This three bedroom, two storey pool villa (250 sqm) sits in the Soi Pasak area of Cherng Talay, a quiet yet increasingly popular area with great access to beaches, international schools, and shopping.
It has an open plan living area with modern European kitchen, dining area, and lounge with great light. The kitchen is has sleek lines with medium-toned wood and black marble countertops.
The three bedrooms all have ensuite bathrooms, with an additional guest bathroom.
The pool is keyhole-shaped with a Thai-contemporary sala for lounging. The garden is landscaped and fenced with mature trees. There is a double carport.
Long-term rental includes linen, maid service, gardening, pool cleaning, and cable TV. Water and electricity are charged separately.
The villa is available from 1 Nov, 2013 to 1 Feb, 2013. Price for November: 170,000 THB; Price for December or January: 220,000 THB. Minimum one month contract.
Architectural style: Contemporary
Structure: Two storeys, detached
Gardens: Yes, landscaped
Accomodation
3 Bedrooms
3 Bathrooms
2 Bathrooms Ensuite
Sleeps 6
Included in Rental Price
Bed linen
Maid
Gardener
Pool cleaner
TV/Cable
Permissible
Smoking

No Smoking

Children

Children

Pets

No Pets

Cooking

Cooking
Nearby
Inland
Near Beach
Near Schooling
Near Golf Courses
Near Yacht mooring
Near Hospitals
Near Town
Near Shopping
Available Facilities
TV/Cable
Internet
Private swimming pool
Fully furnished
Parking
Kitchen Facilities
Stovetop
Oven
Refrigerator
Dishware
Cutlery
Service: Maid service, pool cleaning, and gardening included
Prices quoted in THB are converted for your convenience only and may vary 5% or more. Currency movements are out of our control and prices may change without prior warning.
Page viewed 765 times, 0.2 views/day.