Text Search


Quick Search

Your enquiry cart
is empty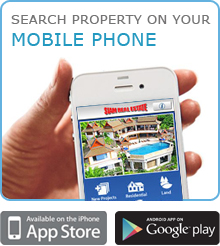 | | |
| --- | --- |
| What's New | |


| | |
| --- | --- |
| Weather Report | |


Owner's Login


Blog with expert
advice that addresses
all questions related to
Thailand property.
Read more »

Currency Converter
| | |
| --- | --- |
| Currency converters tool | |



Exchange rates


Long

Term Rental Property

In a central Kathu location. [LTRIL3906]
Type and Location: House in Kathu, Phuket
Offer Terms: Rental - Longterm
Price: THB 30,000 per month
Beds: 3
Total area: 104 sq. m.
Minimum rental term: 6 Months
Available Now
About Kathu
The central location of Kathu means the west coast beaches are just as easily reached as the Phuket Town area, with shopping, schools and hospitals. Golf courses are a main feature here and the slow pace of life is continued with waterfalls and a peaceful reservoir, which is great to walk around or have a picnic by. A range of tourist activities are ideal for kids, such as elephant trekking, cable waterskiing and karting.
CLICK HERE TO VIEW STREET VIEW
A two storey, three bedroom house with tropical garden and private pool. Standing on the hilltop of a large well established housing estate in Kathu. This property has pleasant views due to the high position.
Kathu is famed for its golf courses and natural beauty, as well as a central location. This property is located in an estate near the Prince of Songkla University. One entrance near the university and one from the main road means there is easy access to all directions from the estate. Patong around fifteen minutes away and shopping malls are closeby.
The house is of a modern Thai design, with low hanging roof detail on the car port. The garden is well kept with a lawn area and tropical trees. There are two entrance doors, one to the lounge and one to the western kitchen. The living area runs from the front to back of the property.
A second set of sliding doors leads onto the covered terrace at the rear. This spacious area can be used for sitting and relaxing or even outdoor dining. Climbing plants create a pretty, rustic effect. The free form pool is surrounded by a stonewash terrace, great for sunbathing. The beautiful turquoise of the pool is very inviting, perfect for cooling off on a hot day.
The property is fully air conditioned and has a washing machine. Pool cleaning and gardening services are included in the rental price.
Architectural style: Modern Thai
Structure: Two Storey House
Gardens: Neat
Conditions: Good
Accomodation
3 Bedrooms
3 Bathrooms
1 Bathroom Ensuite
Sleeps 6
Permissible
Smoking

Smoking

Children

Children

Pets

Pets

Cooking

Cooking
Nearby
Inland
Near Schooling
Near Golf Courses
Near Yacht mooring
Near Hospitals
Near Town
Near Shopping
Available Facilities
TV/Cable
Telephone
Private swimming pool
Partially furnished
Parking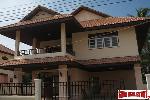 Good value three bedroom home in private estate [LTRIL1809]
House in Kathu, Phuket. THB 35,000 per month. More info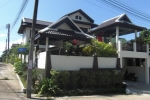 Convenient location; peaceful and quiet [LTRIL6796X]
House in Kathu, Phuket. THB 36,000 per month. More info
Prices quoted in THB are converted for your convenience only and may vary 5% or more. Currency movements are out of our control and prices may change without prior warning.
Page viewed 4,420 times, 1.0 views/day.