Text Search


Quick Search

Your enquiry cart
is empty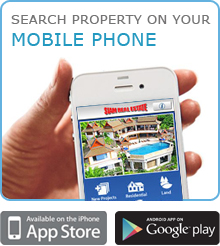 | | |
| --- | --- |
| What's New | |


| | |
| --- | --- |
| Weather Report | |


Owner's Login


Blog with expert
advice that addresses
all questions related to
Thailand property.
Read more »

Currency Converter
| | |
| --- | --- |
| Currency converters tool | |



Exchange rates


Long

Term Rental Property

Luxurious modern property [LTRSV3343]
Type and Location: House in Cape Panwa, Phuket
Offer Terms: Rental - Longterm
Price: THB 100,000 per month
Beds: 3
Minimum rental term: 1 year
Available Now
About Cape Panwa
Cape Panwa on an outcrop east of Phuket Town is one of the quietest areas of the island and the water is shallow but it's certainly very scenic with views out across Chalong Bay and Lone Island. Luxury villas and condominiums line the beach but dotted in between are fishermen's huts and at the far west end of the beach there is a mangrove swamp. A unique and exclusive area of Phuket, Cape Panwa seems like a different world. Aside from the Phuket Aquarium, there is not much to do except eat, drink and relax in one of the fantastic properties.
CLICK HERE TO VIEW STREET VIEW
This property really personifies the word "tranquility". If you are looking for a peaceful retreat at one of the island's most scenic areas, this is the opportunity you have been waiting for. This two storey home owns three bedrooms, three ensuite bathrooms, a European kitchen, dining room, lounge, a study/office, garden, balcony, a garage and boat moorings. You can also take advantage of the communal facilities that include a swimming pool and a gymnasium.
This luxurious property is surrounded by trees, which makes for a serene environment. The interior of the house is chic, with attention to detail being the best way to describe the design concept.
The tropical living design ensures you will receive only top quality fixtures, fittings and furniture that blend in with the overall feel of the home.
The main living area is open plan combining a lounge, dining room and European kitchen rolled into one. The lounge owns a comfortable settee, coffee and dining tables and a flat screen TV.
Some of the rooms have classy ceramic tiled flooring, while others have sleek wooden floors, such as the bedrooms. The office area is very classy, as it is akin to something you might see in the house of a movie star.
The three bedrooms all have double beds, built-in wardrobes and ensuite bathrooms.
One of the great features of this home is the fantastic sea-views you can enjoy from many quarters of the house.
This fabulous sea-view home enjoys the usage of the communal facilities that include a swimming pool and gymnasium.
This house is available to rent for a minimum of 1 month with services and utilities that include cable/satellite TV, internet and telephone connections, home and estate security, and fresh bed linen provided by a maid.
The location of Cape Panwa is situated on the east coast of Phuket. From this area, you can enjoy the majestic sunrises every morning. Within a short distance are beaches, restaurants, bars and shopping centres. Phuket Town is also only a ten-minute drive away.
Architectural style: Modern Tropical
Structure: Very Good
Gardens: Yes
Conditions: Very Good
Accomodation
3 Bedrooms
3 Bathrooms
Sleeps 6
Permissible
Smoking

No Smoking

Children

Children

Pets

No Pets

Cooking

Cooking
Nearby
Near Beach
Near Schooling
Near Yacht mooring
Near Hospitals
Near Town
Near Shopping
Available Facilities
TV/Cable
Internet
Telephone
Communal swimming pool
Estate security
Fully furnished
Parking
Gym/Fitness
Jacuzzi outside
Kitchen Facilities
Stovetop
Oven
Microwave oven
Refrigerator
Cooking Utensils
Dishware
Cutlery
Prices quoted in THB are converted for your convenience only and may vary 5% or more. Currency movements are out of our control and prices may change without prior warning.
Page viewed 1,788 times, 0.4 views/day.