Text Search


Quick Search

Your enquiry cart
is empty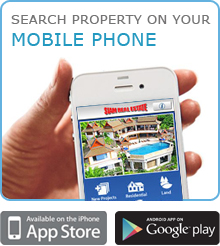 | | |
| --- | --- |
| What's New | |


| | |
| --- | --- |
| Weather Report | |


Owner's Login


Blog with expert
advice that addresses
all questions related to
Thailand property.
Read more »

Currency Converter
| | |
| --- | --- |
| Currency converters tool | |



Exchange rates


Long

Term Rental Property

Sea-View houses for rent [LTRSV2861]
Type and Location: House in Patong, Phuket
Offer Terms: Rental - Longterm
Price: THB 120,000 per month
Beds: 3
Total area: 368 sq. m.
Minimum rental term: 1 month (See the rates below)
Available Now
About Patong
Patong is Phuket's number one tourist destination and you will notice this when visiting the beach or Bangla Road with its thousands of bars and vivid night life. During the high season months (November to April), the beach can become very chaotic, but its unquestionable character keeps tourists coming back for more. Patong Beach is one of the longest beaches on the island but also one of the most developed. This is a great thing if you feel like a coffee from Starbucks or a Big Mac, because all the major fast food outlets are positioned along its beach road.
CLICK HERE TO VIEW STREET VIEW
These stylish Three bedroom houses are situated within a development that provides panoramic and unobstructed views overlooking Patong Bay. The houses are fitted with top quality furniture, fixtures and fittings, ensuring your duration in Phuket is a comfortable experience. The entire space of the house is 682sqm, which owns four bedrooms with en-suite bathrooms, a western kitchen, lounge, dining room, family room and a study/office. The house enjoys the mixture of ceiling fans and air-conditioning.
The excellent sea-views overlooking Patong Bay can be enjoyed from the comfort of your open plan living room and the adjoining balcony the property provides its guests.
A nice mixture of wooden and white ceramic tiled floors runs throughout the property, complimenting the high-class furniture perfectly.
The living and dining rooms own furniture that includes a settee and dining table, surrounded by tall widows that not only let in great sunlight, but also provide great views out to the swimming pool and ocean.
The western kitchen is large, very well maintained and provides a good selection of facilities, such as a stovetop, grill, oven, microwave, refrigerator, dishware and a good choice of dishware and cutlery for your self-catering pleasure. There is also a separate laundry room, with a washing machine inside.
There are five bathrooms altogether, four of which are en-suite. The master bathroom owns an internal Jacuzzi, where the great se-views are also available. The bedrooms have nice wooden floors, four-poster beds, walk in wardrobes and nice sea-views once again.
The outdoor area of the house provides a large swimming pool with decked surroundings, ideal for sitting back and relaxing while enjoy the lofty location above Patong bay.
The services and utilities include cable/satellite TV, internet and telephone connections, estate security, a gardener and a pool cleaner.
Additional charge: Electricity 9.50 THB/unit, water supply 20THB/unit, maid 6,000 THB/month (6 days/week) and laundry as per change.
The location of this house is very peaceful and private, especially when you know what a bust and vibrant town Patong is. The beauty of Patong is the facilities and amenities, such as hundreds of international restaurants, bars, beaches and shopping facilities. Three golf courses are situated nearby, as is everything you could possibly expect within one of Asia's most popular tourist destinations.
Rental Rates
1 Feb-30 Nov =180,000THB
1 Dec-31 Jan=220,000THB
7-12 months= 120,000THB/month
Architectural style: Modern
Structure: Good
Gardens: Communal
Conditions: Very Good
Accomodation
3 Bedrooms
4 Bathrooms
3 Bathrooms Ensuite
Sleeps 8
Included in Rental Price
Gardener
Pool cleaner
TV/Cable
Internet
Estate charges
Security
Gas
Permissible
Smoking

Smoking

Children

Children

Pets

Pets

Cooking

Cooking
Nearby
Near Beach
Near Schooling
Near Golf Courses
Near Hospitals
Near Town
Near Shopping
Available Facilities
TV/Cable
Internet
Telephone
Private swimming pool
Estate security
Fully furnished
Parking
Jacuzzi inside
Kitchen Facilities
Stovetop
Grill
Oven
Microwave oven
Refrigerator
Dishwasher
Cooking Utensils
Dishware
Prices quoted in THB are converted for your convenience only and may vary 5% or more. Currency movements are out of our control and prices may change without prior warning.
Page viewed 1,752 times, 0.4 views/day.