Text Search


Quick Search

Your enquiry cart
is empty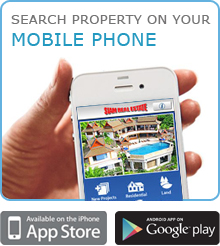 | | |
| --- | --- |
| What's New | |


| | |
| --- | --- |
| Weather Report | |


Owner's Login


Blog with expert
advice that addresses
all questions related to
Thailand property.
Read more »

Currency Converter
| | |
| --- | --- |
| Currency converters tool | |



Exchange rates


Long

Term Rental Property

Uniquely designed property just 80 metres from the beach [LTRIL2452]
Type and Location: House in Rawai, Phuket
Offer Terms: Rental - Longterm
Price: THB 150,000 per month
Beds: 3
Total area: 1,750 sq. m.
Minimum rental term: 12 months
Available Now
About Rawai
Situated at the southernmost tip of the island, Rawai Beach is the home of the famous sea gypsies and some of the finest seafood restaurants on the island. The surrounding ocean and islands are great for snorkeling, fishing, boat tours and diving, the beach itself is not suitable for swimming due to its being tidal. However Naiharn beach one of best on the island is within 3 km of Rawai Beach road. Rawai has many great bars and spectacular views of the outlaying islands.
CLICK HERE TO VIEW STREET VIEW
Positioned up a quiet concrete soi is this very large prestigious property in the Rawai district. Built just 80 metres from the sea, it also boasts outstanding ocean views from each room of the house. This expansive house is set over 1 rai of tropical gardens with plants such as palms and frangipanis. There is also a 60 square metre swimming pool that is surrounded by wooden decking and positioned adjacent is a private Thai Sala. Surrounding the land is a perimeter security fence with electric gates.
The house has been designed in a two storey contemporary style and utilising space with the second floor outdoor balcony taking in some of the fantastic views. The vaulted ceilings have been created with exposed wood enhancing interior space and practicality.
The elegance of this property is even more evident within the luxurious western kitchen, which is fitted with sleek wooden cabinets and units with shiny blue trimmings. The modern appliances include a stovetop, grill, oven, microwave, refrigerator and lots of dishware and cutlery for your cooking pleasures. There is also a separate laundry room with a washing machine inside.
Inside are a total of three bedrooms with the main being a real feature at 32 square metres including a bath that looks out at the ocean views. All rooms have private en-suite bathrooms and walk in wardrobes.
The living space is very stylish with black granite tiles throughout. This area opens up to the pool and terrace through folding wooden doors that make use of the indoor/outdoor lifestyle of the tropics.
On the second level is another room which is currently been used as an office and certainly suits the home businessman. There is also a covered carport big enough for two vehicles, and an expansive roof-top terrace offering majestic sea-views.
The facilities within this house are simply astounding, and range from a games room with pool table, internal Jacuzzi,a spa and a 60sqm swimming pool.
This is an unforgettable property that is geared towards luxury living. The minimum rental period is 6 months and includes a vast amount of services and utilities such as cable/satellite TV, internet and telephone connections and fresh bed linen and towels. Move quickly, because this will be snapped up in no time at all.
This stunning house is situated at Rawai beach within a quiet neighbourhood that offers home security. The location at Rawai is situated at the southernmost tip of Phuket Island within close proximity to a host of beaches, shops, markets, bars and restaurants. Rawai is also famous for its excellent value-for-money seafood straight off the fishing boats.
Architectural style: Modern
Gardens: Large tropical
Conditions: Excellent
Accomodation
3 Bedrooms
3 Bathrooms
3 Bathrooms Ensuite
Sleeps 6
Included in Rental Price
Bed linen
Towels
Maid
Gardener
Pool cleaner
TV/Cable
Internet
Security
Water
Permissible
Smoking

No Smoking

Children

Children

Pets

No Pets

Cooking

Cooking
Nearby
Near Beach
Near Schooling
Near Yacht mooring
Near Shopping
Available Facilities
TV/Cable
Internet
Telephone
Private swimming pool
Home security
Fully furnished
Parking
Spa
Jacuzzi inside
Jacuzzi outside
Game room
Kitchen Facilities
Stovetop
Grill
Oven
Microwave oven
Refrigerator
Cooking Utensils
Dishware
Cutlery
Prices quoted in THB are converted for your convenience only and may vary 5% or more. Currency movements are out of our control and prices may change without prior warning.
Page viewed 3,089 times, 0.6 views/day.