Text Search


Quick Search

Your enquiry cart
is empty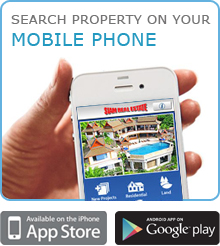 | | |
| --- | --- |
| What's New | |


| | |
| --- | --- |
| Weather Report | |


Owner's Login


Blog with expert
advice that addresses
all questions related to
Thailand property.
Read more »

Currency Converter
| | |
| --- | --- |
| Currency converters tool | |



Exchange rates


Long

Term Rental Property

Three bedroom house with large balcony and swimming pool [LTRIL1490]
Type and Location: House in Rawai, Phuket
Offer Terms: Rental - Longterm
Price: THB 68,000 per month
Beds: 3
Total area: 800 sq. m.
Minimum rental term: 1 year, 6 months 81,600, 3 months 95,200, 1 month 122,400
Available Now
About Rawai
Situated at the southernmost tip of the island, Rawai Beach is the home of the famous sea gypsies and some of the finest seafood restaurants on the island. The surrounding ocean and islands are great for snorkeling, fishing, boat tours and diving, the beach itself is not suitable for swimming due to its being tidal. However Naiharn beach one of best on the island is within 3 km of Rawai Beach road. Rawai has many great bars and spectacular views of the outlaying islands.
CLICK HERE TO VIEW STREET VIEW
Built on a big block of land with plenty of space for a large family including a large yard with built-in swimming pool and Jacuzzi. The pool is surrounded by gardens and grassed areas which also include an outdoor shower facility.
The front of the house has a double garage plus off street parking while the whole estate is safe with the 24-hour security.
Inside are three large bedrooms with the main having a walk-in wardrobe and private en-suite bathroom and the other two having built-in wardrobes and also private bathrooms.
The ground floor has plenty of living space and a huge western kitchen including a spacious breakfast bar.
On the second floor is a huge covered balcony which runs the width of the house and could easily be used for dining or outdoor living.
With everthing pretty much included, it would be a mistake not to mention the laundry room and the study/office.
Other utilities include: Satellite tv, telephone, water heating and filtration.
Accomodation
3 Bedrooms
3 Bathrooms
1 Bathroom Ensuite
Sleeps 6
Included in Rental Price
Bed linen
Towels
Gardener
Pool cleaner
TV/Cable
Internet
Estate charges
Security
Water
Permissible
Smoking

Smoking

Children

Children

Pets

No Pets

Cooking

Cooking
Nearby
Inland
Near Beach
Near Schooling
Near Golf Courses
Near Yacht mooring
Near Shopping
Available Facilities
TV/Cable
Internet
Private swimming pool
Estate security
Fully furnished
Parking
Jacuzzi outside
Kitchen Facilities
Stovetop
Oven
Microwave oven
Refrigerator
Cooking Utensils
Dishware
Cutlery
Prices quoted in THB are converted for your convenience only and may vary 5% or more. Currency movements are out of our control and prices may change without prior warning.
Page viewed 2,812 times, 0.5 views/day.