Text Search


Quick Search

Your enquiry cart
is empty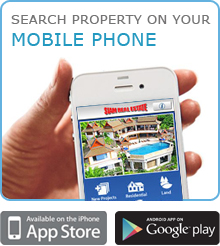 | | |
| --- | --- |
| What's New | |


| | |
| --- | --- |
| Weather Report | |


Owner's Login


Blog with expert
advice that addresses
all questions related to
Thailand property.
Read more »

Currency Converter
| | |
| --- | --- |
| Currency converters tool | |



Exchange rates


Long

Term Rental Property

10 minutes to BIS, Boat Lagoon, and shopping [LTRIL6602]
Type and Location: House in Phuket Town, Phuket
Offer Terms: Rental - Longterm
Price: THB 26,000 per month
Beds: 3
Minimum rental term: 12 Months
Available Now
About Phuket Town
A must-do in Phuket is a walk in the old part of Phuket City, around Thalang, Dibuk and Krabi roads. The beautiful architecture along these roads will take you back to the charm of a century ago. In the 18th century, much of the island's tin mining was carried out by Hokkien Chinese who built the old part of the city. In the early 20th century major European mining companies were invited in, and the major public infrastructure such as roads and canals was first built.
CLICK HERE TO VIEW STREET VIEW
This three bedroom, three bathroom house sits in a quiet area on the border of Phuket Town and Samkong. The location provides easy access to BIS and other international schools, shopping at Tesco, Supercheap, etc., and Boat Lagoon Marina.
The house has a modified open plan living area on the ground floor. The lounge has two full-sized sofas and the dining area, which comfortably seats 8, lies adjacent. The kitchen is around the corner and has a built-in hob, hood, and dishwasher. The cabinetry is gloss black and the black marble countertop extends into a breakfast bar. The ground level also has a maid's room with ensuite toilet, guest toilet, and washing machine and dryer on the back terrace.
The three bedrooms sit on the upper level. They are all fully furnished and feature glossy wood floors. The master bedroom has a bathroom ensuite and the two other bedrooms share a bathroom.
The garden is fully gated and landscaped with a dining sala providing an ideal place to relax. A carport provides shaded parking.
Long-term rental includes linen and twice-monthly gardening.
Architectural style: Contemporary
Structure: Two stories, detached
Gardens: Yes, landscaped
Accomodation
3 Bedrooms
3 Bathrooms
1 Bathroom Ensuite
Sleeps 6
Permissible
Smoking

No Smoking

Children

Children

Pets

Pets

Cooking

Cooking
Nearby
Inland
Near Beach
Near Schooling
Near Golf Courses
Near Hospitals
Near Town
Near Shopping
Available Facilities
TV/Cable
Internet
Fully furnished
Parking
Kitchen Facilities
Stovetop
Microwave oven
Refrigerator
Dishwasher
Dishware
Cutlery
Service: 2x/ month gardening included.
Prices quoted in THB are converted for your convenience only and may vary 5% or more. Currency movements are out of our control and prices may change without prior warning.
Page viewed 1,738 times, 0.5 views/day.