Text Search


Quick Search

Your enquiry cart
is empty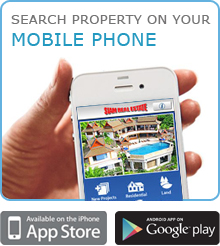 | | |
| --- | --- |
| What's New | |


| | |
| --- | --- |
| Weather Report | |


Owner's Login


Blog with expert
advice that addresses
all questions related to
Thailand property.
Read more »

Currency Converter
| | |
| --- | --- |
| Currency converters tool | |



Exchange rates


Long

Term Rental Property

Phuket Country Club town house with 3 bedrooms. Centrally located. [LTRIL1787]
Type and Location: House in Kathu, Phuket
Offer Terms: Rental - Longterm
Price: THB 45,000 per month
Beds: 3
Internal area: 260 sq. m.
Total area: 328 sq. m.
Minimum rental term: 1 year 45,000 baht per month, 6 months = 55,000 baht per month
Available Now
About Kathu
The central location of Kathu means the west coast beaches are just as easily reached as the Phuket Town area, with shopping, schools and hospitals. Golf courses are a main feature here and the slow pace of life is continued with waterfalls and a peaceful reservoir, which is great to walk around or have a picnic by. A range of tourist activities are ideal for kids, such as elephant trekking, cable waterskiing and karting.
CLICK HERE TO VIEW STREET VIEW
Nestled in the lush green foothills of Phuket's peak lies the rolling lawns of the Country Club. This most established and picturesque golf course provides the settings for a unique living experience in an oasis completely immersed in fairways and lush landscaping. Nestled in the lush green foothills of Phukets peak lies the rolling lawns of the Country Club. This most established and picturesque golf course provides the settings for a unique living experience in an oasis completely immersed in fairways and lush landscaping.
For the golf enthusiast, this very modern and newly built town home offer 3 levels of living space and an entry level car port. Located on the 15th Fairway this unit has amazing views of the greens in addition to the spectacular views of the mountains and valleys.
Contemporary styling and the clever use of screens ensures complete privacy to every home. Interior style border on minimalist with accents of tropical and boast clean, crisp lines. Stylish and sophisticated interiors have been decorated with tasteful art, light fixtures and furniture made of natural materials.
The ground floor has a car port suitable for cars and leads to the living area including a dinning room, the kitchen and 1 bathroom. A fully fitted European kitchen includes stove-top, grill, oven and microwave; the dinning room has seating for 8.
Many decorative features can be found in the living room, such as built in shelving which host a wide screen TV, and many objects of art. Glass doors and windows comprise one wall offering stunning views of the golf course and allowing an abundance of natural light and leading outside to a small pool and private patio.
A master bedroom occupies the second level with a private living room and magnificent designer bathroom. Glass doors offer views and lead to a balcony. A small sitting area and walk in closet also comprise the master bedroom. Glass walls in master bathroom add a modern element and afford views of the natural surroundings; there are also blinds for complete privacy.
The third level host 2 additional bedrooms with private balconies and are both ensuite. All bedrooms have gorgeous hard wood floors and plenty of closet space.
State of the art technology affords recessed lighting and dimmers, water filtration and broadband internet. The sophisticated 'infinity' glazing system with it's pivoting full wall opening means that the outdoor living experience and the refinement of tastefully equipped interiors are fully integrated.
Generous overhangs and timber screens mean the suns heat never becomes a problem, whilst selective introduction of glass sections of roof allow extra light into bathrooms and stairwells to expand the feeling of spaciousness. Centrally located near just about everything, this condo provides luxury living with absolute golf course frontage located just 3 km. from Phuket town and 6 km from the colourful Patong beach, also only minutes away from international schools, shopping, cinema and international hospitals.
Architectural style: Ultra modern
Structure: Semi detached town house, 3 levels
Gardens: Landscaped golf course
Accomodation
3 Bedrooms
3 Bathrooms
3 Bathrooms Ensuite
Sleeps 6
Included in Rental Price
Bed linen
Gardener
Pool cleaner
TV/Cable
Internet
Estate charges
Permissible
Smoking

Smoking

Children

Children

Pets

No Pets

Cooking

Cooking
Nearby
Inland
In town
Near Schooling
Near Golf Courses
Near Yacht mooring
Near Hospitals
Near Town
Near Shopping
Available Facilities
TV/Cable
Internet
Telephone
Private swimming pool
Fully furnished
Parking
Kitchen Facilities
Stovetop
Grill
Oven
Microwave oven
Refrigerator
Cooking Utensils
Dishware
Cutlery
Entertainment: Golfing, and also near cinema and Phuket up sophisticated night life. The rental includes the servicing of the pool, UBC platinum package TV and ADSL high speed internet.
Prices quoted in THB are converted for your convenience only and may vary 5% or more. Currency movements are out of our control and prices may change without prior warning.
Page viewed 1,967 times, 0.3 views/day.