Text Search


Quick Search

Your enquiry cart
is empty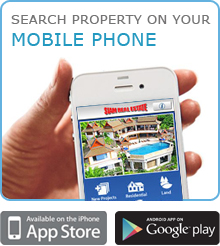 | | |
| --- | --- |
| What's New | |


| | |
| --- | --- |
| Weather Report | |


Owner's Login


Blog with expert
advice that addresses
all questions related to
Thailand property.
Read more »

Currency Converter
| | |
| --- | --- |
| Currency converters tool | |



Exchange rates


Long

Term Rental Property

Sophisticated, elegant vacation home overlooking the sea in Kata Beach, Phuket [LTRIL4065]
Type and Location: House in Kata, Phuket
Offer Terms: Rental - Longterm
Price: THB 250,000 per month
Beds: 5
Minimum rental term: 6 months
Available Now
Rent from April to September and the rental price is only 120,000 THB pm
About Kata
Kata Beach has to be one of the cosiest and idyllic beaches in Phuket. The beach is sheltered by tall palm trees and is great for snorkelling in the nearby coral reefs and observing the vast array of tropical marine life. This beach can get busy in the high season months over Christmas and New Year, but generally this is a nice beach to relax and unwind. There is also great surf at Kata Beach, where equipment can be hired from the shops adjoining the beach.
CLICK HERE TO VIEW STREET VIEW
Many extras can be found in this 2 level holiday home, including a home cinema room, a private outdoor Jacuzzi bathtub and a wine refrigerator. Situated in a very residential and non commercial area this privately owned home provides privacy in a very quiet neighborhood. Located in the hillside in Kata with panoramic sea views of Kata Beach, this holiday home for rent in Phuket is well suited for a family or group of friends. Each bedroom in addition to the living room and outdoor living areas enjoys panoramic sea views. Also because this home faces the west coast you will enjoy Phukets famous and spectacular sunsets.
The first level hosts 2 bedrooms complete with ensuite bathrooms, a dining room, living room, kitchen and guest bathroom servicing this level. The living room, dinning area and kitchen share an open floor plan layout and seamlessly blend into each other. From the living area are large sliding glass doors that lead to a large terrace and infinity edge pool. Panoramic sea views are enjoyed from inside and outside living areas. The kitchen is fully fitted to European standards.
The second level is comprised of 2 bedrooms complete with ensuite bathrooms. Bedrooms also share a long and spacious balcony extending living space. Bedrooms can be accessed from an outdoor spiral staircase. They have hardwood floors and built in closets.
On this level you also will find the master bedroom and ensuite bathroom. There is a walk in closet and an outdoor, yet private, Jacuzzi bathtub, an intimate great place for enjoying private sunsets and sea views. There is a safe located in the master bedroom for those wishing to use it.
There is also a home cinema room with a projector for added entertainment on this level.
Outdoors on the first level is a 32 sqm infinity swimming pool and covered poolside terrace. Also there is an outdoor shower.
The house has central water heating and ducted air conditioning throughout. The house also has access to Internet.
Just a 5 minute drive to the beach, Kata Beach is highly regarded for being a quiet location but still with upscale restaurants, bars and small boutique shopping. Just 20 minutes to Patong and 10 minutes to Chalong this is a great location in the southern area of the west coast.
RENTAL RATES:
| | |
| --- | --- |
| PERIOD | RENTAL RATE / MONTH (THB) |
| October to March | 220,000 |
| April to September | 120,000 |
| January to December (12 Months contracts) | 180,000 |
Architectural style: Very modern
Structure: 3 levels
Conditions:
Accomodation
5 Bedrooms
6 Bathrooms
5 Bathrooms Ensuite
Sleeps 10
Included in Rental Price
Bed linen
Towels
Gardener
Pool cleaner
TV/Cable
Internet
WiFi
Permissible
Smoking

No Smoking

Children

Children

Pets

No Pets

Cooking

Cooking
Nearby
Inland
Near Beach
Near Schooling
Near Golf Courses
Near Yacht mooring
Available Facilities
TV/Cable
Internet
Telephone
Private swimming pool
Fully furnished
Parking
Jacuzzi outside
Kitchen Facilities
Stovetop
Grill
Oven
Microwave oven
Refrigerator
Dishwasher
Cooking Utensils
Dishware
Cutlery
Prices quoted in THB are converted for your convenience only and may vary 5% or more. Currency movements are out of our control and prices may change without prior warning.
Page viewed 1,509 times, 0.3 views/day.