Text Search


Quick Search

Your enquiry cart
is empty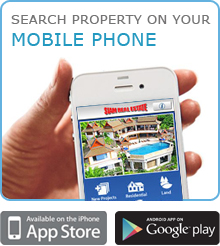 | | |
| --- | --- |
| What's New | |


| | |
| --- | --- |
| Weather Report | |


Owner's Login


Blog with expert
advice that addresses
all questions related to
Thailand property.
Read more »

Currency Converter
| | |
| --- | --- |
| Currency converters tool | |



Exchange rates


Long

Term Rental Property

Fully furnished villa with 3 bedrooms and a swimming pool [LTRIL2530]
Type and Location: House in Nai Harn, Phuket
Offer Terms: Rental - Longterm
Price: THB 115,000 per month
Beds: 3
Minimum rental term: 1 month=180,000 THB Low season (available now unit 19 Dec 2013 and from 21 Jan 2014 onwards)
Available Now
Rent 6 Months is 125,000 THB/month, 12 Months is 115,000 THB /month, This promotion is valid from 1 May 2013 – 30 April 2014.
About Nai Harn
Lauded by many as the best beach on the island, Nai Harn Beach has a reputation that precedes itself. The beach is situated on the southwest coastline with its stretch of golden sands and azure blue waters. On the approach to the beach there is a huge lake and beautiful temple with hills all around protecting the beach from the elements. Adjoining this great beach are five-star resorts such as the The Royal Phuket Yacht Club.
CLICK HERE TO VIEW STREET VIEW
This modern designed abode owns a neatly trimmed tropical garden, a swimming pool, external Jacuzzi, spa, a garden, 3 bedrooms and a fully fitted western kitchen. This property is situated over one level that offers estate security and a host of utilities that include Cable/Satellite TV, internet and telephone connections. The property is equipped with a luscious garden that comprises of beautiful trees, lawn areas and a host of shrubs and flowerbeds surrounded by a large perimeter wall that offers the utmost in security and seclusion. The garden is also home to a private swimming pool, external Jacuzzi and an outdoor bathroom. This garden is a great place to relax and unwind within the wealth of Tropicana. I also really like the two small water features situated at the entrance.
From poolside, you can easily access the open-plan living area through high patio doors that ooze elegance. The living area consists of a lounge, dinning room and an adjoining western style kitchen that is fitted with lots of modern appliances for your cooking pleasures.
The high quality of the furniture is evident throughout the entirety of the house, alongside lovely fixtures and fitting such as vaulted wooden ceilings in most rooms. The modern western kitchen is fully fitted with appliances that include a stovetop, grill, oven, microwave and refrigerator alongside a host of dishware and cutlery. The large wooden units and cabinets compliment the black work surfaces, and provide lots of storage and work space.
The three bedrooms all have en-suite bathrooms, double beds, walk-in or built-in wardrobes and great views overlooking the garden. The Master Bedroom is situated within close proximity to the swimming pool, and you can step straight out of bed and through patio doors to access the crystal blue water. The bedrooms are clean and tidy, with painted white walls and light coloured ceramic tiled floors. Although there are three en-suite bathrooms, there is another separate bathroom on the premises.
This luxury villa also owns a laundry room, estate security, carport, air-conditioning and fans. The rental agreement stipulates a minimum of 1 months stay and includes services and utilities such as cable-satellite TV, internet connections, fresh bed linen and towels, a gardener and a pool cleaner. All the villas are fully furnished with hot and cold water, air-con and internet that is available free of charge.
The location at Nai Harn is one of tranquility and beauty within the tropical paradise that is Phuket Island. Nai Harn Beach is widely renowned as one of Phuket's finest, where you can witness the fabulous sunset views on the west coast of the island. You are also within close proximity to brand new shopping facilities, restaurants and bars.
RENTAL RATES
| | | |
| --- | --- | --- |
| Season | Period | Price/Month/THB |
| Low | 1 May - 31 Oct | 180,000 |
| High | 1 Nov - 20 Dec, 11 Jan - 30 Apr | 215,000 |
| Peak | 21 Dec - 10 Jan | 215,000 |
Above promotion is valid from 1 May 2013 - 30 April 2014, Services included Pool cleaning, Gardening and 24 hrs.estate security
Architectural style: Modern
Gardens: Yes
Accomodation
3 Bedrooms
4 Bathrooms
3 Bathrooms Ensuite
Sleeps 6
Included in Rental Price
Bed linen
Towels
Maid
Gardener
Pool cleaner
Internet
WiFi
Estate charges
Security
Gas
Permissible
Smoking

Smoking

Children

Children

Pets

No Pets

Cooking

Cooking
Nearby
Inland
Near Beach
Near Schooling
Near Shopping
Available Facilities
TV/Cable
Internet
Telephone
Private swimming pool
Estate security
Fully furnished
Parking
Spa
Jacuzzi outside
Kitchen Facilities
Stovetop
Grill
Oven
Microwave oven
Refrigerator
Cooking Utensils
Dishware
Cutlery
Service: Gardening 2 times/week, Pool cleaning 3 times/week.
Prices quoted in THB are converted for your convenience only and may vary 5% or more. Currency movements are out of our control and prices may change without prior warning.
Page viewed 2,849 times, 0.5 views/day.