Text Search


Quick Search

Your enquiry cart
is empty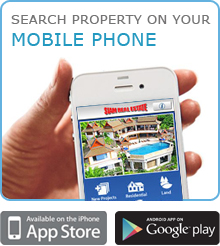 | | |
| --- | --- |
| What's New | |


| | |
| --- | --- |
| Weather Report | |


Owner's Login


Blog with expert
advice that addresses
all questions related to
Thailand property.
Read more »

Currency Converter
| | |
| --- | --- |
| Currency converters tool | |



Exchange rates


Long

Term Rental Property

Comfortable, affordable, great for families [LTRIL6273X]
Type and Location: House in Kathu, Phuket
Offer Terms: Rental - Longterm
Price: THB 25,000 per month
Beds: 2
Internal area: 80 sq. m.
Total area: 46 sq. m.
Minimum rental term: 1 month
Available Now
About Kathu
The central location of Kathu means the west coast beaches are just as easily reached as the Phuket Town area, with shopping, schools and hospitals. Golf courses are a main feature here and the slow pace of life is continued with waterfalls and a peaceful reservoir, which is great to walk around or have a picnic by. A range of tourist activities are ideal for kids, such as elephant trekking, cable waterskiing and karting.
CLICK HERE TO VIEW STREET VIEW
These two bedroom pool villas are only 3 kilometers away from Kathu Waterfall and within a 15-minute drive to Patong Beach's famous nightlife.
The residence features spacious guestrooms with great views of beautiful surroundings including lush green mountains, nice landscape garden, and swimming pool. Each room comes with a kitchen, air-conditioning, TV with cable channels, and toilet amenities. Guests can also enjoy an array of on-site facilities including outdoor jacuzzi and private car park.
The two bedroom villa sleeps 2-5 people (no extra charge). It can also be separated into a deluxe 1 bedroom for a couple. We also have a private car park, motorbike and car rental, swimming pool, and outdoor Jacuzzi.
RENTAL RATES PER MONTH
1 month 45,000 Baht
3 months 40,000 Baht
6 months 30,000 Baht
12 months 25,000 Baht
Accomodation
2 Bedrooms
3 Bathrooms
2 Bathrooms Ensuite
Sleeps 5
Included in Rental Price
Bed linen
Gardener
Pool cleaner
TV/Cable
WiFi
Water
Permissible
Smoking

Smoking

Children

Children

Pets

Pets

Cooking

Cooking
Nearby
Near Schooling
Near Golf Courses
Near Town
Near Shopping
Available Facilities
TV/Cable
Communal swimming pool
Estate security
Parking
Jacuzzi outside
Service: Electricity 8 baht/unit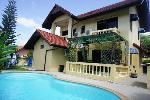 In a central Kathu location. [LTRIL3906]
House in Kathu, Phuket. THB 30,000 per month. More info
Prices quoted in THB are converted for your convenience only and may vary 5% or more. Currency movements are out of our control and prices may change without prior warning.
Page viewed 1,276 times, 0.3 views/day.