Text Search


Quick Search

Your enquiry cart
is empty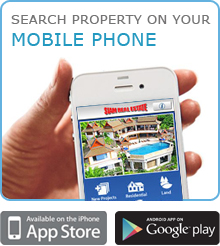 | | |
| --- | --- |
| What's New | |


| | |
| --- | --- |
| Weather Report | |


Owner's Login


Blog with expert
advice that addresses
all questions related to
Thailand property.
Read more »

Currency Converter
| | |
| --- | --- |
| Currency converters tool | |



Exchange rates


Long

Term Rental Property

Four bedroom, three storey up market detached houses [LTRIL1260]
Type and Location: House in Rawai, Phuket
Offer Terms: Rental - Longterm
Price: THB 180,000 per month
Beds: 4
Internal area: 450 sq. m.
Total area: 1,600 sq. m.
Minimum rental term: 6 month (See the rates below)
Available Now
About Rawai
Situated at the southernmost tip of the island, Rawai Beach is the home of the famous sea gypsies and some of the finest seafood restaurants on the island. The surrounding ocean and islands are great for snorkeling, fishing, boat tours and diving, the beach itself is not suitable for swimming due to its being tidal. However Naiharn beach one of best on the island is within 3 km of Rawai Beach road. Rawai has many great bars and spectacular views of the outlaying islands.
CLICK HERE TO VIEW STREET VIEW
Only one of these gems are left so you will have to be quick to pick up these great value properties. Built on large pieces of land each totaling 1600 sq.m.these high tec built houses are a real eye catcher.
Over 1200 sq.m. of landscaped gardens here will keep you feeling tropical while the built in swimming pool will cool you off when you need it. One of the great features of the pool is that you can swim into the house and sit and relax in the indoor Jacuzzi or do laps of the huge pool.
Inside are four large bedrooms with two including walk in wardrobes and all having an ensuite bathroom. One of the bedrooms is a private get away built at the top of a tower and with a lovely circular balcony. Two separate bathrooms are also included.
The living area is huge and designed to gaze out over the pool. If its too hot outside, even for the pool, the air conditioning will keep you cool through the hottest days. Separate study/office rooms as well as a library room are great additional features.
This really is a unique and stylish property and Rawai is positioned far enough away to be private but close enough to all facilities to not be a bother.
Utilities available include: Satellite TV, telephone line, well water with water heating with filtration system and three phase electricity.
Accomodation
4 Bedrooms
6 Bathrooms
4 Bathrooms Ensuite
Sleeps 8
Included in Rental Price
Bed linen
Towels
Gardener
Pool cleaner
TV/Cable
Internet
Estate charges
Security
Water
Permissible
Smoking

Smoking

Children

Children

Pets

Pets

Cooking

Cooking
Nearby
Inland
Near Beach
Near Schooling
Near Golf Courses
Near Yacht mooring
Near Hospitals
Near Town
Near Shopping
Available Facilities
TV/Cable
Internet
Telephone
Estate security
Fully furnished
Parking
Jacuzzi inside
Kitchen Facilities
Stovetop
Grill
Oven
Microwave oven
Refrigerator
Dishwasher
Cooking Utensils
Dishware
Cutlery
Service: Rental price included: cable TV, water, pool cleaning, gardening and internet. Excluded: electricity 5THB/unit
Prices quoted in THB are converted for your convenience only and may vary 5% or more. Currency movements are out of our control and prices may change without prior warning.
Page viewed 1,098 times, 0.3 views/day.