Text Search


Quick Search

Your enquiry cart
is empty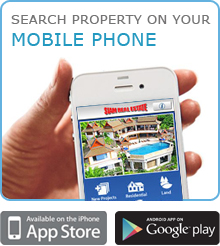 | | |
| --- | --- |
| What's New | |


| | |
| --- | --- |
| Weather Report | |


Owner's Login


Blog with expert
advice that addresses
all questions related to
Thailand property.
Read more »

Currency Converter
| | |
| --- | --- |
| Currency converters tool | |



Exchange rates



Official permission to build condos already granted. [LSSV3077]
Type and Location: Land in Nai Thon, Phuket
Offer Terms: Freehold
Total area: 3,520 sq. m.
Total Price: THB 35,000,000
About Nai Thon
When people use the term 'untapped', they were thinking of Nai Thon Beach. This secluded bay clings to the south side of Sirinat National Park and is a thing of immense natural beauty. The beach is ideal for swimmers, not only because of the privacy you receive, but also because the bay is protected at both ends by granite outcrops that serve as a shield against the elements.
CLICK HERE TO VIEW STREET VIEW
Looking for a prime land development opportunity? Look no further. Walk to the beach in just a few minutes from this land location. The possibilities are numerous with this plot of land that is now on the market. The owners of the land have already been granted building permission therefore there are many options for development.
The land is approximately 45 meters above above see level which allows for 5 story building. (4 stories above the ground floor). There is currently permission to build approximately 3500sqm of sellable apartments using the condominium structure, for example 30 units at 100 sqm each. Another idea would be to build 10 units consisting of 3 levels. The land is subdivided into 8 chanote titles. The current owners have the land have already established the retraining wall and a private concrete access road, construction costing more then 16m THB. The land is being offered at a remarkably low price below the current market price.
Starting from the ground level there is available sea views that increases with each level. The land is located just a 5 minute walk to beach.
Nai Thon is one of Phuket's most attractive and unspoilt beaches, and yet it is located only 15 minutes from the airport and 15 minutes from two golf courses. One of the northern beaches on the island, Nai Thon is very near to The Sirinat National Park. Additionally international schools and hospitals are less then a 30 minute drive as is major shopping centres.
Title: Chanote
Access: Access Road - Concrete
Utilities: Well Water, Electricity
Elevation: 45 M
Prices quoted in THB are converted for your convenience only and may vary 5% or more. Currency movements are out of our control and prices may change without prior warning.
Page viewed 1,718 times, 0.3 views/day.