Text Search


Quick Search

Your enquiry cart
is empty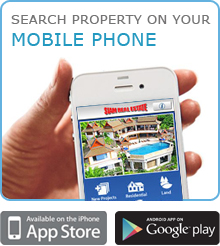 | | |
| --- | --- |
| What's New | |


| | |
| --- | --- |
| Weather Report | |


Owner's Login


Blog with expert
advice that addresses
all questions related to
Thailand property.
Read more »

Currency Converter
| | |
| --- | --- |
| Currency converters tool | |



Exchange rates


Holiday

Rental Property

A luxury villa in a quiet and beautiful part of Samui. [HOL4120]
Type and Location: House in Lipa Noi, Samui
Offer Terms: Rental - Holiday
Beds: 4
Minimum rental term: 3 Nights
Internal area: 450 sq. m.
Last minute special offer for December only THB 20,000 a night, saving of almost $200 a night!
Summer Season
1 Jun - 30 Sep
High Season
1 Oct - 30 Nov
1 Feb - 31 May
Peak Season
1 Dec - 31 Jan
Daily
Weekly
* Monthly refers to 30 days.
How is my total rental calculated?
Rental rates vary by season and duration-of-stay. Consequently, it is necessary to look at each night of your stay and determine the applicable rate for that night.
For example, consider a 10-night stay, comprised of 4 nights in summer season and 6 nights in high season.
Since the stay is more than a week, the weekly rate will apply for all the nights of your stay. For each night, we determine the applicable season, consult the weekly rate for that season, divide that weekly rate by 7 to get a nightly rate, and add that amount to a running total.
In our example, the first 4 nights will use the summer season weekly rate (divided by 7), the last six nights will use the high-season weekly rate (divided by 7).
For a property that does not specify weekly or monthly rates, the daily rate for the applicable season is applied for each night of the stay.
About Lipa Noi
Lipa Noi or Sunset Beach, is the most serene and untouched beach on the west coast of Koh Samui, just 5 minutes from the ferry pier. It is the place for peaceful and quiet beach living away from the crowds with beautiful sunsets and scenic views of the Angthong National Marine Park and the mainland. As there are only a few resorts along the beach you will have plenty of space on the crystal clear sea. There is not much around but Nathons shopping area is only 4 km away.
CLICK HERE TO VIEW STREET VIEW
A private villa with four bedrooms and spacious living areas, perfect for a family or group holiday. The villa is a unique blend of contemporary European architecture infused with Asian energy providing a well balanced place to stay, relax, unwind and be at one with nature.
This split level four bedroom villa captures openness with every room featuring floor to ceiling sliding glass doors affording guests panoramic views of the majestic and well maintained gardens, natural tropical rainforest behind the villa and stunning views across the gulf of Thailand.
The villa is a tropical home away from home, with all amenities to make your stay comfortable and relaxing. The living area consists of a European open plan kitchen, breakfast bar and dining room. The large open plan living room has a plasma screen TV, DVD player, surround sound system and a Bose iPod docking station and speakers. Free internet is also available.
Outside, the large poolside terrace and sweeping veranda afford panoramic views and have comfortable reclining sun loungers. The infinity pool while fun for all is not recommended for unsupervised use by children. The outdoor covered BBQ Sala featuring an integrated bar fridge is great for parties.
The master oceanview suite is sheer luxury, with stunning views of the villa pool and ocean. There is a large walk-in-wardrobe area and bathroom with a separate shower, twin wash basins and a deep bathtub. Glass doors open directly onto the pool and terrace. The second bedroom also has sea views and terrace access. The third bedroom has jungle views. The fourth bedroom is actually a studio apartment, slightly larger than the other rooms and has a kitchenette. All bedrooms have queen size beds, polished teak wooden flooring and en-suite bathrooms finished in luxurious polished cream marble and natural stone. All internal areas feature air conditioning.
The villa also has an outdoor poolside shower, a guest toilet in foyer, a separate laundry room with washer and dryer and an undercover carport for up to two large cars. Housekeeper and garden staff have separate living quarters on property. The staff can babysit children, free for up to an hour and then $20 per hour. Full property security includes a locked boom gate.
Architectural style: Contemporary European
Structure: Two Storey Villa
Gardens: Tropical
Conditions: Excellent
Accomodation
4 Bedrooms
4 Bathrooms
4 Bathrooms Ensuite
Sleeps 8
Included in Rental Price
Bed linen
Towels
Maid
Gardener
Airport transfer
Permissible
Smoking

Smoking

Children

Children

Pets

No Pets

Cooking

Cooking
Nearby
Inland
Near Beach
Near Golf Courses
Near Hospitals
Near Town
Near Shopping
Available Facilities
TV/Cable
Internet
Telephone
Private swimming pool
Home security
Fully furnished
Parking
Kitchen Facilities
Stovetop
Grill
Oven
Microwave oven
Refrigerator
Dishwasher
Cooking Utensils
Dishware
Cutlery
Prices quoted in THB are converted for your convenience only and may vary 5% or more. Currency movements are out of our control and prices may change without prior warning.
Page viewed 1,759 times, 0.4 views/day.