Text Search


Quick Search

Your enquiry cart
is empty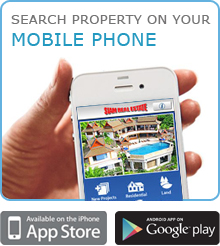 | | |
| --- | --- |
| What's New | |


| | |
| --- | --- |
| Weather Report | |


Owner's Login


Blog with expert
advice that addresses
all questions related to
Thailand property.
Read more »

Currency Converter
| | |
| --- | --- |
| Currency converters tool | |



Exchange rates


Holiday

Rental Property

Three bedroom villas in a tropical resort. [HOL4106]
Type and Location: House in Bophut, Samui
Offer Terms: Rental - Holiday
Beds: 3
Minimum rental term: 1 Week
Summer Season
1 Jun - 30 Sep
High Season
1 Oct - 30 Nov
1 Feb - 31 May
Peak Season
1 Dec - 31 Jan
Daily
Weekly
* Monthly refers to 30 days.
How is my total rental calculated?
Rental rates vary by season and duration-of-stay. Consequently, it is necessary to look at each night of your stay and determine the applicable rate for that night.
For example, consider a 10-night stay, comprised of 4 nights in summer season and 6 nights in high season.
Since the stay is more than a week, the weekly rate will apply for all the nights of your stay. For each night, we determine the applicable season, consult the weekly rate for that season, divide that weekly rate by 7 to get a nightly rate, and add that amount to a running total.
In our example, the first 4 nights will use the summer season weekly rate (divided by 7), the last six nights will use the high-season weekly rate (divided by 7).
For a property that does not specify weekly or monthly rates, the daily rate for the applicable season is applied for each night of the stay.
About Bophut
Bophut is really two places: Bophut beach, which sweeps down several kilometres between Big Buddha and Maenam beaches and perhaps one of the oldest places on the island, the charming Fisherman's Village, which takes up the middle section of the beach. Fisherman's Village is fast gaining a reputation that stretches way beyond Samui for being the most elegant and well-preserved place on the island. Lined by old wooden Chinese shop-houses, interspaced with a few modern buildings that match the tone, it retains a distinctly Mediterranean feel.
CLICK HERE TO VIEW STREET VIEW
The three bedroom villas in this tropical resort on the north coast of Samui at Bophut all with pools and many have sea views. The villas are designed in a tropical style, surrounded by gardens and palms, the secluded beach is just a short walk through the resort.
The three bedroom, three bathroom villas in this picturesque resort in Koh Samui provide beautiful accommodation in a paradise location. Each villa has large indoor and outdoor living spaces, with a kitchen, dining areas and both shaded and sun terraces.
The villas are great for family holidays, with three double bedrooms. Villas offer a more laid back holiday, where guests feel at home and not restricted at all.
The villas, while finished in an elegant Thai style, are still comfortable and relaxed, creating a home away from home. All bedrooms are air conditioned, there are ceiling fans inside and out and tinted glass keeps the villa cool. There is wifi internet available and satellite TV, DVD and sound system. The kitchen is fully equipped and there is a water cooler with free drinking water. Daily maid service is provided, with fresh bed linen three times per week and fresh towels as needed. Laundry, breakfast baskets, in-house cooked meals and car rental can be supplied at extra cost. The resort provides for special occasions and caters to families needs, including cots, highchairs and babysitting.
There are a wide range of restaurants, beaches, activities, sights and nightlife all within a short drive from the resort.


| | | | |
| --- | --- | --- | --- |
| | Low Season | Mid Season | Peak Season |
| | 1 May-30Jun, 1 Sep-14 Dec | 1 Mar-1 May, 1 Jul-31 Aug | 15 Dec-1 Mar |
| Daily | 12,000 | 15,000 | 20,000 |
| Weekly | 63,000 | 78,750 | 105,000 |
| Monthly | 216,000 | 270,000 | 360,000 |
Architectural style: Tropical
Structure: Single Storey Villas
Gardens: Tropical
Conditions: Very Good
Accomodation
3 Bedrooms
3 Bathrooms
Sleeps 6
Included in Rental Price
Bed linen
Towels
Maid
Gardener
Pool cleaner
TV/Cable
Internet
Permissible
Smoking

No Smoking

Children

Children

Pets

No Pets

Cooking

Cooking
Nearby
Inland
Near Beach
Near Golf Courses
Near Hospitals
Near Shopping
Available Facilities
TV/Cable
Internet
WiFi
Private swimming pool
Fully furnished
Parking
Prices quoted in THB are converted for your convenience only and may vary 5% or more. Currency movements are out of our control and prices may change without prior warning.